You Produce

Wednesday, October 16, 2013
We're opening up the phones now for your calls on possible future open phones segments. From time to time, we invite listeners to call in and be the guest for these kinds of segments. Now it's your turn. We're taking your suggestions now, and we'll pick one open phones idea to do on the program tomorrow.
So what's your pitch for an open phones topic? Tell us at 212-433-WNYC or 212-433-9692.
Tuesday, March 02, 2010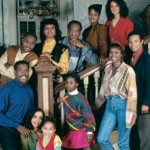 It's almost time for our '10 Questions That Count' site to launch officially! As promised, we're going to ask you for your participation as we tackle the ten questions on the Census form.
...
Read More
Monday, February 22, 2010

Well, they did it! Each of our first five Help Wanted Facebook Forum contributors spent some time getting to know Brian Lehrer and our listeners on-air. You can ...
Read More
Wednesday, August 26, 2009
Our online collaboration of economic coverage between listeners and the Brian Lehrer Show now has more than 700 posts, and occasionally we get a peek at some of the people producing the content. We thought you'd like to see them too!

Read More
Tuesday, July 28, 2009
Drastic changes in the economy have ground many developers' plans to a halt in the New York City metro region. We're tracking cranes on pause as the latest chapter of our project, Your Uncommon Economics Indicators. Help us map and photograph the empty condos, half-baked luxury high rises and stalled ...
Read More
Wednesday, June 03, 2009
You've heard us talk about it on air. Now it's time for YOU to submit an Uncommon Economic Indicator video to our contest.

Why a contest? We've enjoyed reading and hearing your observations on the recession. Now we want to see them. By screening the finalists to our live WNYC audience and to the larger audience with Rooftop Films, together we are telling the story about how the economy is affecting all of us.
The incentive may attract budding film makers, but we're not looking for high gloss. What's important is that your video is a personal observation on an event, behavior or change caused by the economic crises. Use the recording equipment you have, think about how to tell us what you know, and send in the video.
Click Here: Official Rules and Instructions

Rooftop Films is excited to be part of this video contest and screen the winning video on top of the city skyline this summer. Their 2009 Summer Series will include 44 events around Brooklyn, Manhattan and the Bronx every weekend from May to September. Screenings are attended by over 25,000 people and will show 150 films, selected from over 3,000 submissions.

Read More
Wednesday, April 22, 2009
Home-grown veggies
Originally uploaded by miss mass
Furyk Clark wrote in to Your Uncommon Economic Indicators about turning over a new gardening leaf: "In past years ...
Read More
Sunday, April 05, 2009
Every Thursday in Brooklyn, a small gallery and reading room called Proteus Gowanus, tucked in the back of one of the old industrial buildings along the canal, opens its doors to those with broken lamps and bicycles, torn jeans or socks with holes. The weekly event is part of ...
Read More
Thursday, April 02, 2009
We define the word "need" broadly in this case. It's not just the down-and-out who can use our care, but friends and neighbors who are feeling the effects of the recession. Worry over job loss or less money can be alleviated when people connect. One artist looking for community posted this text and a photo of his painting to Your Uncommon Economic Indicators.
Billy Fleurima: What I'm about to say is very difficult, but promotion is the key for success. I'm an artist and I'm looking to expose my work. I have a small place in Brooklyn. I would like to change to a gallery, but i need help, money,...I need to know if there is help for artists.
Well, Brian asked all of his listeners if, in fact, they are helping each other and if they had any advice for Billy. You can read the comments and listen to the audio of the segment, Sticking Together. When Billy later replied with an invitation for Brian to come see the art, Brian accepted:

While most of you sent advice about loaning money or finding friends jobs, one person wrote back with help for artists:
Read More
Monday, March 30, 2009
In over 380 posts to Your Uncommon Economic Indicators, take a look above at the words most used by contributors writing about the recession. Our producer Jody Avirgan pasted the project's URL into the nifty website WORDLE and sent us the word cloud above.  How interesting that the most frequently appearing word is 'people,' followed by 'now', 'work', 'business' and 'new'. It struck us as significant that so many of you write about others, and often with great concern--about their shopping habits, their lost jobs, their family businesses and even changes in their driving habits.
Read More
Tuesday, March 17, 2009
By Jody Avirgan : The Brian Lehrer Show
Check out this great video from the WNYC News Blog. Oates Ritthichai went out and spoke with New Yorkers both about the toll the recession is taking, but also the ways in which they are maintaining normalcy in their day-to-day expenses.
This is something we see in the YUEI posts: ...
Read More
Monday, March 16, 2009
By Jody Avirgan : The Brian Lehrer Show
We recently received a call to our Uncommon Economic Indicators hotline (that's 1-800-543-2543 if you haven't already added it to your cell phone's speed dial) about a listener's shampoo bottle. Take a listen: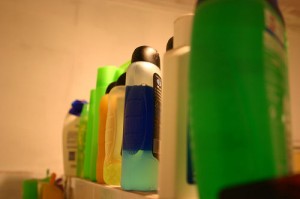 Read More
Tuesday, March 10, 2009
By Jody Avirgan : The Brian Lehrer Show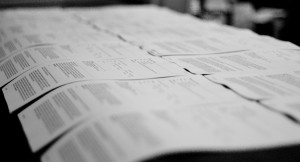 One of the underlying goals of our Uncommon Economic Indicators project is not just to gather interesting stories, but to try and notice patterns, connect listeners, and possibly ...
Read More