Yassky

Tuesday, September 24, 2013
By Kate Hinds
Summonses are going out this week to 4,500 dangerous cab drivers New York should have flagged — but didn't, thanks to a software glitch.
Read More
Monday, October 22, 2012
(Alec Hamilton -- New York, NY, WNYC) One month after the city launched a program to let disabled passengers use cellphones to hail a taxi, some riders say there aren't enough available cabs.
The Accessible Dispatch program allows riders to use phone, text or app to summon one of the city's wheelchair-accessible taxis. There are over 13,000 yellow cabs in New York City, but only 233 of them have ramps.
Anne Davis is on the board of the Center for Independence of the Disabled. She said when demand is low the service is pretty good, but as the day progresses delays tend to grow. "Sometimes you can get a taxi within minutes," she said, "(but) one of my friends waited two and a half hours in the rain. The major problem with the system is that there aren't enough taxis."
According to the program's website, "if the closest available taxi does not accept the job within 120 seconds, the job request automatically jumps to the next closest available cab — and so on, until the job is accepted by a driver."
NYC Taxi and Limousine Commission chairman David Yassky said an effort to put another 2,000 accessible cabs on the streets is currently held up in court as part of the five-borough taxi plan. But he said service has improved.
"We're getting somebody a wheelchair accessible taxi in average of about 20-25 minutes," said Yassky. "We've never done that before. That's really good."
The system is operated by Connecticut-based Metro Taxi and uses GPS to locate and dispatch the nearest accessible cab. Rides must originate in Manhattan.
Read More
Tuesday, July 10, 2012
By Kathleen Horan : Reporter, WNYC News
(New York, NY - WNYC) Cab drivers from throughout the city came out in force on Monday to push the New York City Taxi and Limousine Commission to approve the proposed 17 percent fare hike.
The increase, if approved later this week, would increase charge per mile but the $2.50 base rate would stay the same. The flat fare to and from JFK Airport would also jump from $45 to $52.
Speaking to a room mostly of fare-hike backers during a hearing Monday, TLC Commissioner David Yassky said he supports the measure, which would be the first time in six years that fares have increased.
"The price of a loaf of bread has gone up. A gallon of milk has gone up. Certainly, the price of a gallon of gasoline has gone way up, and I think that taxi passengers understand they have to pay for some of that," Yassky said.
But approval of the plan isn't a done deal. Just two of the commission's nine TLC commissioners appeared at the hearing, and medallion owners have been angling behind the scenes.
At least one borough Commissioner, Frank Carone of Brooklyn, has said he'd vote against the proposal as it stands now because the increase doesn't meet the guidelines for rules that govern fare increases.
But the head of the Taxi Worker Alliance, Bhairavi Desai, said the wait has been too long.
"The idea that hard-working people are earning 25 percent less today than what they earned in 2006 is absolutely unacceptable," Desai said. "After 12 long hours behind a wheel, collectively serving over a half a million people, there's no question taxi drivers deserve to make a livable income."
Fleet owners complained the fare proposal leaves them out. The TLC isn't considering increasing the amount garages can charge drivers for renting the taxi and medallion—otherwise known as lease caps.
Michael Woloz, spokesman for the fleet group the Metropolitan Taxicab Board of Trade, urged the commission to consider their rising costs too. He said the price of maintaining a garage is expensive.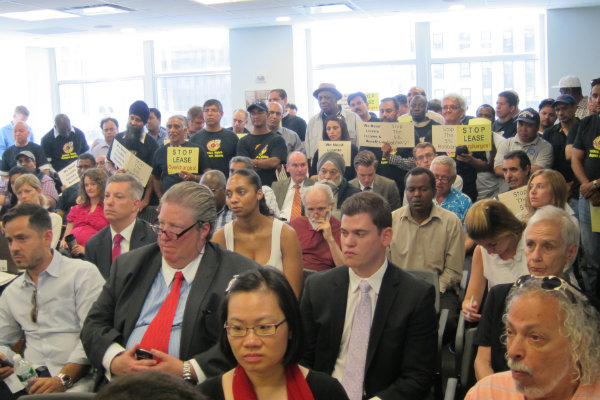 "(To) have tow truck operators, gas stations  and mechanics that work 24 hours a day to make sure New Yorkers' taxi service is that best in the world—that costs money" Woloz said.
He said a 19 percent increase to both fares and lease caps would be more equitable.
But, according to TLC figures, fleets can make about $48,650 per medallion, meaning a 200-cab fleet could make more than $9 million a year, which the TLC doesn't consider a hardship.
The TLC is scheduled to vote on the plan this Thursday.
Read More
Monday, June 11, 2012
By Kathleen Horan : Reporter, WNYC News
(New York, NY -- WNYC) A taxi app competition sponsored by New York City is heating up. The Taxi and Limousine Commission (TLC) is accepting proposals for an app that will help passengers pay for their taxi trips with their smartphones.
"You could pre-load your credit card and pre-set the tip amount that you use and that way when you get in a taxi you click that app and you don't have to worry about swiping that credit card at the end," said TLC Commissioner David Yassky.
In addition to the convenience of not having to dig for a credit card before getting out of a cab and having a record of the receipt, at least two of the companies in the running also promise their technology will assist customers in locating a taxi.
One of the competitors, Jay Bregman, who is CEO of the company Hailo, said, "We want to help solve the inefficiencies in the taxi market." The company already offers a popular taxi app in London. "Why go into the street when you can hail the cab from inside the house or the bar?" he added.
Radios and dispatchers are barred from use in yellow cabs but companies like Hailo said that there isn't any need for a dispatcher with their app — it's more like putting your technology in the air, instead of waving your arm in the air to hail a cab.
But some in the industry are against using gadgets to find cabs.
The Livery Roundtable, a group that represents over 300 livery bases in the city, said in a statement: "Digital hailing is just another sleight of hand by the TLC to masquerade its desire to de-reregulate ground transportation … Besides forcing the driver to text and drive — prearranged service is legally the exclusive right of the for-hire service sector."
But TLC Commissioner Yassky said digital hailing isn't necessarily their goal — it's only a function they're considering.
"App developers are welcome to give us other functions on top of payment … we'll see what comes in," said Yassky.
Another company keen on getting into the city's taxi market is GetTaxi.
The company's CEO, Jing Wang Herman, said they'd like to provide drivers with a dashboard-mounted box that will help them connect with customers. In addition to other functions, their app will help disabled customers find a wheelchair-accessible taxi.
Yassky said the number of winners in the app contest depends on the quality of the submissions.
The last day to submit entries is Thursday. Winners are expected to be announced this fall.
Read More