Working Families Party

Wednesday, June 25, 2014
By Karen DeWitt : NYS Public Radio/WXXI
In a move that could shift the balance of power in Albany, two Democratic factions in the State Senate say they are joining to form what could be a strong Democratic Majority in the Senate. That could leave Republicans, who up until now have ruled the chamber in a coalition government, out of power

Tuesday, June 03, 2014

Monday, June 02, 2014

Sunday, June 01, 2014
By Karen DeWitt : NYS Public Radio/WXXI
Support from the Working Families Party came in a messy convention vote that stretched to late Saturday night.

Thursday, May 22, 2014
New York's governor has more campaign cash than the governors of several states combined. But less than 1% comes from small donors.

Thursday, March 21, 2013
By Anna Sale
It's already been a tough week for Council Speaker Christine Quinn, whose support of an NYPD Inspector General drew the ire of Mayor Michael Bloomberg. And on Friday, she'll be facing more heat - this time from the Democratic side. A paid sick leave bill that Quinn doesn't support gets a public hearing for the first time this campaign season on Friday, and it comes the week after two other cities passed similar laws.

Thursday, August 23, 2012
Progressives are mounting a campaign to force the City Council to pass paid sick leave legislation. Dan Cantor, executive director of the Working Families Party, discusses the bill and the issue.
Tuesday, December 06, 2011
The Working Families Party is signaling its support for Governor Andrew Cuomo's tax reform plans. Dan Cantor, the labor-backed political party's executive director, said he felt the proposal was moving things in "a good direction."
"It's important that the tax reform package produce enough revenue," Cantor said. "The $5 billion in the millionaires' tax expiration, if it produces that much, it will allow us to both close the budget deficit, reverse some of the cuts and, more importantly as the Governor has pointed out, make these investments in jobs and growth.
"This is a chance for the Governor and the legislature to show that government is not controlled by the one percent."
WFP has been a proponent of continuing a tax on higher income earners that's set to sunset at the end of this month. But Cantor said this doesn't indicate a reversal on the so-called millionaires' tax for the Governor.
"Facts on the ground change, and people are correct to change their views when facts change," said Cantor. "The fact is that the unemployment crisis is so enormous, both to individuals and whole communities, that something has to be done."
Read More
Tuesday, August 16, 2011
When voter's head to the polls for next month's special election in the 54th Assembly district, they'll see three different candidates' names. One of those candidates, Rafael Espinal, will be the Democratic Party candidate. He'll also be the Conservative Party's candidate. Some people may wonder how that happened, considering how opposite the two parties are on a number of social and political issues.
Political blogger Nick Rizzo put the question to Brooklyn Conservative Party Chairman Jerry Kassar. What had Espinal said to the Conservative Party that convinced them he shared their values?
Espinal met with the executive committee of the Brooklyn Conservative Party twice, and told them that he is anti-abortion. Furthermore, Kassar told me:

"We asked him about his position on same-sex marriage… He opposed same-sex marriage. This was before it passed, but he told us he would vote against it."

According to Kassar, Espinal also "appreciates our concern about out-of-control spending."
That's not the tone he took with the Working Families Party, according to documents obtained by The Empire. Responding to two specific questions--which the Working Families Party confirmed were the responses received from the Espinal campaign--the candidate answered in the affirmative to both his willingness to defend abortion rights, as well as what appears to be hist support for same-sex marriage, stating:
Historically, minorities, people of color and women have not enjoyed the full protection of the law. Through heroic struggles for justice, full civil rights and equality before the law have gradually been extended to millions of people were once denied equal rights. The right to marry the person of one's choice is a basic freedom. The extension of civil rights to gays and lesbians is in this honorable tradition. Marriage is one of society's most important social institutions and is also a key economic benefit gays and lesbians shouldn't be excluded from.

[NOTE: The questions and answers are in full below.]
Read More
Friday, August 12, 2011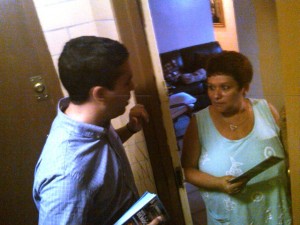 The Espinal for Assembly campaign office is tucked in the wedge of Bushwick between the J/M/Z and L trains, its windows covered in campaign fliers, on a block with a mix of three family homes and newer buildings giving off a condo vibe. It's 5:30 in the afternoon. A gaggle of just under a dozen volunteers are picking up clipboards and literature, a swatch of ethnicity that matches the evolving demographics of the district: mostly Latino, but a number of African-Americans and a few whites; all young.
They head out to make contact with potential voters ahead of the special election scheduled for September 13. Across the street Rafael Espinal can be seen, carrying black plastic bodega bags. The former aide to City Councilman Erik Martin Dilan and pick of Democratic Party boss Vito Lopez for the open seat in Northeast Brooklyn's 54th Assembly District, Espinal went out to get ice and water for office workers and volunteers.
"He's always working," notes Michael Olmeda, his campaign manager. After Espinal drops off the water, everyone gets into separate cars and head out to go door-to-door fliering in near-by public houses. The voters in these houses have traditionally been supporters of the former assemblyman, Darryl Towns. Towns's sister Deidra is one of two other candidates Espinal faces in the fight to be the first new representative from the district in 18 years.
"We're talking about dealing with three separate factions who think they have a mastery of the district," Olmeda says as he takes a right on Bushwick Avenue. Olmeda should know: He worked with Darryl Towns for 15 years before splitting with the family over the unwillingness of Congressman, and dad to Darryl, Ed Towns to step aside so his son could get a shot at his seat.
Read More
Wednesday, February 16, 2011
By Azi Paybarah
The Staten Island District Attorney is confirming he's sought a special prosecutor to investigate the Working Families Party and that the year-long request has still not be answered.
In a statement, his spokesman Peter Spencer explains:
"On Feb. 22, 2010, Richmond County District Attorney Daniel M. Donovan Jr. filed an application with New York City Courts' Deputy Chief Administrative Judge Fern A. Fisher for a special prosecutor to investigate possible violations of the state election law, local campaign finance law and other related criminality on Staten Island. As far as we know, that application is still before the judge and under seal."
Read More
Tuesday, November 02, 2010
By Azi Paybarah
In New York, political parties win or lose their position on the ballot based on the number of votes they get in a gubernatorial election.
Which is today.
Ballot position is part bragging rights, part political philosophy, and, in a very real way, an existential challenge (because what is a political party that doesn't have a designated slot on a ballot?).
A spokesman for the Working Families Party, Dan Levitan, chatted with me just now about where he and other minor parties may end up after tonight.
Levitan said rows "A and B don't matter" since those will be held by either Democrats or Republicans for the forseeable future. Voters are used to seeing those two parties battle it out there, he said.
"But it does matter who comes after that. We're the third time [Cuomo] is listed on the ballot. It makes it harder [for us]. If we were the second time, it would be easier," he said.
Cuomo is also appearing on the Democratic, and Independence Party lines.
The reason why ballot position matters, according to Levitan, is that "it's easier to find. The closer you are to the major parties and the farther you are from the Marijuana party, the better you are."
Levitan's prediction: "I don't think existing minor parties will change ballot position."
(A party needs to get at least 50,000 votes on their line in the governor's race to keep a designated row on the ballot for the next four years. If a party doesn't get that, they have to go through a painstaking and costly petition process to reappear.)
Read More

Thursday, October 14, 2010
I think the Democratic party nationwide represents clearly the left, and I think the Republican party nationwide clearly represents the right, both on economic  and social issues. And I think it's important not to be vanilla, you can't just be vanilla in this world and political parties have a responsibility to speak out both on economic and social issues.
-Michael Long, Conservative Party of New York State Chairman, on The Brian Lehrer Show
Wednesday, April 22, 2009
By Matthew Schuerman : Editor, WNYC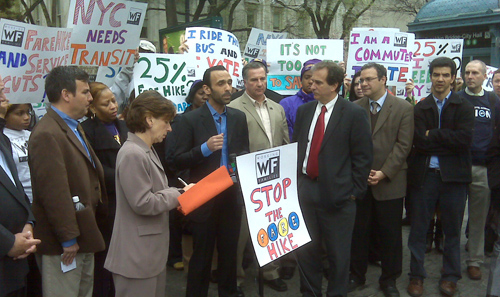 The uproar over the MTA's funding shortfall has spread to the Internet. The Facebook group, 'One Million People Against the NYC MTA Fare Hike' was launched about one month ago. Actor Amir Darvish says he and four friends decided ...