Vito Lopez

Friday, June 22, 2012
Candidates for the Democratic nomination in New York's 7th congressional district appeared on the Brian Lehrer Show Friday morning, where they tried to lay out their platforms while addressing allegations that party politics are muddying the race.
Read More
Thursday, March 08, 2012
The Politicker blog has this piece on the coming primary battle between city councilman Erik Dilan--son of state Senator Martin Malavé Dilan, and close ally of Brooklyn's powerful Democratic party leader, Assemblyman Vito Lopez--and 10-term incumbent congresswoman Nydia Velazquez:
"The time is right for change," Mr. Dilan told The Brooklyn Paper"We've had an incumbent who has been there for 20 years and she's done little with the post. She's going to have to justify after 20 years of nothing, why she should remain in office."

Mr. Dilan undoubtedly has been paying attention to the redistricting process, as Ms. Velázquez's district became slightly more favorable to Mr. Dilan's challenge in the recently released court-drawn map. Notably, her seat absorbed Hasidic Williamsburg where the largest sect is allied with Mr. Lopez.
Add this to the already percolating three-way battle for Congressman Ed Towns' seat, and it looks like Brooklyn will see a busy, if truncated, primary season.
Read More
Friday, August 12, 2011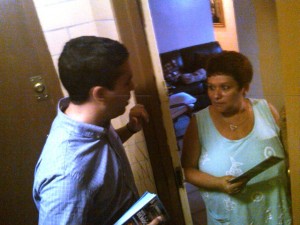 The Espinal for Assembly campaign office is tucked in the wedge of Bushwick between the J/M/Z and L trains, its windows covered in campaign fliers, on a block with a mix of three family homes and newer buildings giving off a condo vibe. It's 5:30 in the afternoon. A gaggle of just under a dozen volunteers are picking up clipboards and literature, a swatch of ethnicity that matches the evolving demographics of the district: mostly Latino, but a number of African-Americans and a few whites; all young.
They head out to make contact with potential voters ahead of the special election scheduled for September 13. Across the street Rafael Espinal can be seen, carrying black plastic bodega bags. The former aide to City Councilman Erik Martin Dilan and pick of Democratic Party boss Vito Lopez for the open seat in Northeast Brooklyn's 54th Assembly District, Espinal went out to get ice and water for office workers and volunteers.
"He's always working," notes Michael Olmeda, his campaign manager. After Espinal drops off the water, everyone gets into separate cars and head out to go door-to-door fliering in near-by public houses. The voters in these houses have traditionally been supporters of the former assemblyman, Darryl Towns. Towns's sister Deidra is one of two other candidates Espinal faces in the fight to be the first new representative from the district in 18 years.
"We're talking about dealing with three separate factions who think they have a mastery of the district," Olmeda says as he takes a right on Bushwick Avenue. Olmeda should know: He worked with Darryl Towns for 15 years before splitting with the family over the unwillingness of Congressman, and dad to Darryl, Ed Towns to step aside so his son could get a shot at his seat.
Read More
Wednesday, January 26, 2011
By Azi Paybarah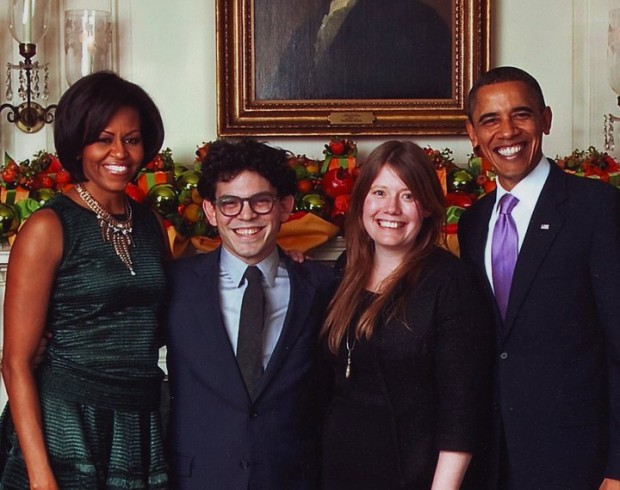 Lincoln Restler and his campaign manager, Sarah Baker, share a moment with Barack and Michelle Obama.
Obama's campaign was the catalyst for Restler's own scrappy, and narrowly successful, fight to become a Democratic district leader in Brooklyn. The Brooklyn County Democratic organization is still controlled by Assemblyman Vito Lopez who, reportedly, has not been eager to embrace some of the Obama-inspired activists in the borough.
Read More
Monday, January 24, 2011
By Azi Paybarah
Vito Lopez, the Brooklyn Democratic Leader, will be speaking to the Manhattan-based club this Wednesday, at 8 p.m. at the LGBT Community Center (208 West 13th Street).
Lopez has weathered a storm of scrutiny over the lax financial oversight at the non-profit organization he founded. There's also a budding, yet not quite ripe, rebellion to his control of the Democratic organization in Brooklyn, thanks to the Obama-inspired young turks at the New Kings Democrats.
On LGBT issues, Lopez has been ahead of the curve. He announced, via press release, his support of same-sex marraige, way back in 2006 - about two and a half years before Chuck Schumer and other New York officials came around to it.
Other people speaking at Stonewall on Wednesday include Assemblywoman Linda Rosenthal and City Councilwoman Rosie Mendez, both of Manhattan.
Lopez chairs the housing committee in the Assembly; Rosenthal chairs the Mitchell-Lama Housing sub-committee, and Mendez chairs the Public Housing Committee in the City Council.
Read More
Wednesday, December 15, 2010
By Azi Paybarah
The Staten Island District Attorney announced an employee at the politically connected non-profit has pleaded guilty to falsifying attendance records in order to keep an afterschool program they were running afloat.
The guilty plea by Tyess Crespo will not lead to any direct legal action against the group's founder, Brooklyn Democratic County Leader Vito Lopez, according to the DA.
The investigation "produced no actionable evidence of criminal conduct by any party beyond those charges contained in the complaint filed in court against Ms. Crespo. This was the extent of my prosecutorial authority pursuant," the DA said in a public statement.
City auditors slammed the group for getting huge sums of money from city, state and federal lawmakers, and having an incredibly weak oversight of how that money was being spent. The implication had been that Lopez was using the group as a political vehicle - mobilizing thousands of voters whose housing, meals and transportation he controlled.
The statement by the DA is an attempt to close down his role in the matter. Federal investigators, and others, are still looking into the group's finances.
Read More
Friday, November 12, 2010
By Azi Paybarah
Askedwhether it's a "good idea" to fund the Ridgewood Buschwick Senior Citizens Council - the nonprofit founded by influential Democratic lawmaker Vito Lopez - Andrew Cuomo today would only say that the matter is "under investigation" and that he won't comment.
But as David Seifman points out, the city is moving ahead and sending the group $12.5 million in city money. Along with the AG's office, the federal authorities are also investigating the group.
Read More
Friday, November 12, 2010
By Azi Paybarah
David Seifman reports that City Hall "quietly restored" $12.5 million to the nonprofit founded by influential Democratic lawmaker Vito Lopez. The nonprofit is the subject of two federal reviews (investigations, right folks?), as well as "a thorough review" from the state attorney general's office.
So, why did the city send the money to group?
A few reasons:
1) The group is still providing services, like food to home-bound seniors, and they're incurring bills that need to be paid, according to a person I spoke with.
2) The city conducted their own vetting of the group, and improvements they recommended have already been put into place. So, in the city's eyes, the group is fair game for funding.
3) So, when the city turned to the state, the AG had a limited role: "The only question we asked the charities bureau was whether the paperwork was up to date," according to a City Hall spokeswoman. The answer they got - in the form of a "verbal confirmation" - was yes.
Aides in City Hall and the Attorney General's office acknowledge that the charity is still under review by federal investigator and the AG's office and the status of those investigations has not changed.
"Their paperwork remains under review in conjunction with two federal investigations," said a spokesman for the attorney general's office.
Read More
Monday, October 04, 2010
By Azi Paybarah
Michael Bloomberg offered some rare praise for the Ridgewood Bushwick Senior Citizens Council, the non-profit organization that is reportedly being investigated by the federal authorities, as well as state comptroller, state attorney general and city comptroller. It all stems from a lack of oversight from the organization's board, officials say.
Bloomberg, in a Q&A with reporters today, said his commissioner at the Department of Investigations – whose report kicked off much of the scrutiny – says the group is, overall, "doing a good job" and is, basically, too big to fail.
Bloomberg said, "Rose [Gill Hearn, the DOI commissioner] pointed out that there is no other organization at the moment capable of providing the services to the community that really needs it. Nobody with the scale and the experience, and she said in terms of that, they're doing a good job.
The organization was founded by Vito Lopez, the Assemblyman and Brooklyn Democratic County Leader, who is having his own headaches at the moment.
Read More
Monday, October 04, 2010
By Azi Paybarah
At a campaign event on Long Island this morning, I asked Andrew Cuomo how embattled lawmaker Vito Lopez ended up at some of his campaign events and if he had any objections to Lopez's presence.
Cuomo didn't answer the second part of the question, and said matter-of-factly, "I was visiting a number of Jewish rabbis yesterday in Brooklyn. At a couple of the visits, Vito Lopez was also visiting the rabbi and that was the extent of it."
Cuomo's office is reviewing the non-profit Lopez founded for possible financial mismanagement, as are the federal authorities. The state and city comptrollers are also combing through the organization's paperwork.
Read More
Friday, September 24, 2010
By Azi Paybarah
NYC Comptroller John Liu gets in on the act. A spokeswoman for Liu emailed me the following statement:
"We are red-flagging the Ridgewood Bushwick Senior Citizens Council for further review."
The city comptroller is just the latest person to say the organization - which Lopez founded and helps fund - is under scrutiny.
The state attorney general, state comptroller, and federal authorities, are also looking into the organization.
The Staten Island District Attorney is also prosecuting an employee for the organization, Tyess Crespo, 36, for allegedly submitting false attendance records for a karate program. If convicted, Crespo could face up to 4 years in prison. The Staten Island District Attorney is handling the case after the Brooklyn DA signaled to the judicial office that their office could have a conflict investigating an organization with ties to Lopez, who is also the head of the Democratic County Organization in Brooklyn.
I called the Ridgewood Bushwick Senior Citizens Council and got hung up on, several times. I have a call into Lopez's office and will update if there's a response.
[Note: The statement from Liu's spokesperson was updated by them for clarity.]
Read More
Tuesday, September 21, 2010
By Azi Paybarah
Cyril Joseph says he was fired from the non-profit founded by Vito Lopez "because I did not endorse Maritza Davilla," a City Council candidate Lopez was supporting last year.
Joseph says the official reason he was given for losing his $10-an-hour custodial job after only a year was poor performance. He says others within the non-profit made it clear he was fired because of his political activities.
Joseph made his claim last night, outside the Brooklyn Democratic County Organization's bi-annual meeting where Lopez was re-elected as County Leader.
Lopez took a few questions from reporters afterward, but left before he could be asked about Joseph's claim. City investigators have already criticized the non-profit for lax financial oversight. Lopez defended the organization, saying he's "proud" they serve his community.
Read More
Tuesday, September 21, 2010
By Azi Paybarah
After leaving last night's meeting of the Brooklyn Democratic County Organization, Assemblyman Dov Hikind told reporters that the County Leader, Vito Lopez's health was declining.
Before the meeting concluded, Brooklyn Paper had reported that Lopez is telling allies he has cancer.
When Lopez emerged from the meeting, he took a few questions. When asked about his health, Lopez asked a reporter "who are you" and "are you well?"
"That is like an outrageous request," Lopez fumes.
Later, he's heard referring to this New York Post reporter, as "a real sick lady."
Technical note: my videography is completely amateurish.
Read More