U.S. Senate

Friday, June 07, 2013
Mike Kelly, columnist at The Record of New Jersey, talks about the appointment of  N.J. Attorney General Jeffrey Chiesa to serve as U.S. Senator until October's special election to fill Sen. Lautenberg's seat.

Wednesday, October 17, 2012
By Lance Luckey
Incumbent Democratic Senator Kirsten Gillibrand and her Republican challenger, attorney Wendy Long, traded barbs during the only debate in New York's U.S. Senate race.
Tuesday, March 20, 2012
People with a stake in the billions of dollars worth of highway funds and gas taxes may have breathed a temporary sigh of relief a few hours ago when Transportation and Infrastructure Chairman John Mica said the GOP would opt for a temporary extension next week.
Not so fast.
Senate Majority Leader Harry Reid (D-Nev.) says he's not interested in putting a temporary extension of the Highway bill on the Senate floor if the House passes one next week, given that the Senate passed a two-year, $109 billion version of its own last week with 74 votes.
The current Highway bill extension runs out March 31. That means the Senate can keep the program going by passing the House's temporary extension, which will likely include a motion to go to conference with the Senate.
"I'm not inclined to do that," Reid told reporters Tuesday.
If Reid sticks to his guns, that leaves Option Two: Force the House to swallow the Senate's two-year bill or, Option Three: Risk being held responsible for a shutdown reminiscent of last summer's Federal Aviation Administration shutdown fiasco.
Time is running short, and House Republicans have already said they won't try for a version of their 5-year bill before the Easter recess. "There's plenty of time for the House to pass our bill," a Senate Democratic leadership aid says.
The aide wouldn't go so far as to close down all possibilities of a temporary extension as House Republicans now want. But the tough talk has started, and along with it a game of chicken with a March 31 deadline.
"The House had their chance, and they blew it," the aide said.
Follow Todd Zwillich on Twitter @toddzwillich
Read More
Wednesday, July 28, 2010
(Washington, DC -- Todd Zwillich, Transportation Nation) Senate Democrats have released a scaled-back energy bill that cracks down on BP and other oil drillers but avoids hoped-for debate over controlling carbon emissions across the economy.
The bill includes several new incentives and investments for cleaner-energy vehicles. That includes rebate programs and loan guarantees designed to encourage companies to convert their trucking fleets to natural gas-burning vehicles. It would also spend millions to encourage the installation of natural gas pumping stations to service those fleet
Plug-in hybrids and electric cars also get a nod, to the tune of about $5 billion. The package of incentives and grants for plug-in hybrids and high-capacity battery development reported here several weeks ago have made it into the bill, according the Senate Democratic aides. The package includes the development of at least a dozen demonstration communities where car-charging infrastructure would be piloted. It also contains a taxpayer-funded $10 million prize for the first firm to develop a battery capable of driving a car 500 miles on a single charge.
Read More

Friday, July 16, 2010
By Annmarie Fertoli : Associate Producer at WNYC
West Virginia Governor Joe Manchin has picked Carte Goodwin, his former general counsel, to assume the seat of the late U.S. Senator Robert Byrd.
Friday, January 23, 2009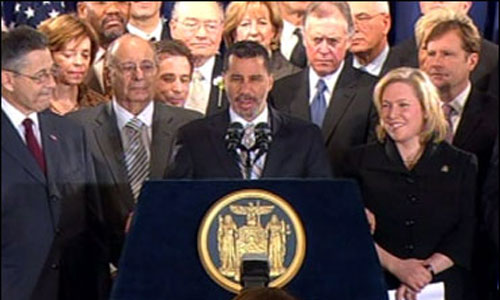 Gov. David Paterson has picked Democratic U.S. Rep. Kirsten Gillibrand to fill New York's vacant U.S. Senate seat. At the press conference announcing the governor's pick, take a look at who's right next to ...