Tony Avella

Monday, September 08, 2014
By Brigid Bergin : Reporter
Both candidates have something to prove in a state Senate primary in Queens, including what it means to be a Democrat.

Friday, March 07, 2014
By Brigid Bergin : Reporter
Mayor de Blasio says he governs with single-minded focus, as in the fight over pre-k. But his critics call it a lack of vision.

Monday, August 27, 2012
By Karen DeWitt : NYS Public Radio/WXXI
Anti-fracking advocates rallied in Albany Monday to try to convince Governor Andrew Cuomo to ban the natural gas drilling process in New York.  Meanwhile, a State Senator says he believes any final decision will be once again delayed.
Thursday, November 10, 2011
Elected officials at every level in the state are pushing for better protections and opportunities for military veterans--recent and those who served awhile ago.
Governor Andrew Cuomo is launching a program to help returning veterans find worker easier.
Military veterans are highly trained, often in specialized skills that are in great demand in the public and private sectors. However, veterans' training is often unacknowledged when they pursue licenses, degrees, and certifications in the civilian workforce. Through the Governor's "Experience Counts" campaign, state agencies will now identify ways that New York can better recognize the skills and training that veterans possess.

"As our veterans return home to New York, we must do everything within our power to ease their transition back into civilian life," Governor Cuomo said. "That is precisely what the 'Experience Counts' campaign and the newly revitalized Council on Returning Veterans and Their Families have been set up to accomplish. With this campaign, we can give veterans the credit they deserve for their military training and ensure that the state government works efficiently and effectively on their behalf."
Attorney General Eric Schneiderman released a "guide to provide veterans and active duty military personnel information related to benefits, consumer protections and other legal issues."
"To honor the brave men and women who selflessly serve our country, we must do everything we can to ensure military families are protected here at home," said Attorney General Schneiderman. "From foreclosure protection to educational benefits to employment issues, veterans and active duty military personnel deserve to know the rights and benefits to which they are entitled. My office will continue to fight for those who have fought for us."
State Senator Tony Avella is introducing legislation to help veterans get preferential housing treatment.
Under the current law veterans who served in the Vietnam War are afforded specific eligibility into public housing projects at income levels slightly higher than the income levels set for the general public. Avella's bill will extend those provisions to encompass veterans who have served or are serving in the armed forces from September 14, 2001 through December 31, 2014--reflecting the period from the Joint Resolution authorizing the use of force against those responsible for the September 11th terrorist attacks.

"Today, just as we did in the Vietnam War Era, we are seeing more and more of our soldiers returning home having served our country through lengthy deployments in hostile theatres with nowhere to live," stated Avella. "Making sure that each one of these heroes is ensured preference when applying for public housing is the least we can do to prevent them from finding themselves in difficult situations. We should feel obliged to look out for those who selflessly risked everything to ensure our safety."
City Councilwoman Jessica Lappin is putting forth a resolution caling on the Congress to do more victims of sexual assault inside the military.
Thousands of women in uniform have been victims of sexual assault and harassment during their military service. But women suffering from this condition, known as military sexual trauma (MST), face serious barriers to receiving medical benefits. Council Member Lappin, Co-Chair of the Women's Caucus, is calling on Congress to pass a federal law that would make treatment more accessible to these victims.

"Thousands of veterans are carrying invisible battle scars," Lappin said. "We need to provide them with the help they need, so they can begin the healing process."
Read More
Friday, February 04, 2011
By Azi Paybarah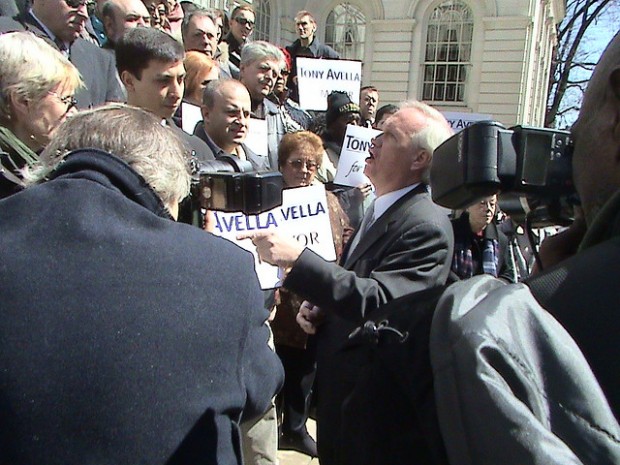 State Senator Tony Avella, a freshman Democrat from northeast Queens, was an outspoken defender of term limits when he was in the City Council.
He wants state lawmakers to serve for 4-year terms, and in total, to only serve fro 16 years. Staying longer makes elected officials "stagnant, arrogant and reluctant to adopt new ideas."
Which should gin up lots of support colleagues. Also, announcing the legislation on a Friday afternoon says something about how much political capital he's putting behind the effort.
Read More
Thursday, August 27, 2009
The two Democratic mayoral candidates vying to prevent Mayor Bloomberg from winning a third term squared off in their first debate last night.
City Councilman Tony Avella took City Comptroller Bill Thompson to task for taking campaign cash from developers and money managers who also do business with the city's ...