Timothy Dolan

Thursday, February 16, 2012
By Brigid Bergin : Reporter
He may not officially have the title yet, but that didn't stop Sirius XM radio's Catholic Channel from airing its first episode of A Conversation with Cardinal Dolan on Thursday. New York Archbishop Timothy M. Dolan will be elevated to the office of cardinal on Saturday in Rome.

Friday, January 06, 2012
By Fred Mogul : Reporter, WNYC News
Pope Benedict's elevation of New York Archbishop Timothy Dolan to cardinal was expected, but has occurred especially quickly, according to experts.

Friday, January 06, 2012
When New York Archbishop Timothy Dolan got word he was becoming a cardinal in the Roman Catholic Church, he knew just who to call: Mom.
Tuesday, February 08, 2011
By Azi Paybarah
While Bloomberg was in Albany, I asked him what he thought of the study that found 41 percent of pregnancies in New York City ended in abortion.
"I have no idea if that's an accurate number or not. I just don't know," he said.
The report was announced by a group that included Archbishop Timothy Dolan. Bloomberg aides took a more nuanced view of the figure, according to this New York Times story.
[C]ity health officials and groups that support access to abortion say that behind the 41 percent statistic — nearly twice the national rate — are complex social and legal factors: fewer obstacles to abortion in state law; the absence of mandatory sex education in New York City public schools; the ignorance of people, especially young ones, about where to get affordable birth control; and the ambivalence of young women living in poverty and in unstable relationships about when and whether to have children.
UPDATE: About that methodology. The study says their findings hold up, even when calculated by the method used by the Guttmacher Institute, a reproductive rights organization. A spokesperson for the Guttmacher Institute told me they too come up with a 41% abortion rate for NYC.
Read More

Tuesday, November 16, 2010
New York Archbishop Timothy Dolan has been elected president of the U.S. Conference of Catholic Bishops, effectively making him the country's senior Catholic leader.

Thursday, August 19, 2010
New York Archbishop Timothy Dolan says his "major prayer" is that both sides in the debate over a proposed mosque and and community center blocks from the World Trade Center site can have a "respectful discussion" over plans.
Wednesday, March 17, 2010
By Brigid Bergin : Reporter
They don't serve green beer but if you're looking for a full Irish breakfast, Eamon's Bar and Grill offers the real thing, complete with eggs, bacon, sausage, white pudding, black pudding, coffee, tea and a whole lot of personality.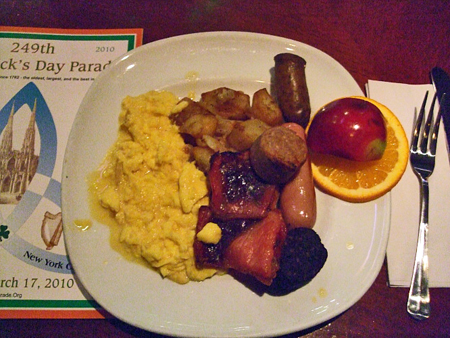 Monday, April 13, 2009
By Fred Mogul : Reporter, WNYC News
Monday, February 23, 2009
By Fred Mogul : Reporter, WNYC News