Tier Vi
Tuesday, March 13, 2012
By Karen DeWitt, New York State Public Radio Capital Bureau Chief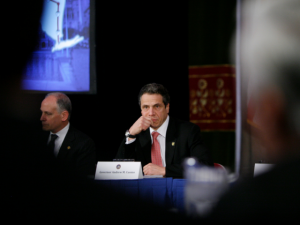 Courtesy of the Governor's office.
Governor Andrew Cuomo, in an interview with public radio, says he's still trying to hash out an accompanying statute to go with a constitutional amendment to change redistricting reform.
Cuomo says the legislature's proposed constitutional amendment, as currently written, is not good enough, and any final deal hinges on how tightly structured the proposed law would be. Cuomo says of the legislature's efforts to reform redistricting, "my trust is low, my skepticism is high".
The governor says if there's a failure to reach an accord, and the legislative lines are ultimately drawn by a federal magistrate, then the resulting maps would "probably get you somewhat better lines" than any product from the Senate and Assembly.
On pensions, Cuomo says talks on reforming the system are on going, and in order to reach a deal, he'd accept reforms that are not in the form of a new benefit tier, as long as the savings are there. He warns the alternative to pension reform is "thousands of layoffs" of employees in local governments around the state.
Union sources have accused the governor of playing politics, and staging a fight with organized labor as part of a strategy to run for President in 2016. Cuomo denies this, saying it's "not about future campaigns, this is about past campaigns' saying unions did not back him in 2010 governors' race. He says the reason is that he told union leaders at the time that he intended to change the public pension system.
Cuomo also clarified his position on the reproductive health act, which would further protect a woman's right to choose abortion, saying he "fully" supports it.
"I've been a long supporter of pro choice issues going way, way back, and I always will be," Cuomo said.
This story has been updated from an earlier version.
Read More
Wednesday, February 29, 2012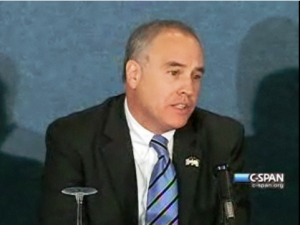 Courtesy of CSPAN
New York State Comptroller Thomas DiNapoli released a report today highlighting the shrinking profits of Wall Street. According to the report, upcoming bonuses are projected to decline by 14 percent, as brokerage profits were less than half of what they were in 2010.
In a sit-down interview with WNYC's Empire blog, the Comptroller said the good news was that the state and city had both planned for decreased revenue from the financial industry in their budgets. But more importantly, DiNapoli said, the shrinking of Wall Street profits could be a good thing.
"As we move towards more implementation of federal regulatory oversight, where the emphasis will be on transparency, accountability in compensation, tying it to long-term profitability, less leverage, higher cash reserves--all of that adjustment, which we're seeing the beginnings of in terms of impact, that's probably going to continue," he said. "If that produces an industry that is profitable, at a sustained level, we may not have the peaks we had a few years ago ever again but if the tradeoff is that we won't have the kind of valley that we had in '08 and '09 i think that's good for everyone--certainly from the point of view of planning for city and state budgets; it will make it much easier."
DiNapoli said he couldn't say for sure if the trend on Wall Street was "the new normal", but he did note that just like this month has seen an improvement in the markets—the Dow hit 13,000 for the first time since 2008 this week—last February started the year out strong.
""That's not how the rest of the year played out," he said.
From the government spending side, he said both the city and state budgets have already started responding to the possible permanence of a smaller Wall Street.
"I think we've already anticipated this trend," he said. "We just have to continue to monitor carefully where it's all headed."
Read More
Monday, February 27, 2012
By Karen DeWitt, New York State Public Radio Capital Bureau Chief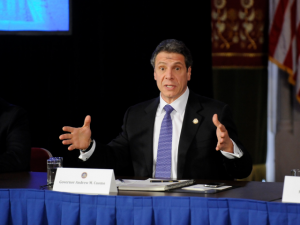 Governor Andrew Cuomo took a step back from his proposal to give new state workers the option of defined contribution 401(k) plan Monday, but the governor says without pension reform, local governments in New York could end up "bankrupt".
Cuomo told a receptive audience of mayors from around the state that New York's current pension system is unsustainable and must be changed for future hires.
"If we do not do this, we could literally bankrupt the state of New york," Cuomo said.
The governor, in his budget proposal, wants a new benefit tier that offers a reduced public pension or a 401k style plan, but he says he's flexible like "Gumby" on that.
"I'm not saying that 'this is my plan, you know, it's my way or the highway'," Cuomo said.
Cuomo says if lawmakers offer an alternative plan that saves as much money as his plan, then he's open to talks. The governor says his plan will save $113 billion dollars over future decades.
A spokesman for the state's largest public workers union, the Civil Service Employees Association, says even without the 401(k) option, Cuomo's proposed Tier VI benefit plan is too meager.
"The Tier 6 plan represents a 40 percent reduction in benefits, with or without options," CSEA's Steven Madarasz said in a statement. "That is all about corporate CEOs  driving an agenda that tells future nurses, school bus drivers, highway workers and others to give up hope of  future security."
Read More
Wednesday, February 22, 2012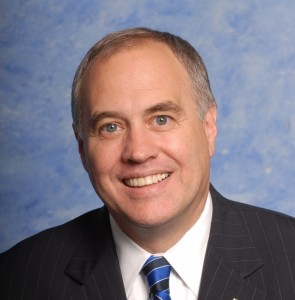 Courtesy of the Comptroller's office
Pension reform is one of Governor Andrew Cuomo's highest priorities this year. In both his state of the state speech, and more formally in his budget proposal, the Governor laid out his vision for fixing what many perceive to be the state's broken and unsustainable pension system.
Cuomo would give future employees the option of participating in a defined contribution plan, which works like a 401(k) and would be similar to the system SUNY and CUNY use today. It's one of a couple reforms instituted under the Governor's new Tier VI proposal.
On the other side of things you have State Comptroller Thomas DiNapoli. The Comptroller has called basing policy on the current state of the pension system—still recovering from the financial sinkhole of the last few years—"not the smartest move." In an op-ed today, he calle allowing a 401(k)-style option for state employees "a false choice" which would "undermine [new employees'] long-term retirement security."
"New York's proposed move to a 401(k)-style plan just doesn't make sense," DiNapoli said in the op-ed.
Over the past week think tanks, good government groups and research institutes have weighed in on the debate. In general, they're supportive of the Governor's proposals to change the state's pension system—but in various ways, and in varying degrees.
Read More
Thursday, February 09, 2012
When the Let NY Work coalition unveiled its mandate relief program back in November, pension reform was literally at the top of their list. The coalition consists of business, real estate and municipality groups pushing for major changes to the obligations localities have to the state and public employee unions.
Today Let NY Work doubled down on their push for pension reform, hailing Governor Andrew Cuomo's proposal for a new pension tier that would give new state employees the option of enrolling in a 401(k)-style retirement plan.
"New York cannot afford to not pass this legislation," Peter Baynes, the executive director of New York Conference of Mayors, said about the Governor's plan in a statement. "Without it, local governments will steadily lose the fiscal capacity to hire employees, much less pay their pensions. This is a critically important step on the road to sustainable property tax relief for New Yorkers. If state legislators are serious about authentic mandate relief, they must pass the governor's Tier VI plan."
"The Tier VI retirement proposal advanced by Gov. Cuomo is a fair and balanced approach to containing pension costs in New York," said Unshackle Upstate's executive director Brian Sampson in the statement.
The new Tier VI plan is opposed by labor unions. New York State Comptroller Thomas DiNapoli has signaled his resistance to the idea, suggesting that the logic behind a new tier--that the current economic problems justify a long-term change to the system--"might not be the smartest move."
Read More
Monday, January 23, 2012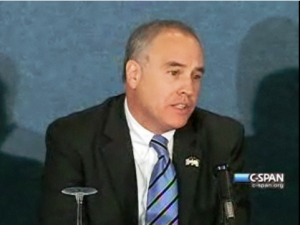 Courtesy of CSPAN
Governor Andrew Cuomo is calling for a new pension tier for future state workers, which would give them the option of enrolling in a 401(k)-style retirement plan. But the state's top fiscal officer, Comptroller Thomas DiNapoli, calls making decisions about the pension system based on today's fiscal troubles "might not be the smartest move."
"We can no longer sustain the current pension system," Cuomo saidduring his budget address in Albany last week. He went on to call the rising costs to state and local government "devastating."
Read More