Thomas Duane

Monday, June 04, 2012
By Brigid Bergin : Reporter
New York state Senator Thomas Duane, the Senate's first openly gay man, says he's coming home.
Read More
Friday, September 30, 2011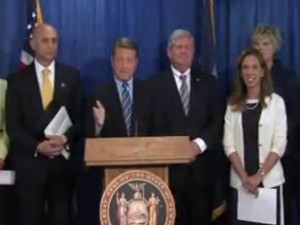 Medicaid costs New York a lot of money. The state spends more than $53 billion a year to care for 4.7 million low-income people. That represents about 40 percent of the state's entire budget.
For years the state has made localities bare a portion of the financial burden of the program. In most cases the Federal government and the state split the cost of the program, 50-50. In New York, counties and cities have to pony up about 16 percent of the program's cost.
The idea, initially, was that, since New York City was where most of the people in the program lived, suburban and rural counties didn't want to have to foot the bill. But now these same areas are nearing a financial breaking point, partly because of mounting Medicaid costs.
Re-shifting Medicaid Responsibility
A group of state legislators wants to do something about it. Last week, State Senator Patrick Gallivan, a Republican from Erie County, held a press conference with colleagues from both the Senate and the State Assembly, to announce legislation that will gradually phase out the local sharing program, shifting the total cost of Medicaid back to the state.
"Upstate counties are in trouble because of property taxes, and the upstate mandate of paying a local share of Medicaid services," Gallivan said. "Every single county, I would say this is their single-biggest consumer of county tax dollars."
Read More
Wednesday, December 02, 2009
The New York State Senate, by a count of 38-24, has voted down a landmark bill that would have made New York the sixth state in the nation to legalize gay marriage.
The floor debate and vote came after months of delays and behind-the-scenes arm-twisting of Senators who were ...