This American Life

Friday, April 24, 2015
When Mishy Harman created the podcast Sipur Israeli, it was intended for family and friends. Soon it was picked up by Israel's largest radio station and reaching hundreds of thousands.

Wednesday, November 19, 2014
The Takeaway hears from Ambassador Paul Bremer who calls for boots on the ground in Iraq, we explore America's hostage negotiation policy, and the success of the podcast Serial.
Friday, October 24, 2014
Three of our favorite segments this week: #BL25 talks to Mad Men creator Matthew Weiner; Ira Glass and Sarah Koenig on "Serial"; and Danny Meyer and Dan Barber on food in 2004.
Read More
Thursday, August 07, 2014
Ira Glass in 1997: "Our goal is if you hear the first 90 seconds of anything you will not be able to stop listening."
Read More

Wednesday, March 27, 2013
Chana Joffe-Walt, reporter for NPR's Planet Money, discusses her This American Life piece  on the rise in the number of people on disability.

Thursday, December 20, 2012
Ira Glass, host of This American Life, has a story or three of four each week on his radio program. Ira and our host John Hockenberry used to work together at National Public Radio a long time ago, including time spent working together through the holidays. But while John was just low on the totem pole, Ira had entirely different reasons for working over the holidays.

Monday, December 03, 2012
Ira Glass has perhaps one of the most recognizable voices in America. But, like most of us in radio, he is rarely visible to his audience. He decided to come out from behind the curtain for a special program, "The Invisible Made Visible," which was on stage in front of a live audience, and broadcast live to movie theaters across the country.
Tuesday, November 01, 2011
This American Life, the popular radio show, takes a look at middle school life. The host, Ira Glass, interviews a 14-year old named Annie, who gave the producers the idea to do a program about these difficult years. "The drama every day can be frustrating," Annie said. "No matter who you are or what you do you can made fun of for it." Hear stories from around the country, from students and experts.
Read More
Tuesday, February 17, 2009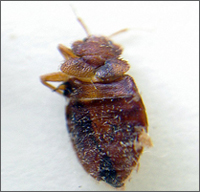 9,200 - That's how many bedbug complaints were filed through the city's 3-1-1 hotline last year. That's a 34 percent jump over the year before.

24.6 billion - How many dollars New York State stands to get in ...