Tax Cap
Friday, March 09, 2012
Today on "The Capitol Pressroom":
Senator Michael Gianaris on why any deal on redistricting that doesn't include a veto isn't enough.
Colleen Taggarty, the Superintendent of the Olean City Schools says the question is no longer "where do we cut" it's become "how do we become insolvent"?
And data driven policing is in the news again today and not in a good way: Why do we continue to measure the wrong things? That's what Eli Silverman and John Eterno ask in their new book "The Crime Numbers Game: Management by Manipulation" published by CRC Press, one installment in a series of texts exploring advances in Police Theory & Practice. Both Silverman and Eterno have unique experience with CompState, NYPD's computerized crime tracking system. They will join me on today's show.
For show archives, please visit The Capitol Bureau's website here.
Read More
Monday, January 09, 2012
It looks like local governments are coping with the state's tax cap after all.
According to a report from State Comptroller Thomas DiNapoli's office, 70 percent of localities were able to bring their budgets in line without overriding the 2 percent tax cap. The audit report also found that some five percent of localities had illegally exceeded the tax cap.
"Our review assisted local governments by providing insight into common issues and errors calculating the new tax cap, and I have directed my staff to develop additional training and expand our outreach to eliminate these errors," DiNapoli said in a statement.
The Comptroller found that 22 percent of localities voted to exceed the tax cap.
Read More
Monday, November 07, 2011
The Governor's office released a video today of Andrew Cuomo speaking directly to New Yorkers about the tax cap enacted earlier this year in Albany.
In his message, the Governor touted the work he and state legislators did to enact the cap. The video below comes a week after business and government groups called on state government to pass a series of mandate reliefs to help ease the burden of a tax cap.
A number of local governments are trying to get budgets passed that override the cap. The governor appears to be pushing voters to directly engage local governments to justify their spending and to see the cap as a tool for voters.
If you want to raise taxes, you can raise taxes. If you want to lower taxes, you can lower the taxes. If you want to live within the cap, or be below the cap, it's all your choice; but you decide, the people decide, not the politicians, that's the way it's supposed to be. ... I urge you to be there when your local government's budget is being debated. Attend the school board meetings. Ask your elected officials about their spending choices, talk to them about the cost of the bureaucracy and inefficiencies, ask them if their community should consider consolidating with other communities or sharing services to find economies of scale.
Read More
Monday, October 24, 2011
As we've been reporting, one of growing issues throughout the state is how local municipalities are faring under the the state's tax cap, specifically under state mandates like Medicaid. Thomas Kaplan of the New York Times today has a piece out about how counties and towns throughout the city are taking things, and the answer is: not well.
The property tax cap was a big piece of Cuomo's successful first legislative session. But now the need for local governments to raise funds is pushing hundreds to override the much-heralded legislation:
The Association of Towns of the State of New York estimated that, based on historical budgeting data, about a third of New York's 932 towns might also consider overriding the cap. Some towns said they needed faster property-tax increases to pay for important capital projects; others cited a need to finance their share of the rebuilding in the wake of Tropical Storms Irene and Lee.
This issue has already created rumblings around the state for something to be done in the next session. Cuomo's office, according to the article, argues that only about 20 percent of localities' budgets could require an override, and that the existence of an override provision shows the law has built in flexibility. But with a 60 percent supermajority threshold, it's entirely possible localities could be facing severe financial issues if the override can't be reached.
Read More
Tuesday, October 04, 2011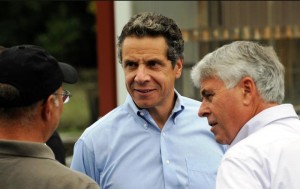 Courtesy of the Governor's office
The Pew Center's state government blog Stateline has a great piece on Indiana and New York's battle to shrink local governments across the state. Here in New York, Governor Cuomo has been, for years, putting the pieces together for a major reduction and consolidation of the state's layer cake of overlapping governments.
This will be a story that continues to develop, as the new local tax cap is scheduled to take affect next year--something town mayors, county executives and others are starting to voice concerns about.
From the article:
Unlike in Indiana, cities, towns and counties in New York face strict mandates from the state on collective bargaining, binding arbitration, and wage, pension and benefit obligations. Municipal leaders have long argued that these mandates bear heavy responsibility for the cost of local government — and hence for rising property taxes. A December, 2010 report from the state Conference of Mayors, "You Can't Cap What You Can't Control," pointed out that city pension and health insurance costs were due to rise $206 million in the next two years — while a 2 percent property tax cap, which is what eventually passed, would allow only $39 million in additional levies.

Cuomo created a "mandate relief redesign team," and the state's municipal leaders pressed the legislature hard on the issue, but in the end the tax caps passed without significant mandate relief. "The property tax is one of the most regressive and onerous taxes you can put in place," says Sam Teresi, the mayor of Jamestown, a city of 31,000 in the far western corner of New York. "I for one do not oppose the notion of a property tax cap. But the legislature passed the tax cap as a standalone item, broke their arms patting themselves on the back, and left town without taking up mandate relief. If all you're doing is choking off revenues for local governments and not allowing us to go in and attack the problem on the expenditure side of the ledger, then you're going to be seeing municipal insolvencies around the state."
The whole piece is worth a read. You can find it here.
Read More
Thursday, September 22, 2011
By Karen DeWitt, WXXI Capitol Bureau Chief
School boards and county leaders in parts of New York are warning voters they may need to override the newly enacted 2 percent property tax cap. Without an override there might not be enough money to pay for flood damage from two tropical storms as well as mandated state programs, they said.
The Association of Counties said as many as a dozen counties may begin the override process. Tompkins, Tioga, Chautauqua, and Rockland Counties are considering hearings, and St Lawrence County has held one already.
Governor Andrew Cuomo, a tax-cap champion, said the rules are designed to allow communities to make that decision for themselves.
"They can raise it to whatever they want it to be. That's it. There is no big brother here," he said.
But Steve Acquario of the county association said, "it's a little bit more complicated than that."
Read More