Suffolk County
Sunday, December 30, 2012
By Tracie Hunte : Assistant Producer, WNYC News
The New Year means hunters in New York will no longer be able to use crossbows to hunt big game. Governor Andrew Cuomo vetoed a law that would have expanded cross bow hunting for another two years because of a provision attached to the measure.
Tuesday, April 24, 2012
Lawmakers on eastern Long Island have approved a plan to trim the payroll by 315 jobs by July 1.

Tuesday, April 10, 2012
Mayor Michael Bloomberg toured the area of the Staten Island fire by helicopter Tuesday afternoon after firefighters worked through the night and into this morning to contain a blaze at the former Fresh Kills landfill, and managed to contain a brush fire on eastern Long Island.
Monday, April 02, 2012
Officials on eastern Long Island say a change in how Suffolk County pays pension benefits is just one of many proposals to reduce a looming budget deficit.
Tuesday, November 08, 2011

Tuesday, November 08, 2011
By Mirela Iverac : Reporter, WNYC News
Three years after the death of Ecuadorian immigrant, Marcelo Lucero, officials and immigration advocates say that Suffolk County has made significant strides in the addressing anti-immigrant sentiment. Even as a federal judge dismissed part of the Lucero family's civil rights lawsuit against two towns, anti-immigrant issues continue to linger.

Thursday, September 15, 2011
The brother of an Ecuadoran immigrant, who was attacked and stabbed to death by a gang of teenagers in 2008, called for a stronger response from the Department of Justice, which is currently investigating claims that the Suffolk County Police Department failed to properly investigate, report and track potential hate crimes against the Latino community.

Monday, May 09, 2011
Humans remains found along a stretch of beach highway in Long Island are the work of at least two killers who used the area as a dumping ground, a Long Island District Attorney said Monday.

Thursday, March 24, 2011
Suffolk County Executive Steve Levy abruptly announced on Thursday that he will not seek a third term as part of an agreement with prosecutors investigating Levy's campaign fundraising.

Tuesday, December 14, 2010
Suffolk County's police commissioner says investigators are considering the possibility that a serial killer may have dumped four bodies found along a beach road in Babylon, near Cedar Beach on Long Island.
Friday, November 20, 2009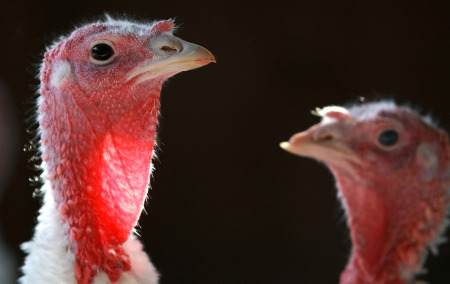 Long Islanders who like their Thanksgiving turkey extremely fresh may be in luck. L.I.'s first turkey hunting season opens today, but only for those 1,600 who hold turkey hunting permits.
Seventy-five turkeys were reintroduced in Suffolk County ...