Stuart Appelbaum
Friday, January 13, 2012
Below are the Speaker's remarks announcing the agreement. Additional reactions are included after:
For the past year, we have had a debate in the City Council about how to bring more jobs to New York in a way that raises salaries and does not stagnate job growth.
Some have said we should do that by letting the market run its course. Some have said that we should do it by replicating what many major cities in America have done: place a wage requirement on any jobs that are developed through public subsidies. Others have said we should go a step further and put that same requirement on tenants of developments that are built with public subsidies.
I want to thank everyone who has offered support, opposition, data, agreement and disagreement on all three of these perspectives. This has been a worthy debate.
There is nothing more important for government right now than the work of creating and retaining the best jobs we can.
Read More

Tuesday, January 18, 2011
By Charlie Herman : Business and Economics Editor
The midterm elections are over and the 2012 campaign for President has not officially started, but in New York City, a campaign of a different sort is already underway.
Tuesday, August 24, 2010
By Azi Paybarah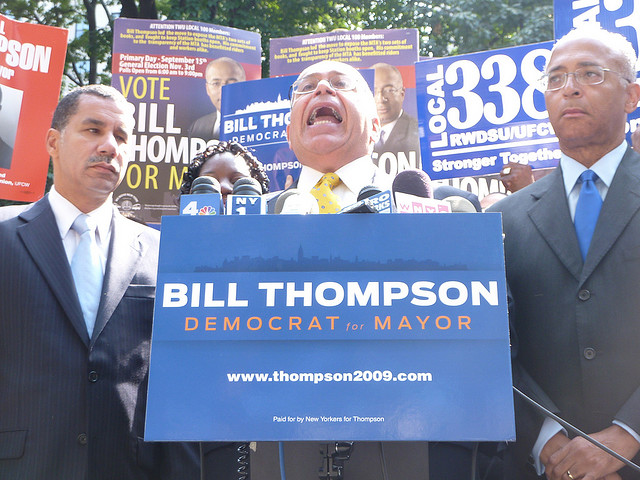 Azi Paybarah / WNYC
RWDSU President Stuart Appelbaum criticized Senate Democrats for accepting a political contribution from Walmart, the notably non-union retail shop itching to open their first store in New York City.
So, I asked Appelbaum what he thought of Assembly Speaker Sheldon Silver owning stock in that same company.
Appelbaum said, he's not as bothered by that.
In an email to me, Appelbaum wrote, "I don't tell people not to buy stock in Walmart, but I do tell them not to accept their contributions. Walmart is giving the money expecting something in return."
Read More