Street Vendors

Friday, May 01, 2015
The number of mobile food permits in NYC was capped years ago, so getting permits requires a shadowy system. WNYC's Ilya Marritz and two industry players talk about reforming the system.

Wednesday, August 27, 2014
By Camila Osorio : Feet in Two Worlds
Finding the most authentic ethnic food in NYC gives one bragging rights. The street vendors who sell their wares, though, are looking for rights of a different kind.

Wednesday, January 29, 2014
"The thing is... no matter what the weather, they have to go outside and pee," says a dog walker from New Jersey.

Wednesday, September 05, 2012
By Alec Hamilton : Assistant Producer, WNYC News
Street vendors will file suit against the NYPD and the city on Wednesday for what they say is illegal seizure of property following a crackdown in Soho last Spring.
Tuesday, April 24, 2012
The City Council waded into the issue of how much street vendors should be fined for infractions large and small. There was a committee hearing on several bills, including one that would decrease the maximum fine levied on vendors from $1,000 to $250, and another that would revise the escalating fine structure.

Wednesday, July 20, 2011
Vendors at the largest fruit and vegetable market in Chinatown railed against the city's ticketing practices Wednesday, claiming they are the targeted more than any other market.

Monday, June 21, 2010
Two New York street artists have filed a free-speech lawsuit to block new regulations that cap the number of art vendors in Manhattan's busiest parks.
Tuesday, February 23, 2010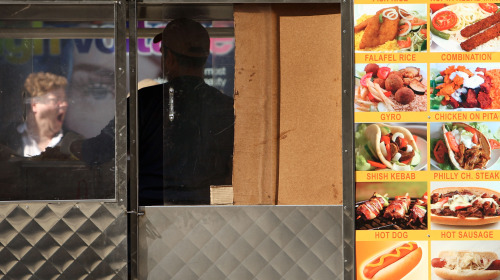 What's a food vendor to do when he or she has use the bathroom? Most of them slip into a cafe or restaurant lavatory and try to return to work quickly. But one ...