St. Patrick'S Day

Saturday, March 17, 2012
St. Patrick's Day revelers looking for an alternative to the parade crowds can hop on a tour of Lower Manhattan's old Little Ireland neighborhood. It sheds light on parts of the immigrant experience often overlooked in history books and popular culture.
Wednesday, March 17, 2010
By Brigid Bergin : Reporter
They don't serve green beer but if you're looking for a full Irish breakfast, Eamon's Bar and Grill offers the real thing, complete with eggs, bacon, sausage, white pudding, black pudding, coffee, tea and a whole lot of personality.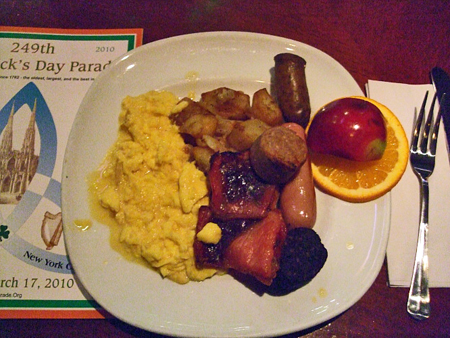 Wednesday, March 17, 2010
By Alana Harper
This Brooklyn bluegrass collective will be playing the St. Patrick's Day City Reliquary Benefit at the Knitting Factory tonight. Download their enchanting tune "Faceless Weaver."
Tuesday, March 17, 2009
Everyone may be Irish today, but given the tough economic times some are wondering if its really a good time to be celebrating. Before setting out on the St. Patrick's Day parade route, Mayor Bloomberg said the answer was simple: yes, more than ever.
'People need a pick-me-up,' says Bloomberg. 'People need to know that we can get through this together. All we need to do is treat everybody today like their Irish, next time like their Italian, the other like they're Hindus.'
It's a parade of firsts and lasts for St. Patrick's Day in New York. Warren Levinson reports.