Sikh Coalition
Wednesday, August 17, 2011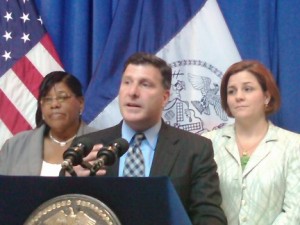 The City Council passed a measure this afternoon that changes the way employers can use exemptions for employees' religious observance, ending a so-called 'turban ban' in the New York City Police Department.
Currently, employers can declare the accommodation of a religious practice or expression to be a hardship, allowing them to deny employment or positions. The new law will raise the bar for what is considered a hardship, giving religious individuals more protections and forcing employers to try harder to find accommodations.
"The point of this bill is to make sure that, in the five boroughs, people who have particular requirements, as it relates to their religious observance…have the legal ability to do that in work," Quinn said in a press conference before the vote. The bill covers religious practices, such as prayer, as well as the need to take time off or wear religiously mandated clothing.
Read More