Sign

Thursday, August 08, 2013
By Kate Hinds
New York's guerrilla etiquette artist strikes again.
Read More
Tuesday, April 10, 2012
By Kate Hinds
(UPDATED WITH MTA RESPONSE) When it comes to enlightening New York City subway riders about service changes, a new report says the MTA is doing better -- but there's a lot of room for improvement.
The New York City Transit Riders Council (NYCTRC) surveyed temporary signage at 48 stations last November. These paper signs, usually taped to support beams, station walls, and station exteriors, are one of the most tangible ways that the MTA informs riders about scheduled work that diverts trains. (The MTA also tweets planned service changes and maintains a list on its web site.)  The NYCTRC report says "the level of compliance is mediocre at best."
In 2010, the MTA began hanging posters that list all planned service changes on one sheet. The NYCTRC said these signs were a "significant improvement" that promised the MTA was paying more attention to the issue.
But, according to the report, not enough attention. "Particularly disappointing was the lack of postings at entrances, 38%, where riders need to make critical decisions about their subway travel," the NYCTRC writes. "Worse, surveyors frequently found that they did not encounter signage about a specific service change affecting a station until they paid their fare," notes the report.
The NYCTRC wants the MTA to improve its management system for posting signage -- and use electronic display boards, known as SAID (for Station Advisory Information Display), throughout the system. Currently SAID boards are only located in a few high-trafficked areas, like Penn Station and Atlantic Terminal.
Kevin Ortiz, a spokesperson for the MTA, said the agency is in the process of adding an additional 26 SAID boards to stations. "We agree with the Transit Riders Council that all MTA customers should be aware of service changes before they enter a station," he said in an email, "and we share their long-term goal of providing that information. Unfortunately, posting both full-service directories and route-specific posters at the more than 2,100 station entrances in the MTA system is labor-intensive and costly." He said updated service information is always available at MTA.info.
Read More
Friday, March 13, 2009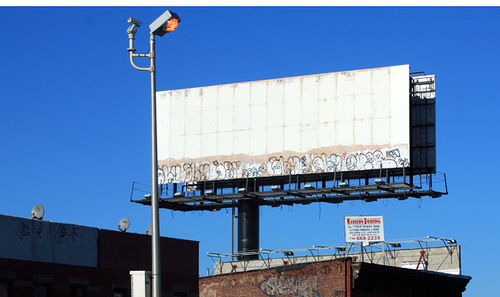 Show us what the recession looks like through your lens. Post your photo on the page Your Uncommon Economic Indicators or add it to our Flickr Pool ...
Read More