Scott Stringer
Friday, July 15, 2011
Will John Liu be flush from Flushing? Is Christine Quinn collecting checks in Chelsea? Will De Blasio get bank rolled by Brooklyn?
The presumptive 2013 Democratic mayoral hopefuls have until 5pm today to submit their third financial statement to the Campaign Finance Board. With the help of WNYC's map guru John Keefe, the Empire is giving readers a visual way to look at where the candidates are raising funds. The deeper the shade, the more the money. We'll update the map as the numbers come in, and will be sure to post the raw figures as well. Dig in and let us know if you find anything!
Read More

Wednesday, May 04, 2011
By Beth Fertig
The city's local parent elections are so botched that the Department of Education should suspend them, Manhattan Borough President Scott Stringer said.
Thursday, February 10, 2011
By Azi Paybarah
Scott Stringer - the Manhattan borough president and prospective 2013 mayoral candidate - is out with a statement slamming Bloomberg for "outrageous" comments about pension payments he'd like the city to stop paying.
It's a milder criticism than Bloomberg got from police and fire union leaders yesterday, who called him a "liar" and other unflattering things.
At issue are $12,000 annual payments the city makes to uniformed retirees from what's known as the Variable Supplement Fund. Officers with more than 20 years on the force receive them. Bloomberg has called the payments a "Christmas bonus," and therefore, a perk that can be taken away in a budget crunch. Union members say it's part of their pension, and therefore, can't.
Having to takes sides on the issue is problematic for most officials, particularly those expected to run for mayor: angry unions on one side, angry taxpayers on the other.
City Council Speaker Christine Quinn - who has strong ties to unions and the mayor - hasn't publicly stated her position, saying she needs to speak with her colleagues on the Council. A spokesman for City Comptroller John Liu - whose work looking over the city's finances will play a large role in any future campaign - said he's "extremely concerned with any proposal that breaks a promise" made to these retirees.
In a statement, sent to me by a spokeswoman, Stringer takes a shot at Bloomberg, but doesn't come out definitely on whether the city should keep the payment plan in place, which city officials say cost NYC about $1 billion a year. (Unions say the city got cash and concessions decades ago that more than make up for it.)
Here's Stringer:
"I am becoming increasingly concerned about the tone and direction the Mayor is taking as it relates to union negotiations and a discussion around pensions. To characterize the Variable Supplement Fund benefit as it relates to the men and women of our police and fire departments as a "Christmas bonus" is simply outrageous. When you throw mud, it splatters. We need a serious conversation between City Hall, our labor leaders and Albany about pension reform. In a time of serious fiscal crisis, we're going to need collective sacrifice. Grandstanding, bomb throwing and divisive accusations by City Hall will undermine the fiscal soundness of this city."
Read More
Wednesday, February 09, 2011
By Azi Paybarah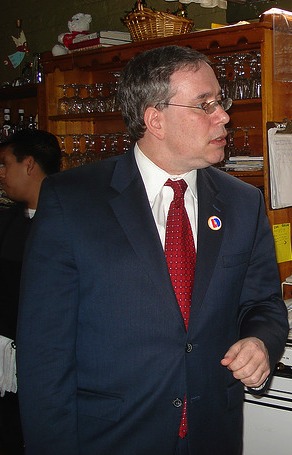 Justin Krebs explains Scott Stringer's speech yesterday :
Mayor Bloomberg didn't need to be called out by name for everyone to understand at whom this salvo was aimed. After a decade of decision-making that rarely welcomed and often ignored public comment, it's not just a narrow sliver of jilted parents, ideological progressives and good government groups who are tired of the mayor's style. The controversy following Cathie Black's appointment was as much about the secretive process as about the ill-prepared appointee. Following the questions about the mayor's whereabouts during the December blizzard, City Council is considering legislation that require him to "sign out" when he leaves the city. Even the mayor sensed the public's restlessness, which is why he dedicated real estate in his own annual address to the concept of "crowdsourcing," suggesting he was more willing to listen to the public.

Stringer doesn't need to run against Mayor Bloomberg, which is fortunate for him. Even the pugnacious Anthony Weiner was finally intimidated by Bloomberg's moneyed and massive campaign machine last time around. But New Yorkers are ready for more elected officials to challenge the mayor. The Progressive Caucus of the City Council has been finding its voice. The Public Advocate had been vocal in calling out the mayor over the past two months of controversies. And Borough President Stringer — while being careful not to paint the mayor as an adversary, and while being respectful of what Bloomberg has achieved — has laid out a different approach to governing that New Yorkers need to remember can exist.
Read More

Wednesday, February 09, 2011
By Justin Krebs : IAFC Blogger
The crowd for Manhattan Borough President Scott Stringer's State of the Borough Address Tuesday night was so large that it filled the auditorium at the CUNY Graduate Center in Midtown and three overflow rooms across the hall. It's not common to command such a turnout when you hold an office most New Yorkers don't know much about. But this audience didn't just come to hear about Manhattan; attendees were looking forward to hearing Stringer's vision for the city in what many assumed would resemble an opening pitch for the 2013 mayor's race.
Read More
Sunday, February 06, 2011
By Kate Hinds
(Kate Hinds, Transportation Nation) The Columbus Avenue bike lane, which stretches from 96th Street to 77th Street on Manhattan's Upper West Side, has been the source of neighborhood tsuris since is was put in last summer -- despite the fact that the community actively sought its installation.  Now a new report may help pave the way for mitigating what some call the "unintended consequences" of the lane.
It didn't take long after the lane was installed for elected officials and Community Board 7 to begin hearing complaints from businesses about all things parking: trucks were having a hard time making deliveries, customers didn't understand the new signage, no one could find a spot to quickly run in and grab something.  So CB7, with local politicians and residents, formed the Columbus Avenue Working Group (CAWG) to survey local businesses about the lanes. Sixty-five businesses on the east side of Columbus Avenue, adjacent to the lane, were approached and asked to fill out questionnaires; 36 completed it.
The responses weren't pretty: of the businesses surveyed, 72% responded they believe the street redesign had a negative impact on their business, compared to only eight percent who felt the lane was positive.
"Everybody complained about parking and loading zones," said Manhattan Borough President Scott Stringer. "Meaning: there had to be real change."
So local politicians brokered what seems to be a compromise: an agreement from the city's DOT to return some parking spaces, tweak some signs, and reprogram meters. In a response to CAWG's recommendations, DOT Commissioner Janette Sadik-Khan sent a letter to all of the stakeholders, going through their recommendations one by one.
State Assemblywoman Linda Rosenthal said today that "bike lanes have recently gotten some bad publicity in the city." This could be an understatement: in just the last few days, the DOT has been threatened with a lawsuit over the Prospect Park West bike lane, and Janette Sadik-Khan was the subject of yet another tabloid editorial on Sunday, accusing her of being secretive in how -- and where -- bike lanes are installed, a charge she has repeatedly denied.
Standing in front of Ivan Pharmacy on Sunday, Scott Stringer said the lessons learned from the Columbus Avenue bike lane represent a model of collaboration that should be repeated throughout the city. "This study and this working group may finally break new ground in bringing together the Department of Transportation and communities," he said. "It is very clear to all of us, that you cannot design a street -- design a community -- simply by having downtown experts tell us what should be in the street grid. We have learned, in a very painful way, what happens when you impose a bike lane on neighborhoods without doing proper due diligence."
"If they follow this model today around the city," he said, "we are going to be able to mix street design and bike lanes with businesses, pedestrians, and cars. And that's how you change what a city looks like -- through collaboration."
City Council member Gale Brewer was more conciliatory. "The Department of Transportation -- I want to be very clear -- was very responsive, even early on in the game."  And the chair of CB7 also voiced strong support for the lane. "I want to be clear that Community Board 7 voted in favor of the bike lane, just because it's the right thing to do," said Mel Wymore. "This is an opportunity for all of us to make it work for everyone."
But it's clear that even within the pro-bike lane CAWG there are some disagreements. During today's press conference, Scott Stringer complained about the pedestrian islands.  "(They are) I believe, a big error," he said -- only to see his colleagues at the podium start shaking their heads. "No," said Gale Brewer. "We like them."  "Well, this is my opinion," amended Stringer. "I think 28 or so are perhaps too many, we think there should be a discussion.  You see, that's what community consultation is all about."
And so far no one has filed a lawsuit.
You can read the Columbus Avenue Working Group's report below, as well as see NYC DOT commissioner Janette Sadik-Khan's response to the group's recommendations:
COLUMBUS AVENUE STREET REDESIGN_ Recommendations for Mitigating Unintended Impacts-1
Columbus Response From Janette Sadik-Khan
Follow Transportation Nation on Twitter.
Read More

Thursday, January 20, 2011
By Justin Krebs : IAFC Blogger
Not many people expected to say the word "crowdsourcing" in Bloomberg's 10th State of the City address on Wednesday.
Of course, it's not surprising to hear the word employed in a public official's speech. Far from simply being the latest fad, crowdsourcing is real, potentially quite powerful and should be thoughtfully engaged by government. What makes it surprising is hearing it in this mayor's address, because Mayor Bloomberg is not a crowdsourcey kind of guy.
Read More
Wednesday, November 17, 2010
By Beth Fertig
Because she doesn't have the proper education credentials, publishing executive Cathie Black needs a waiver stating that she has other extraordinary qualifications in order to become schools chancellor. Mayor Bloomberg has said he'll submit a request for such a waiver soon, citing her vast managerial experience. That request will then be reviewed by the state's education commissioner.

Tuesday, November 16, 2010
By Beth Fertig
Mayor Michael Bloomberg's choice of publishing executive Cathie Black dominated Tuesday's monthly meeting of the Panel for Educational Policy, even though the Bloomberg administration insisted the panel was no place for such a discussion.
Thursday, October 28, 2010
By Azi Paybarah
As he prepares for a mayoral run in 2013, Congressman Anthony Weiner continues fashioning himself as a darling of progressives. Today, he live-chats on DailyKos at 3 p.m.
In the 2005 race, he positioned himself more as a centrist Democrat, a la Ed Koch. But for 2013, the move left isn't much of an option for Weiner as his likely rivals in the Democratic primary carve out their respective constituencies. City Council Speaker Christine Quinn - who opposed the Kingsbridge Armory development plan and paid-sick day - is angling herself as a business-friendly Democrat. She'll also likely to be the first major mayoral candidate here who is openly gay (and could be the only woman in the race, which could do a lot to attract Democratic primary voters).
Bill de Blasio, the public advocate who helped found the Working Families Party, is likely to get a lion's share of organized labor backing.
Shortly after Mayor Bloomberg said he favored rolling back term-limits, former City Comptroller and 2009 mayoral candidate Bill Thompson popped up on NY1 and in news stories, reminding people he fought the mayor on this issue (and nearly won!).
Manhattan Borough President Scott Stringer has backed a number of progressive Democrats for office, and ingrained himself in the daily lives of New Yorkers on substantive (non-partisan issues) issues like like food access and bike lane safety.
John Liu, the current city comptroller (and top vote getter in 2009!), would be the first Asian-American mayoral candidate. He's already the first Asian-American elected citywide here. While helped by organized labor and the WFP, his campaign aides were quick to note that he formed his own multi-racial coalition which, unlike the WFP, had no legal clouds hovering overheard.
Read More
Friday, October 08, 2010
(Andrea Bernstein, Transportation Nation) If you ride a bike in New York, you know that bike lanes are pretty much seen as suggestions, not rules. Now comes a report from Manhattan Borough President Scott Stringer that says, in just two days, the bikes lanes they surveyed were misused 1,700 times. Stringer's researchers found unmarked police vehicles in non-emergency citations, "motor vehicle encroachment and speeding," a school bus, and "rampant pedestrian encroachment."
But bikers have their own problems. On Grand Street in lower Manhattan Stringer found there were more bikers going in the wrong direction than the right one.
Says Stringer (all caps his) "CLEAR THE PATH."
Read his press release below:
BOROUGH PRESIDENT SCOTT M. STRINGER RELEASES UNPRECEDENTED REPORT ON BIKE LANE INFRACTIONS
"Respect the Lane – Clear the Path" Survey Shows Flagrant Violations and
Infractions Plague Manhattan Bike Lanes
Read More
Saturday, August 28, 2010
By Azi Paybarah
Paladino campaigns upstate against the folks downstate:
The New York City boroughs of Queens and Staten Island are "just like us," the Republican gubernatorial candidate said to his fellow upstaters. The rest of the heavily Democratic city is a different story.

"That leaves Manhattan, the Bronx and Brooklyn — and they can have them," he said. "First, you can't get around down there, and secondly, there aren't many Republicans."

[skip]

"Then you've got Bloomberg down there saying, 'Give us your poor of America,'" he added, referring to New York Mayor Michael R. Bloomberg. "Easy for him to say. He's a billionaire."
The remarks prompted an official rebuke invitation from Manhattan Borough President Scott Stringer to tour the borough.
Read More
Tuesday, August 17, 2010
By Azi Paybarah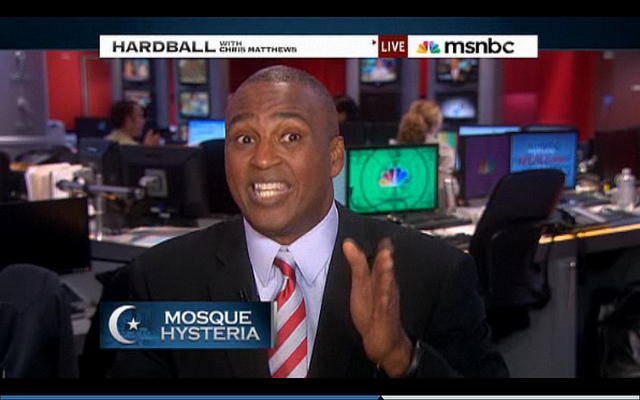 Azi Paybara / WNYC
Add Rev. Michel Faulkner, the GOP candidate running for Rangel's seat in Harlem, to those trying to keep up with Newt Gingrich in devising headline-grabbing analogies to explain their opposition to the proposed mosque near Ground Zero.
"It would not be fair for the Klu Klux Klan to erect a statue or a monument near the bombs in the South that were burned during the civil rights movement," said Faulkner.
Scott Stringer showed remarkable restraint during this MSNBC segment last night.
Read More