Schumer
Thursday, April 30, 2015
Hanna Rosin, Noreen Malone, and Jessica Winter discuss the comic memoir turned Broadway musical "Fun Home" with author Alison Bechdel, Instagram envy, and the latest season of Inside Amy Schumer. The DoubleX Gabfest is sponsored by the Great Courses,...

Thursday, November 06, 2014
By Megan Malloy
Four public hospitals are slated to receive the "largest single upfront" payment in FEMA history. 

Tuesday, October 07, 2014
Ebola remains a top national security priority, especially for lawmakers like Sen. Chuck Schumer. He's calling for increased measures to fight the disease both at home and abroad.
Tuesday, May 07, 2013
Slate's Stephen Metcalf, June Thomas and Dana Stevens discuss "Iron Man 3," Stephen Soderbergh's "State of the Cinema" address and the new Comedy Central show "Inside Amy Schumer."

Wednesday, April 17, 2013
The Senate has rejected a bipartisan effort to expand federal background checks to more firearms buyers in a crucial showdown over gun control.
Thursday, January 17, 2013
Sen. Charles Schumer (D-NY) says $103 million in federal aid is coming to the New York City Health and Hospitals Corporation to help with repairs from Sandy.
Wednesday, March 28, 2012
By Kate Hinds
Senate Democrats, already on full boil over the highway funding standoff, are turning the heat up even higher: they've launched a countdown clock to tick down the minutes until the federal road funding authorization expires on March 31.
House Republicans have tried this week for both a 90-day and a 60-day extension of current funding levels, but both efforts were blocked by Democrats who want to see the Senate's two-year, $109 billion bill come to the floor. It remains unclear whether a vote on an extension will come on Wednesday.
If no agreement is reached by March 31, the government's authority to collect the 18.4 cents-per-gallon gas tax that funds federal transportation programs expires.
Earlier Wednesday, New York Senator Charles Schumer tweeted: "W/only 3 days til deadline, @SpeakerBoehner still hasn't acted on highway bill. Senate bill has the votes to pass. Bring it up now."
To read TN's coverage of the highway funding standoff, go here.
Read More
Wednesday, July 13, 2011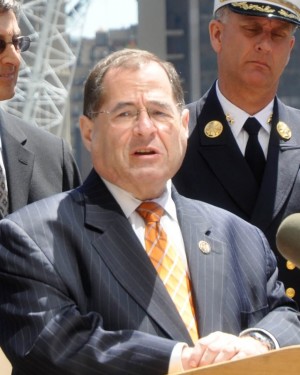 Assemblyman David Weprin is getting push-back support on the issue of Israel in his congressional race. Congressman Jerrold Nadler, whose 8th district also has a large orthodox Jewish population, today came out in support of Weprin, and dismissed the idea of making the race a referendum on President Obama's support of Israel, as suggested by former mayor Ed Koch and Brooklyn Assemblyman Dov Hikind.
Ed Koch earlier this week indicated he would not be supporting Weprin in the race as a way of sending a message to President Obama on Israel. "If Jewish New Yorkers and others who support Israel were to turn away from the Democratic Party in the congressional election...it might very well cause President Obama to change his hostile position on the state of Israel," Koch was reported as saying by the New York Post.
"[V]oters in New York's 9th Congressional District should judge the candidates on their merits and not based on the positions of others. David Weprin has always been an unyielding, stalwart friend of Israel, and it is completely nonsensical to oppose a vigorous supporter of Israel in an attempt to show support for Israel," Nadler said in a statement. The congressman's office said he has endorsed Weprin in the race.
According to The New York Observer, Assemblyman Hikind considered running for the seat "as a Republican...had planned to make the race in the heavily-Jewish district a referendum on Obama's Israel policy."
Weprin will also be able to count on the support of New York's senior United States senator, Charles Schumer. While he has not officially endorsed Weprin's campaign, Senator Schumer's office said the senator supports Weprin's campaign and will make his endorsement official soon.
Read More
Thursday, June 30, 2011
(Washington DC) Democrats are holding onto the dream.
The partisan politics that swirl around the much-maligned $787 billion stimulus has all but erased any chance of new transportation infrastructure spending, at least until the economy improves.
But listen to top Democrats—including President Barack Obama—over the last couple of days, and you wouldn't know that both the Republican party, as well as much of the public, has lost their appetite for such spending.
With talks over raising the federal debt limit and reigning in the deficit at a standstill, Obama took to the White House East Room Wednesday afternoon to push back on what he sees as Republican intransigence. The GOP is sticking to its guns: no tax increases of any kind can be part of a deal on the debt limit.
Obama had plenty to say about that. But he also said that new job spending—you could call it stimulus—should be part of the deal as a way to goose the still-flagging economy.
"I think it's important for us to look at rebuilding our transportation infrastructure in this country.  That could put people back to work right now -- construction workers back to work right now.  And it would get done work that America needs to get done.  We used to have the best roads, the best bridges, the best airports.  We don't anymore.  And that's not good for our long-term competitiveness," the president said.
Obama seemed to suggest that the new spending could be folded in as part of a broader deal to cut the deficit. Such spending has not specifically come up in meetings with Republicans so far, according to aides on Capitol Hill.
But Democrats have enjoyed hammering the GOP lately for ignoring middle-class jobs at the expense of the wealthy. It's a reliable cudgel, to be sure. And Democrats are now promising that once a debt deal is behind them and all the painful cuts are made, they'll return with an aggressive jobs plan chock full of transportation wishes.
Witness Senator Charles Schumer (D-NY) on Thursday morning in Washington. Schumer gave a politically charged speech castigating Republicans for trying to hamper Obama by blocking any measures that might help job growth in the short term.
Schumer said Democrats would soon launch a "Jobs First" agenda, designed to speed a drop in the unemployment rates and build long-term economic soundness. Of course, in this toxic atmosphere, it's also designed to poll-test well with 2012 voters.
Schumer called for:
"A Highway Bill that will put people back to work building critical infrastructure that is necessary to help our economy compete, for example by making it easier to transport manufactured goods from their plant in Ohio to the port in Washington, or Los Angeles or New York."
and also:
"A National Infrastructure Bank, which both labor and the Chamber of Commerce have strongly supported, and which would create a platform to leverage private sector investment for projects of national or regional significance."
Of course neither of those items is new on the Democrats' wish-list. But Obama and Schumer clearly think that pushing for them on the cusp of an election year will play well with prospective voters. For now, they're clawing for traction against consistent GOP messaging that out-of-control spending is what got the nation into this debt conundrum to begin with.
Sen. Mitch McConnell (R-KY), the GOP leader, took to the Senate floor Thursday with this: "Who really thinks that the answer to a $1.6 trillion deficit is a second Stimulus, that the answer is more deficit spending? Where in the world did that idea come from?"
Read More

Monday, January 24, 2011
A 10th anniversary September 11 commemorative coin is siphoning money away from the official memorial at the World Trade Center site and its advertisements are duping customers, two politicians charged Monday.
Tuesday, January 18, 2011
By Kate Hinds
New York U.S. Senator Charles Schumer is calling NJ Governor Chris Christie's decision to cancel the ARC tunnel a "terrible, terrible decision...By not completing the ARC tunnel, we are sacrificing the region's growth for the exigencies of the moment."
Schumer's remarks came at a Crain's New York Business breakfast forum, a venue politicians often choose to make pithy remarks about regional policy.  Schumer has so far been restrained in his public comments on ARC -- expressing disappointment with Gov. Christie's decision, but not taking him on directly.
But today Schumer went all out.  Governor Christie's proposal to use $1.8 billion of ARC money for other projects, he said, "compounds one mistake with another."
And Schumer pooh-poohed Mayor Bloomberg's plan to extend the number 7 line to Secaucus. "Let's be honest - this is Mayor Bloomberg taking lemons and trying to make a little lemonade."
We'll have more on this story later today.  You can read his prepared remarks here or below.
Follow Transportation Nation on Twitter.
Read More
Sunday, July 25, 2010
With the federal mass transit tax break set to expire at the end of the year, U.S. Senator Charles Schumer is pushing to make the benefit permanent. The benefit covers up to $230 per month from a person's gross income to pay for mass transit commutes, an increase from the ...
Thursday, May 13, 2010
(New York, NY - Andrea Bernstein, Transportation Nation)  In a press release issued yesterday evening,  Senator Charles Schumer lambasted the Administration for what he sees as cuts to New York's terrorism-fighting apparatus.  "For the administration to announce these cuts two weeks after the attempted Times Square bombing shows they just don't get it and are not doing right by New York City on anti-terrorism funding.  We urge them to reconsider this decision.  Instead of distributing funding all over the country, they should focus their attention where the greatest threat exists right here in New York."
According to Schumer, transit security lost 27 percent of its funding, down $42 million to $111 million, and port security lost $11 million, down to $34 millon.  A separate allocation of homeland security money for urban areas, $832 million, has yet to be divided up.
The overall thrust of the remarks, that New York is a number one terror threat but isn't treated that way when it comes to funding allocations, is a long-time beef that New York officials have had with the federal government.
But the White House argues that Schumer (who has been joined in his critcism by Senator Kirsten Gillibrand (D-NY) and Reps Peter King (R-NY) and Anthony Wiener (D-NY), is flat-out wrong. White House spokesman Nicholas Shapiro emails WNYC's Bob Hennelly:
Read More