Sadik
Wednesday, June 27, 2012
By Kate Hinds
For such a short highway, the fifty-year old Sheridan Expressway generates a lot of unhappiness.
"I don't even know if you could call it an expressway," said Elena Conte, an organizer at the Pratt Center for Community Development. "It's a fragment. It's a mile and a quarter long."
It was planned by Robert Moses, whose original idea was to continue it through the Bronx Zoo. But local residents – not to mention the zoo and the New York Botanical Garden – opposed an extension and, in the 1970s, those plans were dropped.
But some Bronx residents have never made peace with even an abbreviated expressway. Activists, working together as the Southern Bronx River Watershed Alliance, have for years been working to tear the highway down. In 2006, WNYC's Andrea Bernstein went up to Bronx with the Pratt Center's Joan Byron.
"There are three schools right on the expressway," said Byron. "So by redeveloping this as residential and parkland, those schools would have a green connection right across to the river." (A video of the plan is below.)

One of the supporters of this tear-down is Bronx congressman José Serrano. Two years ago he secured a $1.5 million federal grant to study three different options for the Sheridan: keep it, modify it, or take it down altogether. "The initial agreement we had, the understanding we had, was that they were going to look at everything," he said.
New York City won't complete the study until next year. But officials recently said the removal scenario had "a fatal flaw" and it would no longer be considered.
"What I'm concerned about, what the community is upset about, what we're all upset about, is that they immediately took off the table the possibility of full removal of the Sheridan," said Serrano. "We just think that's totally unfair and improper."
But as much as some wanted the highway gone, others say it's a vital piece of the road transportation network.
"Well, we were completely dead set against that and have been since the dawn of time," said Matthew D'Arrigo. He's co-president of the Hunts Point Market, the massive food distribution center located off the expressway.
"Without the Sheridan," he said, "a thousand trucks a night would have just one way to get to this market."
He says the market hasn't been shy about making it known that taking down the Sheridan could jeopardize its ability to do business – and the thousands of jobs it brings to the Bronx.
"Everybody. Everybody. Everybody knows our position on that," he said.
Right now, the market is in the middle of negotiations with the city for a long-term lease. After this weekend, if it doesn't reach a deal with New York, Hunts Point Market can start talking to other places. Like New Jersey.
Privately, officials told WNYC that fear of losing the market prompted the city to drop the removal option.
But recent a press conference in the Bronx, Mayor Bloomberg said the decision was driven by data, not politics. "All of the traffic studies show that it would not be feasible to do that," he said.
Predictions that losing a highway would cause traffic hell have been wrong before. Sam Schwartz – also known as Gridlock Sam – worked for the city DOT in 1973, when part of the then-elevated lower portion of the West Side Highway collapsed. In a 2010 interview with WNYC, he described what happened.
"People panicked," he said. "They thought that was Armageddon. They thought that was the end."
It wasn't the case. Traffic on some roadways did go up. "We had trouble tracing one-third of the people and it wasn't that they weren't coming in," Schwartz said. "When we looked at transit, transit went up. We had the same number of people coming in, but they weren't coming by car."
Schwartz wouldn't comment specifically on the Sheridan, but cities like Milwaukee, San Francisco and Portland all say they've seen big economic and environmental benefits when urban highways have been torn down.
New York City DOT commissioner Janette Sadik-Khan called that comparison flawed.
"I think you know the Bloomberg administration has been very innovative when it comes to traffic engineering," she said. "But in this instance this particular option didn't work -- but that doesn't mean other options can't work here and we're going to continue to explore them."
Read More
Thursday, June 14, 2012
(Guia Marie Del Prado -- New York, NY, WNYC) In case you missed the news earlier this week, New York City's fifth annual Summer Streets will have something new this year: a 30-foot zip line, which will give locals a new way to appreciate car-free streets.
During Summer Streets, a seven mile stretch of Manhattan roads — from the Brooklyn Bridge to Central Park — are closed to cars on three Saturdays in August. It allows New Yorkers to walk, bike and play in public spaces they usually don't have sole access to.
The New York City Department of Transportation (DOT) unveiled the free zip line at Union Square Park on Tuesday.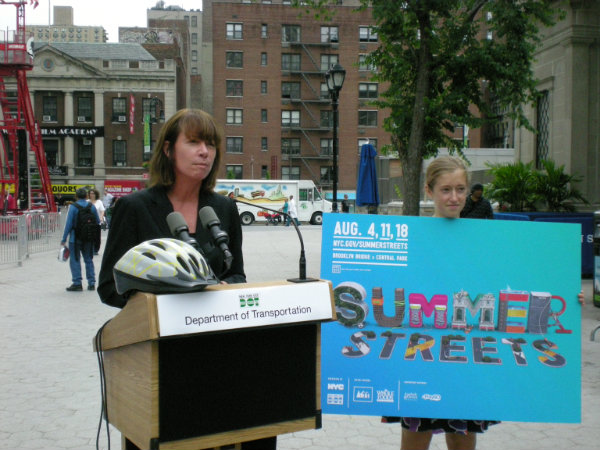 DOT Commissioner Janette Sadik-Khan said she rode the zip line, twice. "I highly recommend it," she said; "you don't need a cup of coffee, just start the day with a zip line."
Fahim Saleh took a break from work as an app developer to test out the zip line with his co-workers.
"We thought we'd just take a break from work and why not?" he said. "Just zip line in the middle of work. Sounds like a good idea to me."
Sophia Taylor, 47, waited in line to face her fears with her 6-year-old daughter Neveah.
"I want to try it because I'm afraid of heights," Taylor said. "So I'm going to test my fears today and I'm going to get on there."
Aside from the zip line, Summer Streets will also host a 25-foot climbing wall, yoga and other activities at different locations along the road on August 4, 11, and 18 from 7:00 a.m. to 1:00 p.m.
According to Sadik-Khan, as many as 60,000 New Yorkers make use of Summer Streets every year.
Read More