Rwdsu

Tuesday, January 18, 2011
By Charlie Herman : Business and Economics Editor
The midterm elections are over and the 2012 campaign for President has not officially started, but in New York City, a campaign of a different sort is already underway.
Monday, December 13, 2010
By Azi Paybarah
The knocking down of polls is one of the more direct forms of aggression in the full-contact sports that is politics.
The latest example comes courtesy of Dan Morris, a spokesman for the Retail, Wholesale and Department Store Union, who is trying to bat down the results of a poll showing New Yorkers would be receptive to the opening of a Wal-Mart store here.
Morris' method of attack: connect the poll to Bloomberg:
"The poll was conducted by Doug Schoen, a member of Michael Bloomberg's inner circle, who now joins Bloomberg's campaign manager Bradley Tusk and Bloomberg's Deputy Mayor Howard Wolfson in shilling for Walmart. Basic details about methodology, sample size, and interview questions have been deliberately withheld because this is not a credible poll. It was bought and paid for by Walmart. It's just as deceitful as the polling Bloomberg's operatives promoted during the 2009 mayoral race: they eventually admitted they knew it had been a tight race all along, after misleading voters and the public."
Read More
Tuesday, August 24, 2010
By Azi Paybarah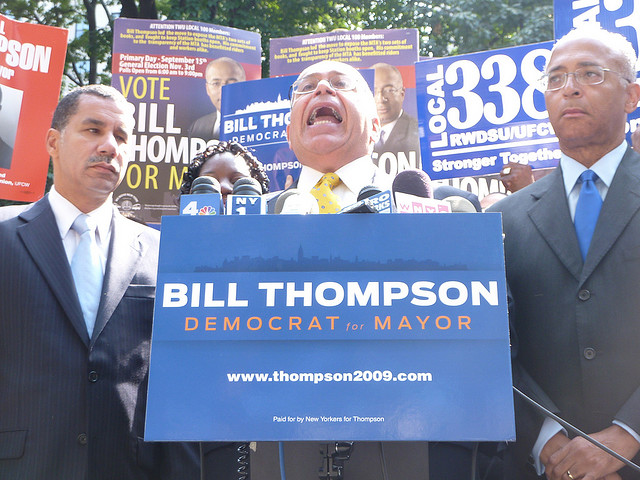 Azi Paybarah / WNYC
RWDSU President Stuart Appelbaum criticized Senate Democrats for accepting a political contribution from Walmart, the notably non-union retail shop itching to open their first store in New York City.
So, I asked Appelbaum what he thought of Assembly Speaker Sheldon Silver owning stock in that same company.
Appelbaum said, he's not as bothered by that.
In an email to me, Appelbaum wrote, "I don't tell people not to buy stock in Walmart, but I do tell them not to accept their contributions. Walmart is giving the money expecting something in return."
Read More