Rockefeller Center

Thursday, December 04, 2014
When the grand jury decision dropped in the Eric Garner Case, protesters tried to descend on Rockefeller Center but police met them with barricades.

Sunday, October 05, 2014
By Lance Luckey / The Associated Press
The landmark nightclub atop Rockefeller Center is back.

Tuesday, November 30, 2010
Rockefeller Center's annual Christmas tree lighting takes place Tuesday night at 8:55. This year's 12-ton, 75-year-old Norway spruce comes from Mahopac, New York and is decked out with 30,000 multi-colored LED builbs.
Friday, November 12, 2010
By Stephen Nessen : Reporter, WNYC News
It didn't feel like that time of year, with temperatures in the mid 50s, but the annual Rockefeller Christmas tree has landed.
Thursday, December 03, 2009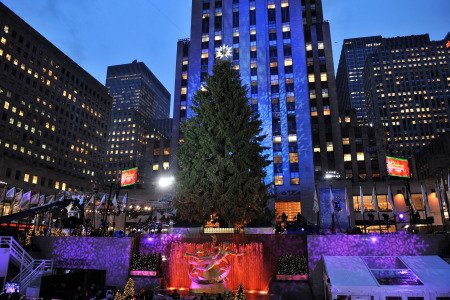 There are few things that scream Christmas in New York louder than the giant spruce at Rockefeller Center. Last night Mayor Bloomberg, along with Aretha Franklin, the Rockettes, and thousands of spectators flocked to watch ...