Robert Steel
Tuesday, May 08, 2012
When New York  Deputy Mayor Howard Wolfson and New York City Department of Transportation Commissioner Janette Sadik-Khan announced New York's bike share program last fall, the intention was clear -- they were setting up "a new system to be comprised of 10,000 bikes and 600 stations in parts of Manhattan and northwest Brooklyn -- at no cost to the taxpayers" as Sadik-Khan put it then.
The system, it was explained, needed to be large to make it work -- the more potential users could depend on finding bikes in a variety of locales, the more it would be an actual public transportation network -- not some urban folly.
But when the system was presented Monday under its brand new-name, Citibike, to be funded through a five-year, $41 million contract with Citibank and a $6.5 million Mastercard sponsorship, it was somewhat less extensive -- at least at first.  "It will be a phased-in deployment," Sadik-Khan said at Monday's press conference.  "I mean we can't just airdrop 10,000 bikes in. It will be between August and spring of 2013 that we'll have the deployment of the full system."
The bike share program, it turned out, would NOT hit the Upper West Side, Upper East Side, Park Slope, Cobble Hill, or much of Brooklyn beyond Bergen Street until a year from now.
Sadik-Khan wouldn't explain why, or when, this decision was made.   No other DOT officials would speak to this issue, implying that this was always the plan. When I asked Alta president Alison Cohen about delays in implementing the program, Sadik-Khan's spokesman rushed over to prevent her from answering.
But speaking to elected leaders, officials and several sources familiar with negotiations over the bike share contract, a story has emerged of a far more rocky road to a sponsor than yesterday's happy news conference would suggest.
"I got a call sometime last week, that's when I first heard of  a delay," said Council member Gail Brewer, who represents the Upper West Side. Brewer says she was told there would be 7,000 bikes rolled out at first, with the balance coming next spring. Was she disappointed? Brewer, a big bike share backer, was philosophical.  "I'll be disappointed if I don't get my day care slots back," Brewer said, referring to Mayor Michael Bloomberg's proposed budget. "You have to have priorities."
When the city announced that Alta Bicycle Share would be operating the bike share it made one in a series of splashy promises -- there would be no cost to New York taxpayers. "Alta will be getting a sponsor," Sadik-Khan said at the time. That would make New York the only large-scale system in the country to be entirely privately funded.
"We're getting an entirely new transportation network without spending any taxpayer money," Bloomberg said at Monday's press conference. "Who thought that could be done?"
Apparently, there were a lot of doubters. Puma was approached, and Adidas (New Balance has sponsored Boston's "Hubway.") So was American Express. "All the usual suspects," said one source familiar with the negotiations. "The list of companies who could spend this kind of money just isn't that long. And it was unprecedented to raise that kind of capital  for an unproven system --  bike share on European scale, an order of magnitude larger than any system in existence in north America."
By February, officials were beginning to sweat. If New York didn't find a sponsor, the city could be on the hook to Alta -- but worse, many officials thought, the bike share program could be imperiled.
"It's a lot of money and each company has to decide whether the opportunities they'll have by sponsorship fit their clientele," said Bloomberg on Monday, maintaining he never worried.
But Alta's business plan was confusing, sources say, making it hard to reel in the big money. In late winter, the city involved its Economic Development Corporation in the planning, adding some business gravitas to the discussions.   (The EDC is a quasi city agency that usually hands out loans to entities willing to locate or create jobs in New York.)
Ed Skyler, Bloomberg's former Deputy Mayor for Operations (and Sadik-Khan's old boss), is a top Citibank executive. Citibank was lured in.
(Even so, everyone, from the Mayor on down, credits Sadik-Khan. "I never worried," Bloomberg said, "because Janette went after it. And anyone who knows Janette knows if she sets her mind to it it's going to get done.")
Eventually, Citibank was sold. "We think this is a very innovative program that makes people's lives easier, that's what we do, that's what we do as a bank," Vikram Pandit, Citibank's CEO, told me Monday.
Was he worried about controversy surrounding the program? "This is a program supporting bikes, bikes are environmentally friendly, they're good exercise. There's always controversy  -- but on balance we think this is a great program," Pandit said.
The Citibank contract was signed only two weeks ago -- far later than officials had hoped. Without the contract, there wasn't the upfront capital to get the bikes produced. And that, multiple sources confirm, was the major reason for the delay in getting the bikes to some neighborhoods.
Bike share boosters are, for the most part, expressing just the faintest disappointment at the delay in bringing bike share to the full footprint.
"The reality of implementing an entire transportation network from scratch for a city as large and complicated as New York will obviously require a careful approach," said Transportation Alternatives chief Paul Steely White. "The city is working with local communities to roll out bike share with as little disruption as possible. Sometimes that means revising timelines. The important thing is to keep moving forward and work toward meeting the huge demand for bike share in New York City."
Steely White, Brewer and others are willing to cut the city some slack -- willing to give credence to what the city says. "We said we would find a sponsor.  And we did," mayoral spokesman Marc LaVorgna said. " We're doing something that's never been done before."
When the bright blue bikes were unveiled Monday at City Hall plaza, there were smiles and claps. And the idea of "Citibike" seemed to convey exactly what the city wanted -- these bikes are for transportation, for getting around the city. These are urban bikes. And they are intimately tied with the city's economic future.
"A perfect outcome," Sadik-Khan told me yesterday.   I told her I was guessing she was exhaling right about now. A faint smile played across her lips.
Read More
Thursday, September 22, 2011
Bloomberg's top economic man, Deputy Mayor Robert Steel, announced the end of the 44 day-long strike at Central Park's boathouse. The city's agreement with the Hotel Trades Council to have the Boathouse employee union recognized will, they're surely hoping, take some attention away from the OTHER Robert Steel story.
"The Boathouse is a one-of-a-kind destination for New Yorkers and visitors, and throughout this process we were committed to its continued success for years to come," Steel said in a statement. "Not only does the restaurant add to the vibrancy of the City in one of its most stunning settings, it also provides important City revenue, and this agreement will allow it to continue to thrive."
‪"The New York Hotel Trades Council is delighted that the strike at the Boathouse is over," Peter Ward, Hotel Trades Council president, said in the same statement. "We are equally happy to say that our Union and the Boathouse employees accomplished our goals."
Union members now have to vote for ratification, which is expected.
Note: At the request of the mayor's office, the headline of this story has been updated. The deputy mayor rents an apartment in Chelsea, which the city says he lives in during the week. He says he pays taxes in New York State and is registered to vote in New York.
His house, wife, dogs and cars continue to live in Connecticut.
Read More
Thursday, July 14, 2011
Pensions, Sunny-side Down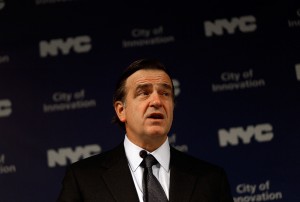 Getty Images/Chris Hondros
Mayor Bloomberg's economic capo, Deputy Mayor Robert Steel, presented the administration's case for pension reform this morning at a breakfast put on by the Citizen's Budget Commission. Considering CBC and the mayor's stance on city pensions, the gist of the forty-minute talk wasn't a surprise.
The city's pensions were unsustainable. Their costs had risen seven fold and now represent nearly 13 percent of the city's budget. Only education spending costs the city more. And the big problem, said Steel, isn't that the fund hasn't performing well enough—it's that we've promised more than we can cover.
"Pensions are to the City of New York what entitlement reform is to the federal government," Steel said. "These are difficult, hard issues that require political risks to be taken to make the hard choices that we need."
Read More
Thursday, December 16, 2010
By Lisa Chow
Hoping to help feed and grow the local technology start-up community, the Bloomberg administration is trying to attract a new school for engineering and applied sciences to New York City.
Wednesday, November 17, 2010
(New York, NY -- Jim O'Grady, WNYC) ARC is dead. Long live ARC in a different guise.
Yesterday's announcement that the city is seriously exploring sending the 7 subway line to New Jersey spent today rippling through press conferences and urban planning groups. At a press conference to announce a comic book to help job seekers, the mayor said the crush of riders between New York and New Jersey continues to rise, and that reality demands more cross-Hudson transit capacity.
"The problem hasn't gone away," said Bloomberg. "You still have to make sure that people from New Jersey can get into the city for jobs and for shopping and entertainment and New Yorkers can get out of the city to go to do things in New Jersey."
The mayor stressed that sending a subway into New Jersey would create a connection like the ARC commuter train tunnel but at half the price. Whereas ARC would have stretched from New Jersey to Herald Square, a 7 train extension would be shorter. It would start at 11th Avenue and go west, saving costly boring under Manhattan.
Bloomberg said his staff is reaching out to discuss the idea with Governor-elect Cuomo and Governor Christie, who have yet to give the project any support. Cuomo told reporters today "I only know what I read in the newspapers. Obviously it's a proposal that I would need to research before I have an opinion."
Read More