Robert Jackson

Thursday, October 25, 2012
By Beth Fertig
The D.O.E.'s chief academic officer came under fire at a City Council hearing for not publicizing enough information about the organization of the city's 1,750 schools into networks. One council member said a series of reorganizations had created a "bureaucratic nightmare" for parents.
Read More
Friday, November 18, 2011
By Emily Canal
How many homeless students are enrolled in the city schools? How many live within walking distance of their schools? Those and other questions came into sharp focus this week with a news report about N-Dia Layne, a 4th grader searching for stability, with no clear answers from city agencies readily available.
Read More
Tuesday, October 25, 2011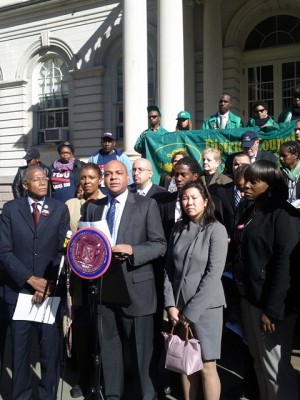 A united front of minority politicians and their labor allies held a press conference today to call on Governor Andrew Cuomo to keep the "millionaires' tax" on higher-income earners in place at the end of this year.
"New Yorkers deserve a budget plan of shared sacrifice," said Assemblyman Karim Camara, who chairs the bicameral Black, Puerto Rican, Hispanic and Asian Legislative Caucus. He said the current tax rate would generate $5 billion in revenues that could be used to offset cuts that disproportionally affect the working class and minority communities.
The Governor has said he wants the taxes to expire at the end of the year. Until recently any discussion of tax increases appeared off the table. But that was before the Occupy Wall Street protest.
Support for keeping taxes on higher-income earners wasn't just among the protesters on Wall Street, said Councilman Robert Jackson, or among the 72 percent of voters who favor the tax. The co-chair of the city council's minority caucus said the Governor need only visit his district in Harlem.
"If you don't believe us, walk through our community and ask the people. They will tell you what is necessary," he said.
The show of solidarity from African American, Latino and Asian elected officials opened up a new front against the Governor's support for nixing taxes for the state's most wealthy—and it could be a bigger one than he'd care to acknowledge.
Call it Andrew Cuomo's color blind problem. In discussions after the event, the strategy was made clear: If the Governor remains blind to the calls of communities of color—through their elected representatives—he could have a problem that goes beyond a single issue like the millionaires' tax.
The Governor has enjoyed a close relationship with minority communities over the years. But elected officials from those communities—upset over years now of cuts to social programs at every level, unshakable high unemployment, and attacks on unions that employee many from their neighborhoods—appear less willing to just go along with a governor they see more concerned with protecting his future interests (i.e. 2014 gubernatorial, 2016 presidential) than those of their constituents.
At least, that's what today's organizers are hoping Cuomo hears. So far the Governor remains popular across all groups, and community leaders haven't taken as hard a stance as the elected officials. But if the Governor sticks to his position on the millionaires' tax, that could all change.
Read More

Wednesday, June 01, 2011
By Beth Fertig
City Council members grilled Schools Chancellor Dennis Walcott on the city's plan to eliminate 6,100 teaching positions — most through layoffs — during a contentious hearing Wednesday. 

Tuesday, November 16, 2010
By Azi Paybarah : author of The Empire blog
The only question now is how to punish Rep. Charlie Rangel.
The facts against the veteran lawmaker in his two-year-old ethics probe were never in dispute. More than five hundred pieces of evidence were accepted without objection by a bipartisan panel who, on Tuesday, found Rangel guilty of violating 11 different Congressional ethics rules.
But now, a complete lack of consensus has broken out about what to do with the facts about Rangel.
Tuesday, November 16, 2010
New York City's Panel for Educational Policy meets tonight, but discussion about Hearst publishing executive Cathie Black becoming the new schools chancellor is not on the agenda.