Robert Duffy
Friday, July 29, 2011
[New York City's council's full roster at the bottom.]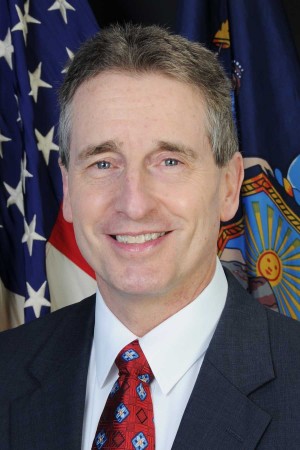 The governor's traveling economic development roadshow finally made its way to New York City today. Local politicians, agency and labor representatives, city officials and perhaps even a few tech students congregated in the auditorium of Brooklyn's New York City College of Technology to hear Lieutenant Governor Robert Duffy announce the creation of the city's new regional economic council—the last of ten.
"The governor has outlined a fundamental shift in the state's approach to economic development, from a top-down to a community-based approach that emphasis each region's unique assets, harnesses local expertise and empowers each region to set plans and priorities," said Senate Democratic Leader John Sampson, in his introduction of Duffy.
This past week Governor Cuomo and his lieutenant have been traveling all over the state, announcing the creation of new regional economic councils that draw from local academic, civic and business leaders. This is the next phase of the governor's promised push to revive the state's economy. Each council will be submitting ideas for bringing business and jobs to the state, working with a streamlined state agency system also announced this week, and competing for funds from a $1 billion grant to help get the best ideas off the ground.
"It is about what is the best way we can pull together regionally to continue to grow jobs, and bring jobs and companies here," Duffy said.
The lieutenant governor made it clear that the regional councils were, in part, meant to steer away from the upstate-downstate divide that normally colors statewide economic discussions. But being the last council to be named, having the capable but junior Duffy deliver the announcement, and, at the time of the press conference, only being able to name one of the co-chairs to head the whole thing—CUNY Chancellor Matthew Goldstein—gave the impression that bringing the city into the mix was not the governor's priority.
In a sense, why should it be? Mayor Bloomberg has been working for years to develop a city-centric program of job industry diversification, entrepreneurial growth, and academic development that he would like to see set as the crowning jewel of his time as mayor. Upstate New York has never recovered fully from the death of American industry. While counties upstate continued to hemorrhage young, able-bodied workers—something Duffy reminded the assembled—New York City has been growing in population for years.
And if there was any doubt these councils were creatures of the state, the dearth of city officials present, with the exception of Bloomberg's deputy mayor for economic development, Bob Steel, and the presence of numerous state legislators made that clear.
The governor's office has made a major show of these councils and its desire to make New York "open for business." The councils were created, the governor said, to allow regional insight, issues and economic solutions to come from the bottom up. Given their composition—appointed and so far without a mechanism for public input—whether or not the issues of concern to the people of the regions will be represented is uncertain. What is certain, here in the city, is that Goldstein and his co-chair, American Express chairman and CEO Kenneth Chenault, have nine other regional councils they need to catch up to.
New York City Regional Council Members
Regional Co-Chairs
Matthew Goldstein, Chancellor, City University of New York
Kenneth Chenault, Chairman & CEO, American Express
General Members
Ann Moore, Former Chairman & CEO, Time, Inc.
Gail Grimmett, Senior Vice President for New York, Delta Airlines
Steve Spinola, President, Real Estate Board of New York
Douglas C. Steiner, Chairman, Steiner Studios
Ashok Nigalaye, President & CEO, Epic Pharma LLC
Gary LaBarbera, President, New York City Building and Constructions Trade
Dr. Marcia V. Keizs, President, York College
Sheena Wright, President & CEO, Abyssinian Development Corp.
Francine Y. Delgado, Senior Vice President, Seedco
Steve Hindy, President, Brooklyn Brewery
Kevin Ryan, Founder & CEO, Gilt Groupe
Kenneth Knuckles, President & CEO, Upper Manhattan Empowerment Zone Development
Corporation
Marcel Van Ooyen, Executive Director, Grow NYC
Cesar J. Claro, President & CEO, Staten Island Economic Development Corporation
Marlene Cintron, President, Bronx Overall Economic Development Corporation (BOEDC)
Kathryn Wylde, President & CEO, Partnership for New York City
Carl Hum, President & CEO, Brooklyn Chamber of Commerce
Nick Lugo, President, New York City Hispanic Chamber of Commerce
Carol Conslato, President, Queens Chamber of Commerce
Stuart Applebaum, President, RWDSU
Mike Fishman, President, 32BJ SEIU
Peter Ward, President, Hotel & Motel Trades Council
Elected Officials
Mayor of New York City (appoints one representative)
Bronx Borough President
Brooklyn Borough President
Manhattan Borough President
Staten Island Borough President
Queens Borough President
Read More

Monday, May 09, 2011
By Karen DeWitt : NYS Public Radio/WXXI
New York's Lieutenant Governor Robert Duffy told a major gay marriage rally at the State Capitol that his boss, Governor Andrew Cuomo, remains committed to the issue.

Friday, January 28, 2011
By Karen DeWitt : NYS Public Radio/WXXI
Albany, NY —
Tensions erupted in the New York State Senate this week as Democratic senators complained over the placement of their chairs, the hours that they were to meet in session, and whether the newly empowered GOP was trying to "grab" more power.

Thursday, December 09, 2010
By Karen DeWitt : NYS Public Radio/WXXI
Albany, NY —
New York's departing Lieutenant Governor Richard Ravitch gave a blunt assessment of his term in office Thursday. Speaking at a Rockefeller Institute forum, Ravitch said he didn't feel like he accomplished very much during his time serving under Governor David Paterson.

Thursday, November 11, 2010
Governor-elect Andrew Cuomo has named the members of his transition team and they are a racially diverse and bipartisan group. Its members include Brooklyn Congresswoman Nydia Velazquez, former State Comptroller Carl McCall, Republican Joanie Mahoney, the executive of Onondaga County and investment banker Felix Rohatyn.