Resignation
Tuesday, March 17, 2015
Google CFO Pichette's 'I quit' note is a classic in a dodgy genre

Monday, February 11, 2013
Thursday, September 01, 2011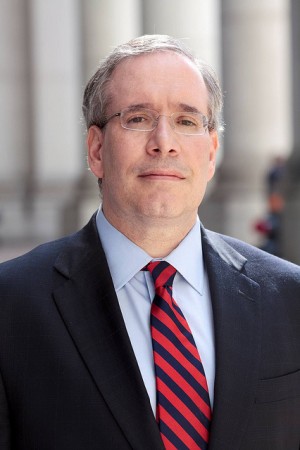 Courtsey of the borough president's Flickr account.
The fallout has started surrounding today's revelation that a former deputy mayor under Bloomberg resigned after being arrested for domestic violence. And at the front of his media surf board is Manhattan Borough President Scott Stringer.
Stringer sent out a statement late this morning saying he was "deeply troubled by the news" that former Deputy Mayor for Operations Stephen Goldsmith had spent two nights in a Washington, DC jail after being arrested after a domestic dispute with his wife. Goldsmith resigned abruptly on August 4. The New York Post reported today that on July 30, Goldsmith had been arrested in Washington, DC, after his wife called the police. The incident, the Post said, was what led to Goldsmith's resignation--not his poor handling of the monster snow storm back in January, as had been the suspicion.
Speaking to the press earlier, Borough President Stringer called on the mayor to give an account of what happened, what the decision making process behind Goldsmith's resignation was, and why the incident wasn't disclosed to the public.
"We have a right to know the circumstances relating to his resignation," Stringer said. "If the resignation was a result of this arrest, then New Yorkers have the right to know that a high-ranking deputy mayor, in charge of oversight of the NYPD, was arrested under some very difficult circumstances."
Stringer was careful not to directly criticize the mayor's handling of the incident, saying that that his office wasn't "picking a fight with the mayor."
"I dont want to characterize the circumstances surrounding the mayor's thinking until i know what it was," Stringer said. "And then we'll go from there."
Marc LaVorgna, a spokesperson with the mayor's office, released the following statement: "We have nothing to add to Mrs. Goldsmith's account of the incident, but it was clear to the Mayor and Mr. Goldsmith that he could no longer serve at City Hall, regardless of his guilt or innocence."
Read More
Thursday, July 21, 2011
UPDATED The head of New York's transit agency abruptly announced he was leaving after less than two years on the job. The news took almost everyone by surprise, including some of his closest advisors. Top leaders in government and business learned only as the MTA was making the announcement public Thursday afternoon.
Even New York City Mayor Michael Bloomberg said Friday morning he didn't get a call until yesterday.
Walder is leaving to be the CEO of MTR, a Hong Kong-based company that runs transit and rail systems in Asia, London, Stockholm, and Melbourne.
"I'm stunned, shocked," said Kate Slevin, Executive Director of the Tri-State Transportation Campaign, a planning group. Walder, well-placed sources say, held the news close to the vest, and informed business leaders, government officials, and staff just hours before the MTA official announcement.
"He told me he regrets he has to choose between the job he loves here, and a much better job," said Kathryn Wylde, head of the Partnership for New York City, a business group. Wylde said Walder had been meeting with her group up until very recently to discuss new initiatives in New York's transit system.
The only hint that Walder was leaving was that the transit chief, who has school-age children, told associates he'd recently taken a family vacation to Hong Kong so he could see the transit system there.
Walder was appointed by former Governor David Paterson. The 6'6" tall, dome-pated transit chief, who had been a top official at London Transport, was lured from a job in the private sector only after being promised a $350,000 bonus should he be pushed out – a promise he extracted after turmoil following the resignation of former Governor Eliot Spitzer.
When Governor Andrew Cuomo took office this fall, transit watchers held their breath to see if Cuomo would ask Walder to leave. But Walder told associates that he had no indication from Governor Cuomo that the Governor wanted him to leave.
"For nearly two years, Jay Walder has shown true leadership at the helm of the MTA and been a fiscally responsible manager during these difficult financial times," said Governor Cuomo in a statement. "Riders of the MTA are better off today because of Jay's expertise and the reforms he initiated will benefit all for years to come. Jay's departure is a loss for the MTA and for the state, but I thank him for his service and wish him the best in his future endeavors."
As CEO of MTR, Walder will get a much bigger compensation package than his current $350,000 salary, and will preside over a company that not only runs trains, but that owns the land around them. That land, and property development, provide a rich source of revenue for MTR, which, unlike the NY MTA, has seemingly endless expansion opportunities, including connecting Hong Kong to Mainland China's 10,000 mile high speed rail network.
By contrast, Walder has presided over excruciating cuts at the MTA. During his tenure, driven by an $800-bllion budget gap, Walder made the most severe cuts in a generation, ending dozens of bus lines, shutting down two train lines, ending weekend bus service in some areas, and making trains noticeably less frequent. And the fares jumped this year by 7.5 percent, and will again next year.
But the cuts, fare hikes and layoffs -- in particular the slashing of hundreds of station agent jobs -- earned Walder the lasting enmity of transit workers. "Transit workers won't miss Jay Walder and quite frankly will be glad to see him go," said TWU Local 100 President John Samuelson in a statement. "He has been antagonistic to the union and the workers from his first day on the job. His attempt last year to blackmail the union into major pay and other concessions led to gratuitous layoffs. He ushered in unprecedented service cuts in both subway and bus service, with particular insensitivity to already underserved areas of Queens, Brooklyn and the Bronx. He never grasped the notion that our bus and subway systems are the most basic and vital service afforded to New York's working class."
Walder has relied on technology to make up what he can't in more frequent service.  Hundreds of subway platforms now have displays that tell riders when the train is coming, the Authority is piloting "oyster cards," which allow riders to swipe and pay, and releasing MTA data to app developers to better distribute schedule information.
The next chief "will have very big shoes to fill" said Tom Wright, Executive Director of the Regional Plan Association. "Figuratively and literally. It's worrisome for all of us because this is such a critical time at the MTA. Ridership is up, the demands on the system are up, and there are real financial concerns."
On Tuesday, the authority announced it would cut back its current capital construction plan by $2 billion, and neither the state legislature nor the governor have shown themselves in any mood to raise revenues to support transit.
"Years ago, the plum job in transit was head of the New York system," said Buz Paaswell, a CUNY Professor and expert in urban transit systems. "And now the plum jobs are in Asia. Well run, beautifully designed, economically sound. As a New Yorker, I'm concerned."
Read More
Thursday, July 21, 2011
Full article here.
Jay Walder's tenure, evaluated, here.
From the NYC MTA:
MTA Chairman and CEO Jay H. Walder
Announces Resignation
Brought Stability and Customer Improvements During Economic Crisis
Accepts Position as CEO of MTR Corp. in Hong Kong
Jay H. Walder today informed Governor Cuomo of his intention to resign his position as Chairman and Chief Executive Officer of the Metropolitan Transportation Authority effective as of the close of business on October 21st, 2011.  Mr. Walder will be joining the MTR Corporation in Hong Kong as Chief Executive Officer and a member of the Board of Directors. The MTR is a publicly-traded company that operates rail services in Asia and Europe, and is involved in a wide range of business activities, including consulting and property development.
(Letter of resignation here. )
"I want to thank Governors Cuomo and former Governor Paterson for the honor of serving the people of New York State," Walder said.  "The MTA's transportation system is the foundation of the metropolitan region and we are fortunate to have thousands of dedicated men and women who work so hard to provide these critically important transportation services to millions of people each and every day.  I believe that we have accomplished quite a lot in a short period, with the support of two Governors, the Mayor, a hard-working Board and many others."
Walder joined the MTA in October 2009, and in less than two years led an unprecedented overhaul of how the MTA operates, bringing fiscal stability and advancing a series of projects that are improving the daily experience of the MTA's 8.5 million riders.
Under the banner of "Making Every Dollar Count," Walder introduced efficiency measures that are expected to yield $3.8 billion in cumulative savings by 2014.  The effort focused on streamlining the MTA's seven companies, consolidating functions and eliminating redundancies.  In the face of a fiscal crisis, contracts were renegotiated with suppliers, healthcare arrangements were rebid and administrative costs were reduced across the board.
At the same time, Walder drove a customer service agenda that showed customers a new vision for 21st century transit service even as costs were reduced.  Countdown clocks were activated at more than 150 stations, security cameras were brought online, a new user-friendly web site was introduced, an all-electronic tolling pilot was launched and new smart card technology was tested and is moving forward for the entire transportation system.  The introduction of Select Bus Service on the busiest bus route in the country – along with bus-lane enforcement cameras – demonstrated the promise of the MTA's bus system. Real-time bus information debuted in Brooklyn and will reach Staten Island by the end of the year.
"In challenging times, we brought stability and credibility to the MTA by making every dollar count, by delivering long overdue improvements and by refusing to settle for business as usual," Walder said.
Mr. Walder assumes his position as Chief Executive Officer of MTR on January 1st, 2012.  He will become both a Member of the Executive Directorate and a Member of the Board of Directors.  To ensure a smooth transition, Mr. Walder will be appointed as CEO Designate on November 1st, 2011.
"This is an exciting opportunity for me to lead a publicly-traded, multi-national corporation with a broad set of business activities," Walder said. "The MTR Corp. is widely recognized for its world-leading rail systems and the innovative property developments that are built around stations."
The MTR operates commuter rail in Hong Kong and intercity rail services from Hong Kong to Beijing, Shanghai and Guangdong in China. The MTR is also building new rail lines in Hong Kong and China.   In addition, the MTR operates rail systems in London, Stockholm and Melbourne and provides rail consultancy services in Asia, Australia, the Middle East and Europe.  Beyond its transportation services, the MTR is involved in a wide range of business activities, including a successful property development business that creates fully integrated commercial and residential communities around stations. It has completed developments at 27 rail stations with nearly 75,000 housing units constructed and operates more than 18 million square feet of commercial space. MTR shares have been traded on the Hong Kong Stock Exchange since October 2000.   The corporation announced total revenue of $3.8 billion in 2010 with $1.1 billion of underlying profit.
Read More