Regional Economy

Thursday, August 01, 2013
As fast food workers organize for higher wages, Elise Gould, director of Health Policy Research at the Economic Policy Institute discusses the landscape of minimum wage and living wage employment -- including who should make $7.25 an hour and what burden employers have to provide for their employees. EPI has recently released their 2013 Family Budget Calculator, which shows regional differences in how much income is needed for economic security.

Friday, June 07, 2013
The U.S. added 175,000 jobs in May according to the Labor Department.  Greg David, director of the Business & Economics Reporting Program at CUNY Journalism School and contributor to Crain's New York Business and author of Modern New York: The Life and Economics of a City, discusses the new jobs numbers and we take your calls:  Have you got a new job – or lost a job this month or this year?  Give us a call at 212-433-9692.
Monday, January 23, 2012
By Karen DeWitt, New York State Public Radio Capital Bureau Chief
Actor Debra Winger and "Gasland" filmmaker Josh Fox were among hundreds of anti-fracking protesters who descended upon the State Capitol Monday, in one of the largest demonstrations against the natural gas drilling process so far.
Read More
Monday, August 15, 2011
When landmen sit down with property owners over an oil and gas lease, there can be a lot of money at stake. Some of these prospectors are more honest than others. WRVO's Emma Jacobs reports on kitchen table negotiations underway for natural gas drilling access in the region.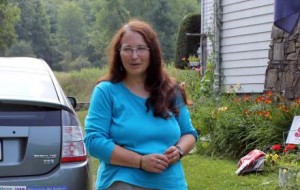 The front line of the controversial expansion of natural gas drilling isn't a meadow in Pennsylvania or New York. It's the kitchen table.
That's where landowners meet with landmen - the fleet of salesmen that gas companies use to convince landowners to sign drilling leases.
Meeting the landmen
Landmen began approaching Ruth Tonachel during the leasing rush that swept through northern Pennsylvania in 2007.
"When they first showed up in 2007," she says, "there were people knocking on the door a couple times a week, calling constantly, stuff in the mail, phone messages, from all different companies. I mean it was hard to even sort out."
Tonachel's property has been in the family since 1790 so she was cautious about the idea of a drilling lease.
She speaks fondly of some of the many landmen she met with. Others did things she didn't like, like the one she met with at a restaurant.
"He talked awhile about his background and how long he'd been in business and where he was from," she says. "Just chit chat friendly talk … I said 'well I can't sign anything in a hurry', but he pulled out a whole set of leases all with our names on them."
Landmen are often compared to fast-talking used car salesman. Tonachel's visitors repeatedly urged her to sign right then and there, claiming theirs was the best deal she'd ever get. When she didn't sign, they'd come back with a different, better deal. Signing bonuses went from hundreds to thousands of dollars per acre.
But the landmen were putting more than just money on the table - some of them were serving up half-truths, misrepresentations, or outright lies.
Read More
Friday, July 15, 2011
Your morning economic check-in!
The New York Federal Reserve's release of the latest economic snapshot show New York City and State continuing to improve from our recession lows. The Fed shows that New Jersey's economy, on the other hand, continues to be stuck in a rut.
The Fed's most recent analysis is for May 2011 data. You can read more about here.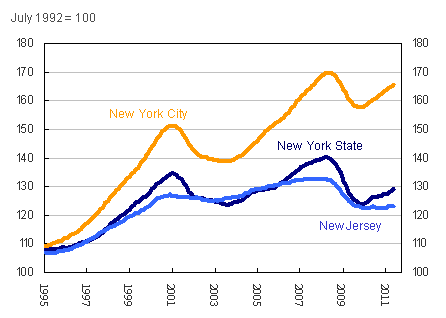 Read More