Public Schools
Monday, February 13, 2012
Sunday was the last day that several dozen churches were allowed to hold worship services there, after federal courts allowed the city to eject them. At a press conference on Monday, Mayor Michael R. Bloomberg defended the ban.
Read More

Wednesday, February 08, 2012
By Fred Mogul : Reporter, WNYC News
Hundreds of public school students get religious exemptions from compulsory vaccination requirements for school. However, there is a catch: if students are not vaccinated, the school can ask them to stay home, for an extended period, if a classmate comes down with chicken pox, measles or one of the other "vaccine-preventable diseases." Two families from Queens are suing the city over that catch.
Wednesday, January 25, 2012
Monday, January 16, 2012
Julie Shapiro, DNAinfo.com reporter, talks about the Preschool Gifted and Talented Tests offered now through February 10 in New York City. Last year, only 6 percent of test takers were selected for a spot in one of the city's prestigious gifted kindergarten programs, and to beat these odds, parents sometimes go to extremes to prepare their preschool children for the standardized test. Julie Shapiro's article "How to Prepare your Preschooler for Gifted and Talented Tests" appears on DNAinfo.com.

Friday, January 13, 2012
By Jami Floyd : IAFC Blogger
We owe a tremendous debt of gratitude to the team of lawyers who fought in Brown and the cases that followed. One of those attorneys, Robert L. Carter, passed away just last week.
Read More

Tuesday, January 03, 2012
A 2011 University of Michigan study of more than a thousand middle school students found that those who regularly ate school lunches were 29 percent more likely to be obese than those who brought lunch from home. Of course, what a child eats for lunch is just one of many factors that determines whether he or she becomes overweight or obese. But many schools' dependence upon revenue from vending machines and brand-name fast-food over the past decade may be a tipping point.

Monday, August 29, 2011
All over the country, 50 million public school students will head back to school this week.  And so today, we're starting a week-long special look into the state of education in America in 2011. Today, we're talking about shrinking school budgets. State budgets have been feeling the squeeze since 2008, and with stimulus money running out, this is the year when schools are really having to tighten their belts. Later this week, we'll talk about the No Child Left Behind Act's looming deadlines, which require that by 2014, 100 percent of students will test at grade level in reading and math.

Thursday, July 28, 2011
It's not a vote of confidence for my principal and it makes me less likely to stay in a school where I'm not feeling supported by my administration to achieve tenure.
—Emily, a teacher in Brooklyn, on The Brian Lehrer Show
Tuesday, December 08, 2009
By Beth Fertig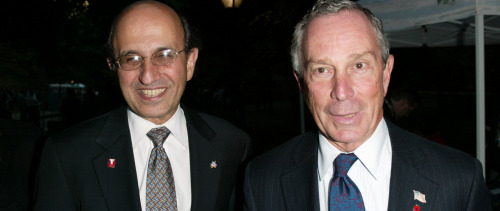 In his campaign for re-election, Mayor Michael Bloomberg pointed repeatedly to rising test scores among New York City public school students ...
Thursday, March 05, 2009
By Kathleen Horan : Reporter, WNYC News
Thousands of public employees crowded the sidewalks outside City Hall to protest feared city and state budget cuts. Kathleen Horan has this to report from the corner of Broadway and Chambers.
"The street is full of people with homemade signs that say 'Tax the rich to save ...
Saturday, March 27, 2004
A few months ago, we introduced you to the Bronx Charter School for the Arts — a new public elementary school in an economically struggling section of New York City. Alicia Zuckerman caught up with the students and teachers backstage before their first public performance.
Saturday, December 20, 2003
An innovative primary school in one of New York City's poorest neighborhoods just opened this fall. Its students learn the basics — math, reading, history, and science — but all through the prism of art, music, literature, and performance. Studio 360 asked Alicia Zuckerman to pay regular visits to the ...