Pools
Tuesday, June 17, 2014
On June 18th, 1964, J.T. Johnson and Al Lingo were two of several black and white protesters who jumped into the whites only pool at the Monson Motor Lodge in St. Augustine, Florida.

Wednesday, July 24, 2013
By Sarah Gonzalez : Reporter, WNYC/NJPR
The New York City Department of Education has already served about 50,000 more free meals this summer than all of last summer. That's thanks in large part to one new location: a refrigerated truck outside of a library in Flushing, Queens that has already handed out more than 40,000 meals.

Thursday, July 19, 2012
By Kathleen Horan : Reporter, WNYC News / Brigid Bergin : Reporter
Sunbathers sprawling out poolside and swimmers finding relief from the unrelenting city swelter at McCarren Park Pool on a recent afternoon. It wasn't much different at Astoria Pool, the city's largest. But the heightened security at McCarren was a subtle reminder of the violent incidents this summer that have marred its reopening.

Friday, July 06, 2012
New York City Parks Commissioner Adrian Benepe discusses the incidents at the newly opened McCarren Pool, takes calls from Williamsburg/Greenpoint residents, and puts pool violence in context.
Tuesday, July 03, 2012
By Kathleen Horan : Reporter, WNYC News
It's been less than a week since McCarren Park Pool in Brooklyn reopened after being closed for nearly 30 years. Already, a lifeguard has been attacked and three men have been arrested  and charged with second-degree assault for allegedly assaulting a police officer, as well as reports of thefts. Those incidents haven't stopped many from coming out for a swim at the at the Greenpoint-Williamsburg landmark.

Thursday, July 21, 2011
By Erica Getto
With the temperature in New York City heating up to nearly 100 degrees Fahrenheit, it's going to take a lot more than a bottle of ice water and a good air conditioning unit to keep you cool and composed. Here are our top ten suggestions for taking advantage of this week's heat.

Monday, June 27, 2011
By Erica Getto
On Wednesday, 54 outdoor pools will open their doors for summer swimming and sunbathing. There will be four fewer pools open this year and all pools will close two weeks early. Plus: See a list of our favorite city pools.

Tuesday, July 20, 2010
Swimming is a great form of exercise, a refreshing summer activity and an important life skill. Yet African American women seem to be, let's say, less than enthusiastic.

Tuesday, July 20, 2010
A recent national survey found that African-Americans are less likely to learn how to swim than whites. The reasons for this difference are quite complicated. In his documentary "Good Hair," comedian Chris Rock interviews African-Americans about the lengths they will go to in order to achieve a certain look with their hair. That desire can make getting into deep water a non-starter for some. WNYC's Jenna Flanagan explores the accepted belief that black women don't swim.

Tuesday, July 06, 2010
By Beth Fertig
Swimming classes start this week at New York City public pools. The city Department of Parks & Recreation's free "Learn to Swim" classes are open to children and adults at 35 of the city's 54 pools. The first round of classes begins Wednesday after Tuesday's registration period.
Friday, August 21, 2009
By Amy Pearl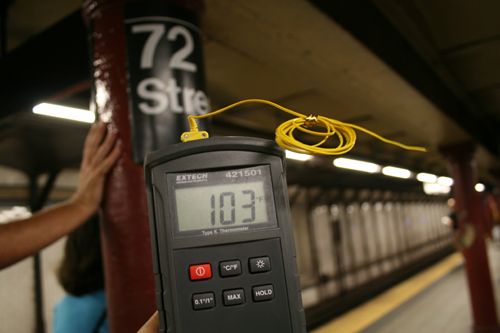 Make no mistake, it's hot and sticky out there.
...