Political Corruption

Thursday, October 10, 2013
Ken Lovett, Albany bureau chief for The Daily News, talks about reports that the Moreland Commission investigating corruption in Albany is pulling its punches.

Wednesday, June 12, 2013
Mayor Bloomberg announced a major plan to prepare the city for the next big storm. Seth Pinsky of the New York City Economic Development Corporation is here to discuss. Plus: Attorney General Eric Schneiderman; corruption at non-profits; a neuroscientist's ideas about drugs; and Ophira Eisenberg from NPR's quiz show "Ask Me Another."   

Monday, April 29, 2013
The government got a boost Monday in its corruption trial against two associates of Comptroller John Liu. The judge appears likely to allow the jury to consider whether former campaign treasurer Jenny Hou is guilty of "conscious avoidance."

Wednesday, April 24, 2013
The corruption trial of a former aide and a donor to comptroller and Democratic mayoral hopeful John Liu continued Wednesday, with court action focusing on former Liu treasurer Jenny Hou.

Tuesday, April 23, 2013
Queens State Senator Malcolm Smith shook hands with well-wishers and entered a courtroom packed with supporters on Tuesday. He was being arraigned for allegedly trying to rig the mayoral election — but the only remnant of the initial outrage over the alleged corruption was a thin line of protesters outside court.
Friday, February 10, 2012
Former Yonkers state senator Nicholas Spano plead guilty to tax fraud today in federal district court. Spano was charged with fraudulently deducting $180,000 in non-existing rental expenses, as well as failing to report $45,000 in income received from the sale of a building in White Plains.
"Former Senator Nicholas Spano is the latest in a regrettably long line of lawmakers turned lawbreakers," US Attorney Preet Bharara said in a statement. "When elected officials put padding their pockets above the law, they tarnish our government and undermine people's faith in their public servants. We will not tolerate this conduct and will continue to aggressively prosecute those who engage in it."
Spano faces a maximum sentence of three years in prison and a fine of $250,000 or twice the gross gain or loss derived from the crime, whichever is more. He's scheduled to be sentenced in federal court on June 11.
Read More
Tuesday, January 03, 2012
Disgraced former State Senator Carl Kruger may have been found guilty on corruption charges, but he will still collect his pension as an elected official, per the state's constitution. New York State Comptroller Thomas DiNapoli wants to try again to do something about it.
The Comptroller's office released a statement saying Kruger has submitted the necessary paperwork to collect his pension today. In response DiNapoli will resubmit a bill that would go beyond the recently-passed ethics reform to penalize lawmakers monetarily, as well as make Official Misconduct--currently a misdemeanor--a felony.
"Former Senator Kruger's actions were a breach of the public's trust, but the State Constitution prevents the forfeiture of his pension," DiNapoli said in a statement. "Public confidence in government has been bruised and battered. This bill will be a strong step toward rebuilding trust."
Lawmakers who took office after this past November are subject to losing their pensions if convicted of corruption. But acts that occurred before the law went into affect--as was the case with Kruger--are exempted. The Comptroller's bill would impose a fine of twice whatever monetary amount a lawmaker is convicted of (so let's say you're convicted of stealing $5,000, DiNapoli's law would fine you $10,000) as well as the aforementioned penal class increase.
"My bill would ensure that those public officials who engage in corrupt practices and wrongdoing will suffer a cost to themselves and their families if they abuse their position for personal gain," DiNapoli said.
Read More
Tuesday, December 20, 2011
As always, State of Politics and YNN host Liz Benjamin has a great rundown of Kruger's career. Read it here.
Read More
Thursday, December 15, 2011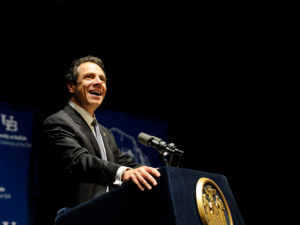 Courtesy of the Governor's office.
In a wide-ranging interview with the New York Post's Fed Dicker, Governor Andrew Cuomo gave his impression of his past year in Albany while looking forward to the next session, which begins in January.
"If you look at what we laid out in the campaign--if you look at what we said we were going to do versus what we did – I think it's fair to say we had a very productive year," the Governor said.
He went on to laud the state legislature for its efforts (or willingness to accept his, depending on how you look at it) as well before turning to a number of high-profile topics. Here are the highlights:
Read More
Friday, December 09, 2011
WNYC's Bob Hennelly has a great piece up on our website today on the long history of politicians standing accused, but refusing to stand down. The seeming ever-growing list of indicted elected officials (with some potentially on the way) goes back to time immemorial...or, at least to Aarron Burrs' mortal strike that left Alexander Hamilton dead on the banks of the Hudson.
"Over the years several public officials in New York have elected to stay in office even as they face criminal charges and indictments  -- despite the common misperception that an indictment in of itself is  evidence of culpability," Hennelly writes. "It is not."
Indicted and criminally charged officials continuing to serve in elective office presents a conundrum that puts two of our most fundamental democratic principles in quite a tension: The right to the resumption of innocence that is foundational to our nation's legal system and the right of constituents to unencumbered representation.
Check out the full article here. Check out the broadcast version above.
Read More
Wednesday, December 07, 2011
Add another New York City elected official to the growing list of corruption-related activities. An aide, a person who "shares a residence with the senator" and two others were indicted by Attorney General Eric Schneiderman today.
Patricia D. Savage, the president of the non-profit Parent Workshop, Inc. and an aide to Huntley's, and Lynn H. Smith, the organization's treasurer and house guest/roommate/something else of Huntley's, are accused of diverting approximately $29,950 in tax payer funds from the non-profit and in to their pockets. Two other individuals, David R. Gantt and Roger N. Scotland, are accused of "falsifying documents to cover up the theft once the investigation commenced," according to a statement from the AG's office.
"This personal profit-making scheme defrauded taxpayers, all the while depriving communities of much-needed funds. Now it's time to hold those behind it accountable," Schneiderman said in a statement. "The charges announced today send a strong message that those who abuse their positions to rip off taxpayers will be prosecuted."
The bust was part of a joint effort between the offices of Schneiderman and State Comptroller Thomas DiNapoli (the other two state elected officials not named Cuomo) to combat public corruption.
"Taking money intended for families in need is unconscionable," DiNapoli was quoted saying.  "Abuse and fraud will not be tolerated. By combining forces, my office and the Attorney General have exposed and are prosecuting this egregious theft of state funds which were intended for the public good."
Huntley herself was not charged of any wrong doing.
Read More
Tuesday, November 29, 2011
Just when he thought he was out of the woods: earlier today Assemblyman William Boyland, Jr. of Brooklyn was arrested on bribery charges. From WNYC:
Federal prosecutors say William Boyland Jr. allegedly accepted more than $250,000 in bribes, and he is expected to appear in court Tuesday.

Boyland's attorney, Richard Rosenberg, said he had would wait to see what the allegations are before commenting.

The authorities, from the U.S. attorney's office in Brooklyn, say the alleged actions took place over the past two years.

Three weeks ago, a Manhattan jury found the Brooklyn Democrat not guilty of charges alleging he took a no-show job in exchange for doing political favors for a corrupt hospital executive.

Boyland's attorneys argued that money the Assemblyman received from a hospital was legitimate consulting fees instead of bribes.
Read More