Planning
Tuesday, July 29, 2014
The best knock-offs in the world are in China. There are plenty of fake designer handbags and Rolexes, but China's knock-offs go way beyond fashion. There are knock-off Apple stores that look so much like the real thing,

Monday, February 10, 2014
By Matthew Schuerman : Editor, WNYC
Sheepshead Bay residents affected by Sandy may be part of a plan from the Pratt Center Design 

Wednesday, July 24, 2013
The New York City Council took the first step in a long process to remake Penn Station, Wednesday. It voted overwhelmingly to limit the lease on Madison Square Garden, which sits atop nation's busiest transit hub. 
Read More
Saturday, April 02, 2011
By Mark Simpson
(Orlando, Fla. -- Mark Simpson, WMFE) Commissioners at the City of Winter Park, just north of Orlando, voted unanimously this week to kill a nearly $2 million  beautification project, hampering a planning strategy that put greater emphasis on mixed use development. The original plan was was part of a $9 million street and sewer upgrade along the main road leading into the city's west side.
Follow Transportation Nation on Twitter.
The section of Fairbanks Avenue in question is actually a state road. It runs from Interstate 4 to Winter Park's center. The beautification project would have happened parallel to planned work upgrading sewers in the area. City planners wanted to add planted medians to the center of the road, in coordination with a planned repaving by the Florida Department of Transportation.
The medians would have eliminated a center turn lane, known commonly as a "suicide lane." Planners say the medians would make the road safer by reducing conflict zones during turns and slow down traffic. However merchants along the Fairbanks corridor became concerned about paying an anticipated $340,000 assessment for the improvements as well as forcing customers of some businesses to make u-turns to reach them. They showed up en masse at the City Commission's meeting this week to express their worries. Commissioners voted to go ahead with planned sewer and repaving, but axed the median component citing cost concerns.
The beautification efforts would have also started an incremental experiment with form based codes in Winter Park, which are considered to be a leading trend in city planning. The city of Miami overhauled its entire planning and zoning code to transform it into a form-based code called Miami21.  The plan went into effect last year. During the 20th century U.S. cities were influenced by Euclidian zoning, which separated residential, commercial, and industrial zones from each other, placing them in designated areas. Form-based codes allow mixed use buildings, such as ground floor commercial spaces with residences on a second level, to be built on the same site. They also rely on pictures and give builders and planners an image of what forms and layouts are preferred.
David Zusi, the Waste Water and Utility Director for the City of Winter Park, says because the commission voted down the median portion of the upgrade project the beautification efforts will be up to businesses around the area. He also says, attempts to use form-based codes in Winter Park will continue, but he didn't provide details.
Zusi indicated that installing medians would likely not be considered again for at least a few years, by then, the state will have finished repaving the section of Fairbanks Avenue.
City planning staff had been working on the project since 2005 under a previous City Commission. It had been estimated to take one year and cost just under $9 million dollars. New estimates without the median are not available yet.
Follow Transportation Nation on Twitter.
Read More
Thursday, September 09, 2010
(Matt Dellinger, Transportation Nation)  Along with the proposal to jump-start a six-year transportation authorization with $50 Billion in funding, President Obama on Monday also suggested changes in the way such federal dollars are spent. His Administration's promotion of a National Infrastructure Bank and other reforms are early, tentative steps towards what could be a major reworking of the way we decide which projects to construct.
But deciding how to decide won't be easy. Anyone looking for an object lesson in the difficult issues ahead would do well to study the Interstate 69 controversy in Bloomington, Indiana, where the state and the city have locked horns over the biggest highway project in years.
The proposed 1400-mile extension of Interstate 69 into a Canada-to Mexico "NAFTA" highway has been on the books for twenty years. It was one of the high-priority corridors designated in the 1991 transportation reauthorization—a notable exception in a bill that was otherwise hyped as the beginning of post-interstate multimodalism and increased local control over planning.
Read More
Wednesday, June 17, 2009
By Brigid Bergin : Reporter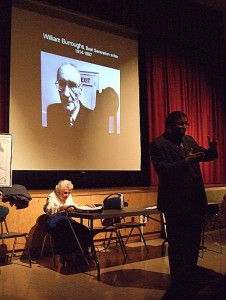 While the sputtering economy may be stalling some development ...
Thursday, November 08, 2007
The sales are starting, the stores are open late, and many of us are gearing up to spend more money than we actually have in a holiday season with deep roots in religion. We explore the turmoil many of us experience with money in our day-to-day lives — an