Partisanship

Friday, October 10, 2014
New York Times columnist Maureen Dowd looks back at the impeachment of President Clinton and why the feminist community failed to support Monica Lewinsky.

Wednesday, August 27, 2014
John Avlon discusses today's political climate of hyper-partisanship.

Monday, February 03, 2014

Friday, October 04, 2013
A recent study found that people will more accurately describe political realities--even if it contradicts their own partisan views--if they are paid for their correct answers. Brooke speaks to Gregory Huber, one of the authors of the study, about their findings.

Thursday, June 21, 2012
In a new book, comedian Michael Ian Black and MSNBC contributor Meghan McCain ask Republicans and Democrats, "Can't we all just get along?"

Monday, December 19, 2011
Partisan to the core, Congress hit a speed bump in its standoff on legislation to prevent a Social Security payroll tax increase for 160 million workers on Jan. 1. The Republican-controlled House will wait until Tuesday to reject a Senate measure providing a two-month extension of Social Security payroll tax cuts due to expire on Dec. 31.

Friday, August 05, 2011
Senate Majority Leader Harry Reid announced Thursday that Congress has struck a deal to fund the Federal Aviation Administration, ending a weeks-long partisan impasse that kept 4,000 FAA workers off the job, and tens of thousands out of work in airport construction. The Senate will ensure that a deal can be made before lawmakers leave for August vacation, and the bill will fund the agency through September 16.

Friday, July 29, 2011
What happens when the fear of appearing partisan prevents journalists from accurately describing what's going on? Are journalists struggling with objectivity bias when it comes to reporting on the debt ceiling? The Columbia Journalism Review's Ryan Chittum tells Brooke  why he thinks the U.S. press has trouble communicating extreme political views.

Wednesday, April 27, 2011
What I think will happen is with that looming deadline, both sides will stake out positions that are in substantial disagreement, there will be a long political tussle about it, we'll tiptoe right up to the precipice, look over the precipice and decide we don't want to jump over.
—Evan Bayh, former Senator of Indiana and Fox News contributor, on the upcoming Congressional battle on extending the federal debt ceiling.
Wednesday, April 27, 2011
Wednesday, October 13, 2010
Tuesday, September 21, 2010
Maggie Haberman, senior political writer for Politico, and Michael Barbaro of the New York Times talk about Mike Bloomberg's recent endorsements of moderate candidates and where he fits into the national political landscape as a centrist in a moment of partisanship. Plus, is the planned Stewart/Colbert rally part of the same movement?
Monday, August 16, 2010
By Azi Paybarah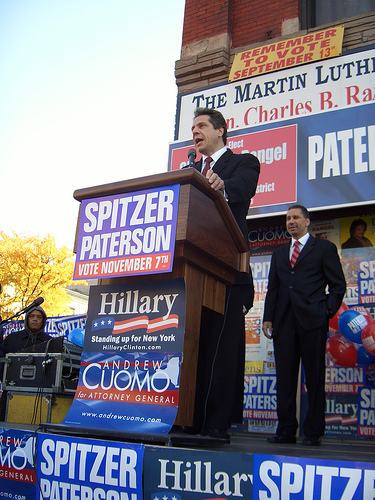 Azi Paybarah / WNYC
Obama's campaign spin-off, Organizing for America, is out with an email to supporters rallying support for Andrew Cuomo's gubernatorial campaign.
Haberman notes this makes Cuomo "part of the national party's movement."
Cuomo is, oddly, declining to comment on the email.
The only thing I'll add is that the email doesn't mention the word Democrat.  Instead, the email characterizes the opponents they're trying to topple as "lobbyists and special interest" and "lawmakers" who "can't break free from the status quo."
The OFA description underscores Cuomo anti-Albany message. "I think we have to have less focus on the party labels and more focus on the people,"Cuomo told reporters last Friday.
So, for this one, the OFA is following Cuomo's script.
UPDATE: After seeing reports about their lack of comment, Cuomo's campaign sent over a statement.
Read More