Parking Tickets

Tuesday, August 13, 2013
Restaurant owners and vendors may often feel like they are shouldering the biggest burden of city fines, but it's actually drivers who pay the most into city coffers. 
Thursday, September 01, 2011
By Casey Miner
(San Francisco – KALW) The city of San Francisco is making its first round of changes to parking meter costs based on data gathered from its street sensors around town. The idea is for meter and garage rates to be based on demand – so popular blocks will cost more, less crowded ones will be cheaper, and everyone will spend a little less time circling the block. How's it working?
According to Jay Primus, the manager of the program, "it's a little bit like the Goldilocks principle. We don't want it too hot, we don't want it too cold – we want it just right. In this case, prices not too high or too low, but just right for the demand we see."
You can hear the whole story over at KALW.
Read More
Thursday, July 28, 2011
By Casey Miner
(San Francisco – KALW) The city of Oakland issued 356,000 citations last year. That's nearly 1,000 a day. Even counting repeat offenders, that's a lot of angry citizens, and they are not shy about saying so: the office has a whole Yelp page devoted to bashing it. But this seemingly vast and hated bureaucracy? It's actually only 14 people – total. Mitchell and her fellow cashier are the only two staff who work the windows. Which means that with a few exceptions, they're the only ones dealing with the ticket-paying public, day in and day out.
Listen in with Casey Miner at KALW News.
Read More
Wednesday, April 27, 2011
By Kate Hinds
More on the political implications of volatile gas prices--as well as oil company subsidies--from the Wall Street Journal.  The Takeaway talks about what -- if anything -- Congress can do to lower them.
Cabbies say the reason they often refuse to take passengers to New York's outer boroughs is because of their bottom line. (WNYC)
USA Today looks at suburbanization, and says most of the growth is happening on opposite ends of the suburban expanse: in older communities closest to the city and in the newer ones that are the farthest out.
The first crash test evaluations of the Chevy Volt and the Nissan Leaf earned the cars high safety ratings from the IIHS; AP video below.

Speaking of EVs: an unmodified Nissan Leaf is entering a steep hill climb race. (Inhabitat)
An audit found that Los Angeles is losing up to $15 million in revenue because the city barely captures half of the parking fines owed to it. (Los Angeles Times)
North Dakota became the 31st state to ban texting while driving. (Grand Forks Herald)
Utah lawmakers have scheduled a vote on whether to overturn the governor's veto of a bill that dedicates a portion of the state sales tax to transportation. (Daily Herald)
NYC DOT puts a digital speed detector at an intersection in Staten Island because "two out of every three cars were exceeding the speed limit," according to commissioner Janette Sadik-Khan. (Staten Island Advance)
Transparency watch: NY's MTA has a board meeting this morning at 9:30am; you can watch it here.
Despite moving forward on creating their own electric vehicles, the head of BMW says he doesn't think EVs are right for more than 10% of the population. (Fast Company)
Follow Transportation Nation on Twitter.
In case you missed it on Transportation Nation:
--The NYPD ticketed cyclists for not riding in a bike lane (link)
--BART wants rider input on new seat design (link)
--TN's Andrea Bernstein will be at the NYC Transit Museum tonight to talk about the past -- and future -- of Penn Station (link)
Read More
Wednesday, April 20, 2011
The ticket fixing scandal in the NYPD continues to grow. Rocco Parascandola, police bureau chief for the New York Daily News, discusses the story of how police and their unions are helping the wealthy and connected get out of parking tickets.
Thursday, March 31, 2011
(Andrea Bernstein, Transportation Nation) NY Congressman Anthony Weiner is seen as "a contenda" in New York's next Mayoral election (okay, in 2013, but people need something to talk about while we're waiting for spring).
The youngish outer-borough congressmember got lots of airtime (and kudos from the kind of people who vote in Democratic primaries for Mayor)  for supporting a public option in health care reform.
But he has been in hot water in some communities for telling the New York Times that he said at a Mayoral dinner: "When I become mayor, you know what I'm going to spend my first year doing? I'm going to have a bunch of ribbon-cuttings tearing out your (expletive) bike lanes."  (He later tweeted that he was "joking.")
Then, Roll Call found he owed $2,180 in DC parking tickets -- an embarrassment since he's been particularly vocal about United Nations diplomats failing to pay their parking tickets.   He jokes about it in this video at the Congressional Correspondents Dinner.
Rehabilitating himself?
Via Azi, in the New York Observer Politicker
Read More
Tuesday, March 22, 2011
By Kate Hinds
San Francisco's regional transportation and housing agencies (One Bay Area) are floating a 25 year-plan to prepare for a future in which the Bay Area has 2 million more people and 902,000 housing units -- and most of it built near rail stations, bus lines, walking paths or bike lanes. (Contra Costa Times)
Half a century after cities put up freeways, many of those roads are reaching the end of their useful lives. But instead of replacing them, a growing number of cities are thinking it makes more sense just to tear them down. (NPR)  You can see our earlier coverage of this issue here, on Marketplace.
Massachusetts transportation officials hoping to build a new commuter rail line have decided on a preferred route to connect Boston to New Bedford and Fall River. The state hopes to have the line built by 2017 -- but the funding has not been secured yet. (Boston Globe)
New Yorkers can now contest parking tickets online. (WNYC)
The Federal Highway Administration launched new standards for bridge inspections (The Hill), which Ray LaHood says will allow the FHWA to more clearly and easily identify bridge issues in each state.
United Auto Workers made concessions in 2008, when the American auto industry was limping. Now, Detroit car manufacturers are newly profitable -- and UAW officials are meeting today to map out strategy in advance of labor contract talks. (Marketplace)
Google has become the first customer for a new wireless EV charging station. The inductive charging system requires only proximity to the charging unit -- no plug or outlet necessary. (Wired/Autopia)
Some fuel-efficient cars can take years to reach the break-even point.  (KUHF)
Georgia's DeKalb County is expected today to approve a $2.7 billion wish list of transportation upgrades, but county officials are still reluctant to support asking residents to pay more in sales tax. And it sounds like no one thinks there's enough local control of the money. (Atlanta Journal-Constitution)
A Foursquare add-on will give users real-time transit schedules when they check in near a transit stop. (Mashable)
Top Transportation Nation stories we're following: NY's City Hall goes on a bike lane offensive, and Mayor Bloomberg speaks -- diplomatically -- about Iris Weinshall, who's not a bike lane fan. The Chinese demand for coal is pushing some American freight lines to the max. A former Metro executive is now working for a transportation lobbying firm. Watch a visualization of London's bike share system on the day of a tube strike. And: happy 200th anniversary, Manhattan street grid.
Follow Transportation Nation on Twitter.
Read More
Sunday, March 06, 2011
By Kate Hinds
Neighborhood residents hope that the Central Corridor light rail line will improve St. Paul -- without bringing any of the downsides of gentrification. (Minneapolis Star-Tribune)
What can developing countries teach the US about buses? Three words: bus rapid transit. (Reuters via NYT)
BART commuters may choose to stand instead of sit: "High concentrations of at least nine bacteria strains and several types of mold were found on the seat. Even after Franklin cleaned the cushion with an alcohol wipe, potentially harmful bacteria were found growing in the fabric." (Bay Citizen)
Consequences of the "tarmac rule"? An analysis of federal Department of Transportation figures reveal airlines are canceling more flights, presumably to avoid idling on the tarmac and exposing themselves to the whopping fines. In fact, the cancellation rate at the nation's major airports surged 24 percent during the eight months after the rule went into effect. (Star-Ledger)
Michelangelo's "David" may be at risk because of the vibrations caused by the construction of high-speed rail line beneath Florence. (Telegraph)
4,600 City of New York employees owe $1.6 million in parking tickets. (NY Post)
The average price of gas in the US is now up to $3.51 a gallon -- a 33 cent increase in two weeks (NPR), leading the White House to consider tapping the strategic oil reserves.
The New York Times profiles city transportation commissioner Janette Sadik-Khan.
Top Transportation Nation stories we're covering: Florida Governor Scott killed high-speed rail again -- and then announced he wanted to deep-dredge Miami's port.
Follow Transportation Nation on Twitter.
Read More
Thursday, August 12, 2010
What better place than tech-savvy and traffic-choked San Francisco to work up a way to automatically ticket poorly-parked cars?  Cameras mounted on MUNI buses capture vehicles parked in transit lanes, loading zones and double parked cars, then generate citations.  Mayor Gavin Newsom pumped it up as a way to ease traffic and speed up transit.  But the plan seems to have failed in the most basic way. -- Collin Campbell
Read More
Monday, March 16, 2009
By Amy Pearl
Paul Bacon, writer, scuba instructor, and author of Bad Cop: New York's Least Likely Police Officer Tells All (Bloomsbury USA, 2009), talks to Brian Lehrer about ticket quotas, stop-and-frisk, who should not consider joining the force and more.
Thursday, January 29, 2009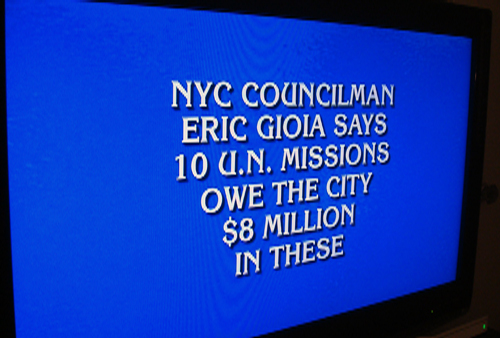 Could there be an aural pleasure greater than hearing Alex Trebek say your name? Eric Gioia, councilman from Queens, is likely asking himself just that, having attained Jeopardy! immortality (Giopardy?) during yesterday's show. The question--actually, the answer--was 'NYC Councilman Eric Gioia says 10 ...