Park 51
Tuesday, August 24, 2010
By Azi Paybarah
/>
Chuck Schumer tries
proving
Gary Berntsen's criticism
is true, telling reporters who ask about the Park51 project:
Well, um, I really have nothing new to add. As I've said over the last several weeks, I'm not opposed to it, and I think that's the appropriate thing for me to say. So, I have nothing more new to add. OK?"
[h/t SoP]
Read More
Tuesday, August 24, 2010
By Azi Paybarah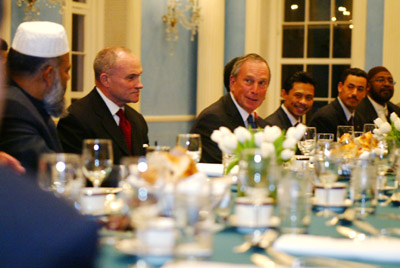 Kristen Artz / nyc.gov
Michael Bloomberg is hosting his annual Iftar dinner tonight at Gracie Mansion. Above is a photo from an Iftar dinner he held there in 2004.
It's the perfect venue for Bloomberg to reassert himself as the pre-eminent defender of the Park51 project, which, with one exception, has drawn a collective mumble from other city officials.
Read More
Tuesday, August 24, 2010
By Azi Paybarah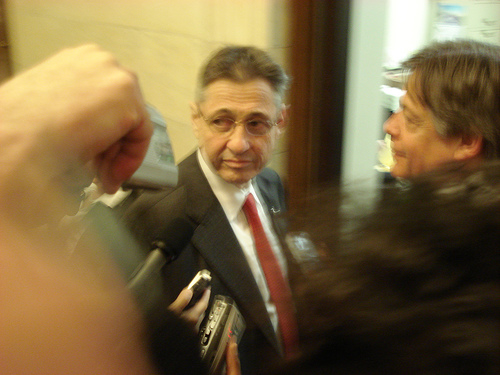 Azi Paybarah / WNYC
Assembly Speaker Sheldon Silver, the incredibly powerful Democrat whose district includes Ground Zero -  but not the site two blocks away where the proposed Islamic center is slated to be built -  comes out like President Obama, on this issue:
The sponsor should take into very serious consideration the turmoil that has been created and look to compromise the issues before them [and] find a suitable place that doesn't create the kind of controversy that it does.

[skip]

I believe they have a right to build a house of worship [but] in the spirit of living with others, they should be cognizant…and try to find a location that doesn't engender the deep feelings that currently exist about this site.
Silver was fielding questions about the issue during a press conference about New York receiving federal education funding, where he appeared in midtown with Governor Paterson.
The governor was asked if he thinks the Park51 project should move its location, Paterson said, "I don't think that's a question that I should answer."
Read More
Monday, August 23, 2010
By Azi Paybarah
The opposition to Park51 is drawing support from a wide array of critics, including some who've opposed other Islamic-oriented projects in the past.
One such organizer of an anti-Park51 protest yesterday was Beth Gilinsky, who I encountered three years earlier, opposing the Khalil Gibran school - the city's fist Arabic-oriented public school - which, Gilinsky and her entourage referred to as a "madrassa."
Which, when I asked, she couldn't explain why.
Read More
Friday, August 20, 2010
By Azi Paybarah
As the AP goes, so does WNYC:
A top news person here at the station emails:
WNYC news is using -- Islamic Cultural Center and Mosque when talking about this news item.

News hosts please be consistent.  Please be consistent with web copy coming from the News Dept
Read More
Thursday, August 19, 2010
By Azi Paybarah
Rap mogul Russell Simmons takes a hard-line defense of the mosque near Ground Zero:
"If you're blaming Muslims for the attack on 9/11, then you need to change your mind. Do we blame Christians [for] the first World Trade attack?"

[skip]

"Now, the idea of moving it might have been okay until it was politicized. But now, since the Imam is there, and talking about it, we should make every effort not to move it."
Read More
Wednesday, August 18, 2010
By Azi Paybarah
Rick Lazio's once 20-point lead over Carl Paladino among Republican voters has shrunk to thirteen points, according to a new poll from Siena.
Lazio, the GOP nominee leads Paladino, an upstate businessman who petitioned his way onto the ballot, 43-30 percent. That's down from the 40-20 percent lead Lazio had back in July.
Cuomo leads each of them in head-to-head match-ups, and in three-way matches.
Cuomo - 60
Lazio    - 26
Cuomo - 60
Paladino- 27
Cuomo                         - 56
Lazio [Republican]        - 19
Paladino [independent]  -12
Cuomo                        - 56
Lazio [Conservative]     - 16
Paladino [Republican]  - 14
One factor in the race could be the candidate's stance on the mosque and cultural center proposed near Ground Zero.
Twenty-two percent of voters say a candidate's position on this issue will have a "major impact" on their decision of whom to support. Thirty-seven percent say the issue will have "some effect," on their decision. Thirty-nine percent says it won't be a factor at all.
Sixty-three percent of voters say they oppose it, compared to 27 who support it. Interestingly, 64 percent say the developers have a right to build the project at its current location. Twenty-eight say there is no legal right.
Read More
Wednesday, August 18, 2010
By Azi Paybarah
GOP gubernatorial candidate Rick Lazio tries reclaiming some momentum, putting out an ad reminding people he was an early critic of the mosque plan, and renewing his call for the project's funding to be investigated by Andrew Cuomo, the state attorney general and Democratic candidate for governor.
As if it's needed, the ad features images of people running from Ground Zero on September 11, and of the rubble after the towers fell. And the only voices in the commercial are from people being interviewed, all regular New Yorkers. Many of them are filmed with the current construction site at Ground Zero in the background, which helps reinforce the point opponents are trying to make: the location is too close to the proposed mosque.
But, to be clear, the mosque is two blocks from Ground Zero, and not within eyesight of one another.
Read More
Tuesday, August 17, 2010
By Azi Paybarah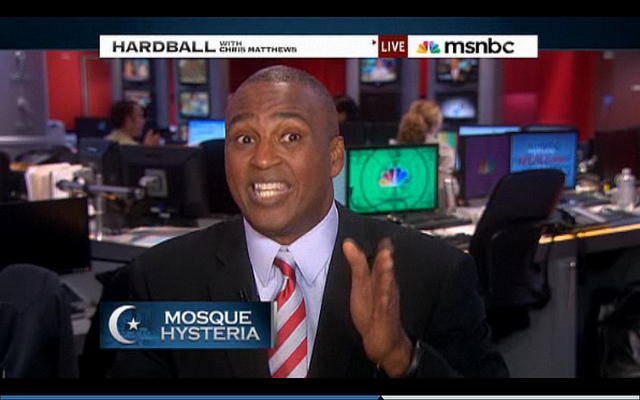 Azi Paybara / WNYC
Add Rev. Michel Faulkner, the GOP candidate running for Rangel's seat in Harlem, to those trying to keep up with Newt Gingrich in devising headline-grabbing analogies to explain their opposition to the proposed mosque near Ground Zero.
"It would not be fair for the Klu Klux Klan to erect a statue or a monument near the bombs in the South that were burned during the civil rights movement," said Faulkner.
Scott Stringer showed remarkable restraint during this MSNBC segment last night.
Read More