Organized Labor

Wednesday, August 14, 2013
Unions these days no longer have the man power, or political clout, they once did. But a new form of labor organization is making a difference in addressing the needs of workers—especially Latino and immigrant laborers—who work in jobs like construction that are typically not unionized. Cristina Tzintzún is the Workers Defense Project executive director.

Wednesday, December 12, 2012
A vivid snapshot of the days when Labor reigned supreme in America, this 1963 meeting of the Overseas Press Club features United Auto Workers President Walter Reuther being introduced by his protégé and sidekick, the journalist Victor Riesel.
Read More

Tuesday, February 28, 2012
By Justin Krebs : IAFC Blogger
Rick Santorum's "snob" comments just don't make sense. And they won't win Waitress Moms in 2012.
Read More
Monday, December 19, 2011
Updated with additional statements below.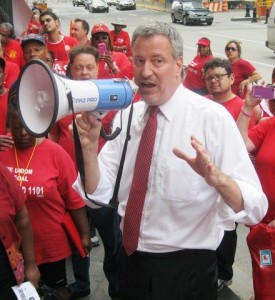 Colby Hamilton/WNYC
As the New York Times reported today, Public Advocate Bill de Blasio has thrown his support behind the contentious living wage bill sitting stalled in the City Council. In a letter to City Council Speaker Christine Quinn and Mayor Michael Bloomberg, de Blasio said the legislation was need because "we have not done enough to grow the prospects of all New Yorkers."
"Our city is in the midst of a prolonged economic crisis that has battered the middle class, driven down wages and led to unacceptably high rates of unemployment. Underlying these problems is a rising income inequality that threatens our social fabric and economic future," de Blasio said in the letter. "New York City must move aggressively to address rising income inequality—and I firmly believe that the Living Wage bill represents one of the most immediate and important steps our City can take to do this."
The move puts de Blasio on firm ground in the debate over the bill--and on the side of labor, whose backing he courts in the coming mayoral race--while further boxing in Speaker Quinn, who has not taken a position on the bill. However, the legislation cannot move to the floor without her consent, where it will likely pass. The Speaker has positioned herself as the candidate friendly to business interests in the city, which observers believe are pressuring her to keep the bill from becoming law.
Political consultant Michael Tobman, of the New York City-based firm Hudson TG, saw the letter reflecting three current political realities in the early stages of the 2013 mayoral battle.
Read More

Friday, February 25, 2011
By Alec Hamilton : Assistant Producer, WNYC News

Tuesday, September 21, 2010
At a CNBC Town Hall Meeting on Monday, President Obama announced some good news coming out of Michigan: the three US automakers are making a profit for the first time in a long time.
It hasn't been so long since the day when GM was almost synonomous with doom. But it's been long enough, apparently, for the companies to start turning a profit — and for the Car Czar behind the recovery to write a book about how it all came to pass.