Nys Budget

Friday, March 28, 2014
Ken Lovett, Albany bureau chief for The Daily News, reports from the capitol on March Madness, Albany-style, as the big budget deal negotiations wind down before the April 1 deadline, including the fate of the Dream Act, public election financing, charter co-locations, and corporate tax cuts.

Friday, March 29, 2013
By Karen DeWitt : NYS Public Radio/WXXI
For the third year in a row, the New York State Legislature passed an on-time budget.

Thursday, March 21, 2013
By Karen DeWitt : NYS Public Radio/WXXI
Gov. Andrew Cuomo and legislative leaders agreed to a framework for a new state budget late Wednesday evening, but say they are still working out many of the details.

Monday, February 11, 2013
By Kathleen Horan : Reporter, WNYC News
As the number of people incarcerated in New York continues to decline, Gov. Andrew Cuomo has proposed closing two women's prisons to save money.

Tuesday, January 22, 2013
By Anna Sale
Governor Andrew Cuomo unveiled his $142.6 billion budget Tuesday, laying out how the state will spend a hoped-for $30 billion in aid, including spending for inflatable bladders to protect transit tunnels and building new dunes on beaches.

Tuesday, January 22, 2013
Governor Andrew Cuomo will deliver his budget for the coming year. The $134 billion budget is expected to keep spending growth below 2 percent, include no new taxes and deal with a budget deficit of more than $1 billion. Watch live beginning at 2 p.m.
Tuesday, October 02, 2012
By Karen DeWitt : NYS Public Radio/WXXI
Top New York State officials are preparing for another difficult budget year. Gov. Andrew Cuomo has already told state agencies to keep spending flat, while those that depend on state programs are not counting on big increases.

Friday, March 30, 2012
By WNYC Newsroom / Karen DeWitt : NYS Public Radio/WXXI
For the second year in row, New York State is on the way to an on time budget. Governor Andrew Cuomo signed the first of several budget bills into law, while the Legislature passed all the bills that make up the $132.5 billion budget.

Wednesday, March 28, 2012
By Karen DeWitt : NYS Public Radio/WXXI
Governor Andrew Cuomo gave up some items in the newly announced state budget deal, but so did the State Legislature.
Wednesday, September 01, 2010
By Azi Paybarah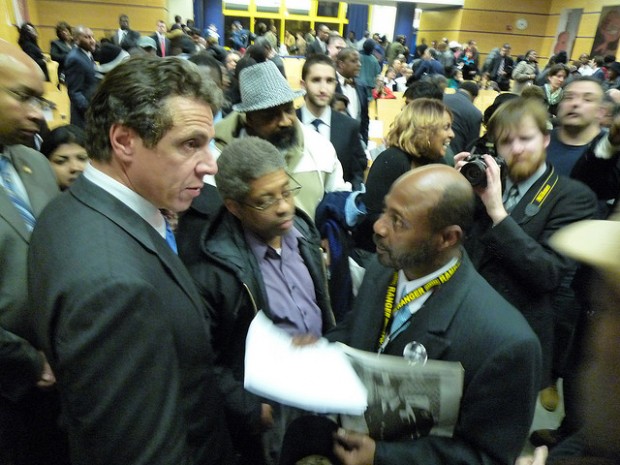 Democratic gubernatorial nominee Andrew Cuomo leads his two Republican opponents by more than thirty points, according to
a new Quinnipiac poll
.
Cuomo leads former LI congressman Rick Lazio 57-25 percent; Cuomo also leads upstate commercial real estate developer Carl Paladino 60-23 percent.
Independent voters are trending towards Cuomo, 55-23 percent over Lazio, and 54-24 percent over Paladino.
The poll did not ask Republican voters which candidate, Lazio or Paladino, they prefer in the GOP primary.
Cuomo is taking a knock for not speaking out more on the state budget: 32 percent of voters say he's "politely deferring" to the current governor; 44 percent say Cuomo is "ducking" the issue.
The Q poll asked if voters think Cuomo has "done enough to explain" his plan to fix the budget. 23 percent said yes, 63 percent said no. (Only 34 percent of Democrats said yes, 52 percent of Democrats said no.)
Read More