Ny1
Thursday, August 16, 2012
In an opinion article, a college student who attended New York City schools draws attention to the city's many high-needs schools and their records of failure. "If we fail to attack mainstream economic issues now, then any attempts to improve existing school systems will collapse under a much greater problem: poverty. Empty wallets, empty stomachs and empty minds will persist."
Read More
Thursday, January 13, 2011
By Azi Paybarah
State Senate Minority Leader John Sampson's interview on NY1 last night is worth watching. He lashes out at his former deputy, Jeff Klein, who broke away and founded the Independent Democratic Caucus.
"He said he had called me. Didn't call me once. Didn't pick up the phone and call me so we can deal with these issues," Sampson said in a moderate tone that only grew more animated over the five-minute clip.
Sampson went on to say, "there's nothing wrong with being independent. We have independent people in our caucus." Sampson also noted "the most independent Democrat in our caucus is Senator Ruben Diaz. But he chose not to leave the conference."
Sampson then goes on the attack, suggesting the defectors are less then loyal to the Democratic party.
"The question is, is it about being independent or about the powers and the perks?" asked Sampson. "You're getting an office. You're working with the republicans to get an office. you're working with the Republicans to get allocations. You're working with the Republicans to get chairmanships."
Sampson excused defector Dave Vallesky, since the upstate Democrat told Sampson earlier that he couldn't vote for him as leader, saying it was "an issue" back in his district.
As for freshman David Carlucci, Sampson was not as forgiving. "How can he have any dissatisfaction when he never sat one day with us in the chamber?"
Sampson admits he may have a "fault" in maintaining an open-door policy, because, "at the end of the day, instead of getting any credit, people will just stab you in the back."
Read More
Friday, December 31, 2010
By Azi Paybarah
Veteran NY1 political reporter Michael Scotto is leaving the station this weekend for a job with the Partnership for New York City, I'm told.
Scotto has been at NY1 for nearly a decade and was among those who hosted Inside City Hall while the station sought a permanent replacement for their departed anchor Dominic Carter. One of Scotto's most notable stories at NY1 was recording Mayor Bloomberg's uncharitable comments about recently-departed Dr. Atkins.
Scotto's first day at the Partnership is Monday.
Read More

Wednesday, November 10, 2010
By Azi Paybarah : author of The Empire blog
On election night last Tuesday, the Associated Press declared Democratic Rep. Tim Bishop of eastern Long Island the winner over Republican challenger, Randy Altschuler, 51 to 49 percent. By the weekend, a review of ballots reversed that, with Altschuler leading Bishop by more than 300 votes. 
That sudden switch over who controls the first Congressional district is, in some ways, what's been happening in the district for years.
The first Congressional district encompasses two extreme ends of the economic spectrum, even by New York standards. On one end is the tony playground for New York's wealthiest — the Hamptons — complete with celebrity-filled night clubs and beach-front mansions populated by out-of-town politicians looking to raise seed money for national campaigns.
But that's not where you'll find the voters in the district.
Wednesday, September 29, 2010
Tim Bishop (D) vs. Randy Altschuler (R)
The race for Representative of New York's 1st Congressional District is a contest between incumbent Democrat Tim Bishop, who was Provost at Southampton College, against Republican Randy Altschuler, a businessman who beat out Richard Nixon's grandson, Christopher Nixon Cox, in the primary.
Tim ...

Saturday, September 18, 2010
By Bob Hennelly
According to the Democratic Congressional Campaign Committee, seven incumbent House Democrats face formidable Republican challengers in New York. For the Republicans, one of their best prospects for a pick-up is New York's 1st Congressional District that includes Long Island's Hamptons and Eastern Suffolk County.
Monday, September 13, 2010
Thursday, September 02, 2010
By Azi Paybarah

Basil Smikle, the Democratic challenger to State Senator Bill Perkins, was on the defensive for a good chunk of their debate last night on NY1.
Smikle's challenge to Perkins is fueled in no small part because of the issue of charter schools: Smikle supports them; Perkins, for the most part, opposes them (although he did vote to raise the cap on them after changes to the law governing them were made).
Supporters for Smikle and Perkins line up pretty cleanly based on the education issue: charter school supporters are behind Smikle; public school advocates support Perkins.
Anyway, during the debate, Smikle - a political consultant running as a candidate for the first time - was on the defensive about who supports him.
"It's insane to think the [New York] Post would urge me to run for political office. To put my life on the line, to open myself up," Smikle said at one point. The New York Post has waged a fairly intense campaign in favor of charter schools, and has given plenty of critical coverage to Perkins.
Smikle also sought to distance himself from Mayor Bloomberg, whom he worked for last year, and is an outspoken charter school supporter.
"I am not close to the mayor. I worked with him for one year. I'm actually a lot closer to the Clintons than I am to the mayor. I worked with them a lot longer," said Smikle.
Needless to say, the Clintons are much more popular in the Harlem and Morning Side Heights parts of the district. (The district also includes the Upper West Side - where I'd love to see polling numbers for Bloomberg and the Clintons.)
Later in the debate, Perkins took a swipe at Smikle for taking money from "hedge fund" managers who, as stories in The Times and elsewhere pointed out, often bankroll charter school efforts.
Smikle had an interesting response: associate those donors with Obama, a popular figure throughout the district.
"Now, in terms of those who have donated who are in the financial industry, what's interesting about those individuals is that the majority of them actually donated to Obama very early on in his campaign because they supported his position on education and on school choice," said Smikle. Those donors to Obama, says Smikle, are giving to his campaign, not Perkins.
Obama is a supporter of charter schools, and is, some say, helping realigning the Democratic Party on this issue.
But Smikle's attempt to latch onto Obama's coattails is interesting for other reasons too. Smikle worked for Hillary Clinton who, famously, ran against Obama in the 2008 presidential primary. Also, the first elected official in New York CIty to endorse Obama was a State Senator by the name of...Bill Perkins.
Read More
Wednesday, September 01, 2010
By Azi Paybarah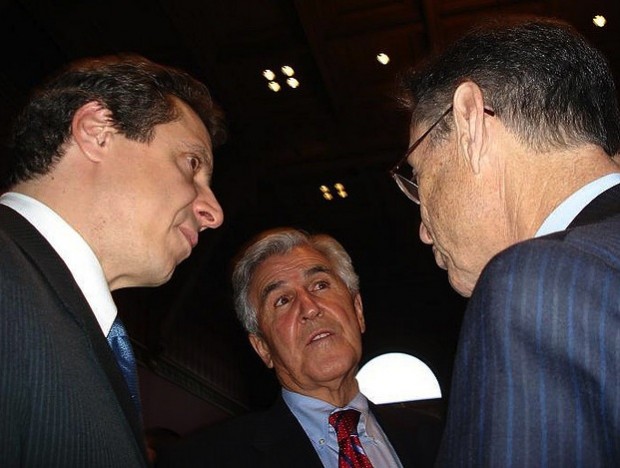 Ruben Diaz Jr. spent twelve and a half years in the New York State Assembly, under Speaker Sheldon Silver. Diaz is now the Bronx Borough President and, like nearly every Democrat, is supporting Andrew Cuomo for governor.
Many expect a clash between the two, as Silver defends the legislative body, and Cuomo breaks ground with a "new" Democratic agenda.
But to hear Diaz tell it, Cuomo and Silver will work well together.
"I think ultimately he and Andrew Cuomo will get along just fine, cause, when you look at the core of important issues, I think they're on the same page," Diaz told NY1 last night.
NY1 host Roma Torre noted that the last elected Democratic governor, Eliot Spitzer, clashed with Silver. Diaz said that won't happen here.
"Eliot Spitzer came in witha certain mind-set, against members of the Assembly. When you look at Andrew Cuomo, he has a history up in Albany, dating back to when his father was governor, and he knows many of the people up there, he has personal relationships. And ultimately, I think that is what is going to help Andrew in the long run."
Read More
Thursday, August 26, 2010
By Azi Paybarah
Rick Lazio will not debate his GOP rival Carl Paladino and is blaming…NY1.
The station tried scheduling a debate for this upcoming Monday but was unable to get Lazio to confirm to it.
Here's how NY1 describes it:
The Lazio campaign sites a scheduling conflict, but NY1 first proposed this date to Team Lazio weeks ago and did not get a final answer until yesterday. NY1 also asked for alternate dates that would fit Lazio's schedule, but his campaign never proposed any.

[skip]

Lazio's campaign accused NY1 and [member station] YNN of being in league with Paladino but said in an email, "we look forward to debating Andrew Cuomo on YNN before November 2."
FYI: today, Lazio is campaigning at the New York State Fair.
So, allow me to inject myself pointlessly into the debate about debates.
Since scheduling is difficult, what about doing what they did in the 2008 presidential debates: let's have readers post their questions to YouTube and I'll post them on the blog. Then, if either Lazio or Paladino want to respond, they can upload their answers to YouTube as well.
Just an idea.
Read More
Tuesday, August 17, 2010
By Azi Paybarah
When asked on NY1 last night if he thought Reps. Charlie Rangel and Maxine Waters were being targeted for congressional ethics investigations because of their race, the Rev. Calvin Butts Jr. offered this gem:
"I will never say that. But it surely looks that way."
Butts is an influential pastor in Harlem who is no stranger to politics. Among his highlights was endorsing Hillary Clinton in the 2008 Democratic presidential primary.
Read More
Wednesday, July 28, 2010
By Azi Paybarah : author of The Empire blog
Gov. David Paterson took only a few questions today about the report from former Chief Justice Judith Kaye saying the governor did nothing criminal when he contacted a woman seeking to file charges against one of his aides for domestic abuse.
"I can't comment on it because I haven't read the report yet," Paterson said.
He declined to talk about other related issues, like whether he'll discipline any of his staffers named in the report, and if he regretted his role in the whole situation.
NY1's Josh Robin got Paterson to respond to the theory/rumor that the governor called lawmakers to Albany today in order to take attention away from this report. Paterson teed-off.
"The legislature always finds a reason that they're the victim," Paterson said.
Here's what happened when a Times reporter tried to ask a follow-up question:
Reporter: "This is maybe similar to what Josh asked you a moment ago –

Paterson: "Then I can't answer it."

Reporter: "But you haven't heard it, governor."
Then Paterson walked out of the room.
Read More
Tuesday, July 27, 2010
By Azi Paybarah : author of The Empire blog
Not exactly standing with Rangel as the pressure mounts, Democratic Rep. Tim Bishop's campaign puts this out:
Yesterday, Chris Cox put out a press release "calling" on Congressman Bishop to return campaign contributions made by Congressman Rangel between 2002 and 2004.  There's just one problem with this request: Congressman Bishop has already returned the money.

[skip]

In March, Congressman Bishop announced to several news outlets, including Newsday and the New York Post, that he would return contributions from Congressman Rangel, despite the fact that he hasn't received any since 2004, when there were no ethical questions surrounding Congressman Rangel. Congressman Bishop has donated the funds to help honor Suffolk County's veterans. A glance at the Congressman's FEC report, which is available to everyone online, will reveal that he made $10,000 in contributions to local veterans groups last quarter to help build memorials.  He is in talks with other veterans organizations to disburse any remaining funds.
Read More