Ny 06
Tuesday, May 01, 2012
Assemblyman Rory Lancman fired off a press release on Tuesday slamming his potential opponent in the 6th Congressional District, City Councilman Dan Halloran, over his vote against the living wage bill that passed on Monday, in a preview of the upcoming general election fight.
Read More
Tuesday, March 27, 2012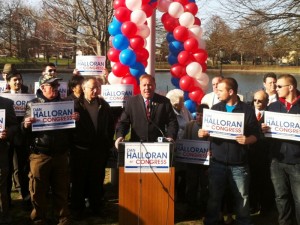 Courtesy of the Halloran campaign.
The cast of characters is assembled. Republican City Councilman Dan Halloran's official announcement yesterday that he is running for Congress in the new 6th District in Queens capped a week or so of campaign launches. Unless a Republican challenger emerges, Halloran will face whichever of the three Democrats pulls out a win in this year's sprint of a primary race.
"I am running for Congress because the president and the Democrats' policies have failed, and New Yorkers need a new voice," Halloran said in a statement announcing his campaign's launch. "Democrats in Washington, led by President Obama, have spent us into financial ruin. They have failed to grow our economy and have led us deep into a harrowing recession. And they have thumbed their nose at Israel, calling for a return to its 1967 borders and showing an unwillingness to stand up to our mutual enemy, Iran, who wishes to destroy us. My Democratic opponents are nothing but a rubber stamp for this president's failed leadership."
Halloran was first elected to the city council in 2009 after a campaign that took some interesting as well as ugly terms. Halloran has been called a "pagan" after reports connected him to a group that worshiped Nordic and Germanic gods. Halloran was also accused of race baiting white voters against his Korean rival, Democrat Kevin Kim.
There's a decent chance Halloran could again face an Asian candidate from the Flushing area. The early Democratic frontrunner is Assemblywoman Grace Meng. Last week Meng received the backing of the Queens County Democratic organization. This week she officially launched her campaign, listing a large number of Queens Democrats as supporters.
At least from the statements from the campaigns, it looks like Halloran and Meng arepicking up where now-Congressman Bob Turner and Assemblyman David Weprin left off in their special election last September. Republicans appear to want to continue to make the the race about Obama and, in a heavily Jewish district, Israel. Democrats—at least those around Meng—lead with House Republicans' fiscal combativeness and attacks on the social safety net in Meng's statement on Halloran entering the race:
Read More
Monday, March 19, 2012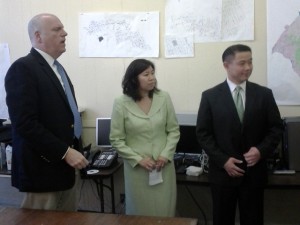 It must have been an amazing four days for Assemblywoman Grace Meng of Queens.
On Thursday March 15, late in the afternoon, 30-year incumbent congressman Gary Ackerman announced his retirement at the end of this session. She quickly let it be known she was interested in the new seat being drawn in Queens by a federal court—as did a number of other folks, such as Councilman Mark Weprin, Senator Tony Avella, Assemblyman Rory Lancman, Councilwoman Elizabeth Crowley and others.
The Queens County Democratic organization decided to take the weekend to talk with the candidates and their supports, but late yesterday the news leaked: the county organization chose Meng as their candidate.
This morning at Queens County Democratic headquarters in Forest Hills they made it official.
"It is rare in this business to meet someone like Grace Meng. She's hard not to love and she has character, commitment and confidence without a hint of arrogance—and in this business, that's rare," Councilman Mark Weprin said before officially nominating Grace to be the county organization's pick for the new 6th Congressional District.
"Grace, it seems to me, you are the future of the Democratic Party," said Senator Senator Toby Ann Stavisky in her seconding of Meng's nomination.
The future, past and present appeared to all be taken into account in the choice of Meng. In his remarks on the nomination, Queens County Democratic Party chairman and Congressman Joseph Crowley pointed out that not since Geraldine Ferraro had Queens sent a woman to congress (both Representatives Maloney and Velazquez have parts of Queens in their districts, but both live in other boroughs).
"To have someone from Queens running is incredibly important this year, especially when I believe women have been attacked so much in recent weeks," Crowley said.
And it's the growing Asian American community in Queens that opened up the door for a future potential Congresswoman Grace Meng.
"It really is, I think, time for the Asian American community to have this opportunity," said Crowley.
"Our greatest strength has always been our diversity," Meng said in her remarks after getting the nod. "Queens is famous throughout the world for diversity and tolerance. But really it's what we have in common that makes our neighborhoods work, our students succeed, and our families able to care for children and grandparents as they can."
Getting the county's endorsement won't mean Meng makes it on the ballot in November. At least one of the other candidates interested in the job, Assemblyman Rory Lancman, is still planning on running. He's scheduled a press conference for 3 pm this afternoon to officially launch his campaign for the job.
Congressman Crowley said he hopes the historical importance of Meng's potential election against whomever Queens Republicans run in November will dissuade Lancman and others from challenging her.
"Having an incredibly divisive primary will not be helpful to that cause," Crowley said.
Given the proposed district's demographic breakdown that seems unlikely. While the district's voting age population would be 60.1 percent minority voters, including the 38.8 percent Asian population in the district, it's still 39.9 percent white and most of those voters are Jewish. Democratic enrollment is high in the community, which could work to Lancman's advantage.
Read More
Thursday, March 15, 2012
Assemblyman Rory Lancman has announced he won't be pursuing a primary challenge against Congressman Gary Ackerman in the new 6th District in Queens.
"My enthusiasm for running against Republican Bob Turner on a platform of leveling the economic playing field for working people doesn't extend to running against fellow Democrat Gary Ackerman," Lancman said in a statement. "Gary Ackerman is a solid progressive who is, if the Democrats take back the House, poised to assume important leadership roles in protecting the integrity of our financial system and strengthening the U.S.-Israel relationship as a senior member of the House Financial Services and Foreign Affairs committees. I have enjoyed a great relationship with Gary over the years, from interning in his office when I was a high school student to having his support in all of my campaigns for public office, and I'll be supporting Gary this year in the new Sixth congressional district."
Read More