Newtown Creek

Thursday, August 14, 2014
By Alec Hamilton : Assistant Producer, WNYC News
An experimental program that converts New Yorkers' food scraps into natural gas will be expanded.
The pilot program, launched last summer by the city's Department of Environmental Protection, now diverts up to two tons of organic food waste a day to the Newtown Creek Wastewater Treatment Plant in Greenpoint. That will ...

Thursday, February 14, 2013
By Stephen Nessen : Reporter, WNYC News
"Only our love hath no decay," the Renaissance poet John Donne once wrote, and in Greenpoint, Brooklyn, at the city's largest waste water sewage treatment plant, couples came to prove it.
Only our love hath no decay, the Renaissance poet John Donne [DUN] wrote. And in Greenpoint, Brooklyn at the city's largest waste water treatment plant, couples came to prove it.

Saturday, September 08, 2012
By Annmarie Fertoli : Associate Producer at WNYC
A fleet of artist-made, remote-controlled model boats will launch from Newtown Creek this weekend as part of an effort to draw attention to the waterway between Queens and Brooklyn that is considered one of the nation's most polluted.

Thursday, November 18, 2010
By Bob Hennelly
Current New York Attorney General and Governor-elect Andrew Cuomo came to the blustery banks of the Newtown Creek Wednesday to announce a landmark settlement that will force Exxon Mobil to clean-up a multimillion gallon, underground oil spill that has vexed Greenpoint residents for decades.

Wednesday, November 17, 2010
State Attorney General Andrew Cuomo is announcing a settlement Wednesday afternoon of federal litigation against Exxon Mobil for contaminating parts of Greenpoint, Brooklyn.

Friday, October 15, 2010
Newtown Creek, a heavily polluted waterway that separates Queens and Brooklyn, was given designation last month that will allow it to be cleaned up under the federal Superfund program. Now a group of elected officials is calling on the U.S. Environmental Protection Agency not to forget the Queens side of the creek. Congresswoman Carolyn Maloney says so far, the EPA hasn't studied the creek's impact on Queens communities.
Thursday, September 30, 2010
On Monday, the Environmental Protection Agency named Newtown Creek, the polluted industrial waterway that runs between Brooklyn and Queens, a Superfund site. On today's Underreported Update, Katie Schmid, director of the Newtown Creek Alliance, explains what the designation will mean for the creek and the people who live nearby, and why it's taken so long for any cleanup effort to begin.
Wednesday, March 03, 2010
By Stephen Nessen : Reporter, WNYC News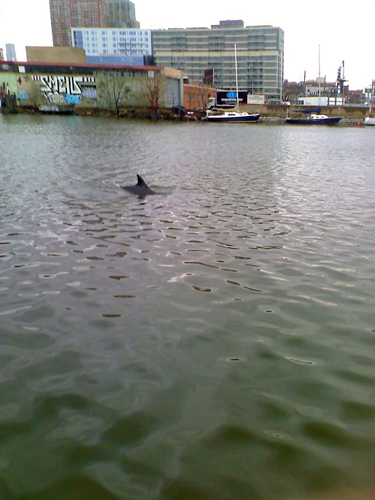 This morning, a couple of teachers from the Harbor School were down at the Newtown Creek in Brooklyn and snapped this photo, of what they believe is a dolphin. Could it be the nearly extinct ...