New York Times

Wednesday, January 19, 2011
By Azi Paybarah : author of The Empire blog
As he prepares to wrestle against legislators and organized labor to control the state's $11 billion deficit, Governor Andrew Cuomo is arming himself with money.
Over the past month and a half, Mr. Cuomo raised $217,625.79, nearly four times as much as his predecessor, Democrat Eliot Spitzer, according to research by a government watchdog group. After spending nearly a million dollars between late November and mid-January, Mr. Cuomo has $4.17 million left on hand in his campaign account.
Thursday, December 02, 2010
By Azi Paybarah
As the House prepares to vote on Rangel's punishment this afternoon, I've been digging through archives of how he initially responded the questions about the problems that led to today's vote.
Here's my video from July 2008 video, from the press conference Rangel held the morning the New York Times reported he owned four rent-stabilized apartments.
The last question was whether he would relinquish the chairmanship of the Ways and Means Committee, or his Congressional seat, in light of this.
"If anyone can show any remote possibility this can be considered as a gift, I'd quit tomorrow," Rangel said.
Read More

Monday, November 29, 2010
NYT's David Sanger discusses the 250,000 leaked diplomatic cables published by Wikileaks and analysed by the New York Times.
Monday, November 01, 2010
The New York Times has an incredibly cool article about an art installation in an abandoned -- or unfinished --  subway stop (photo above).  The location of the stop is carefully concealed at the request of the artists. But there's a pretty big clue, in the photo above.     Any subway history buffs or infrastructure experts reading this who have ideas where it is?  Post a comment, or email us at transponation@gmail.com.
Read More
Saturday, October 23, 2010
By Azi Paybarah
The New York Times endorsement of Andrew Cuomo for governor, comes with a clear signal that they'll expect more from him in the governor's office than they've seen from him on the campaign trail:
Negotiation and real leadership require different skills than filing lawsuits. Mr. Cuomo has too often played it safe within an insular cocoon of aides, shielding himself from news inquiries, waiting too long to endorse same-sex marriage, citing convoluted reasons to avoid having a one-on-one debate with Mr. Paladino. Albany's crisis is too grave for closed-door political calculation.
They made no mention of any of the five minor-party candidates who participated in the only gubernatorial debate.
Read More
Friday, October 22, 2010
By Azi Paybarah
The New York Times poll today gives Andrew Cuomo plenty of breathing room against his erratic Republican challenger Carl Paladino.
But according to pollster.com's analysis of the polls, the gap isn't as wide as it used to be.
Read More
Thursday, October 21, 2010
By Azi Paybarah
Initially, I wasn't sure if this was a real email from Carl Paladino's campaign manager, or a spoof of one, from a Cuomo supporter.
It's real.
So, with no additional commentary, an open letter from Paladino's campaign manager, Michael Caputo. He sends it off in response to a media inquiry into the proper licensing of his candidate's dog.
From: Michael Caputo
Sent: Thu 10/21/2010 10:55 AM
To: Michael Caputo
Subject: Even dog's aren't safe from Cuomo's media

October 21, 2010

Media colleagues:

The Office of Vital Statistics for the City of Buffalo alerted the
Paladino family that the New York Times was visited City Hall asking
to see Duke's dog license. I want to alert the media right now that
Duke is properly registered as a canine resident of Buffalo.

Every day I get calls from reporters carrying water for Andrew Cuomo.

They read the same allegations, word for word, from memos provided by the Cuomo campaign. We spend time shooting them down, one at a time.

However, when one embarrassed reporter drops the story the Cuomo camp simply passes it down the food chain. Eventually, the Cuomo opposition research hits bottom at the New York Post - they invariably write it word for word.

To all of you who do your own reporting and reject the Cuomo script -
thank you for your responsible journalism. To those who pretend to
come to me with original ideas jumping off Cuomo's memos, word-for word - we're on to you. You are irresponsible, ridiculous and lazy.

Fred Dicker and the New York Post are gutter rats for stalking and
photographing a ten-year old girl. I don't know what to think of the
imperial Gray Lady tailing a dog. Any reporter who is compelled to put Duke under the spotlight, I give you an understated word of advice:

Beware of Dog.

Sincerely,
Michael R. Caputo
Campaign Manager
Paladino for the People
Read More
Saturday, September 04, 2010
By Azi Paybarah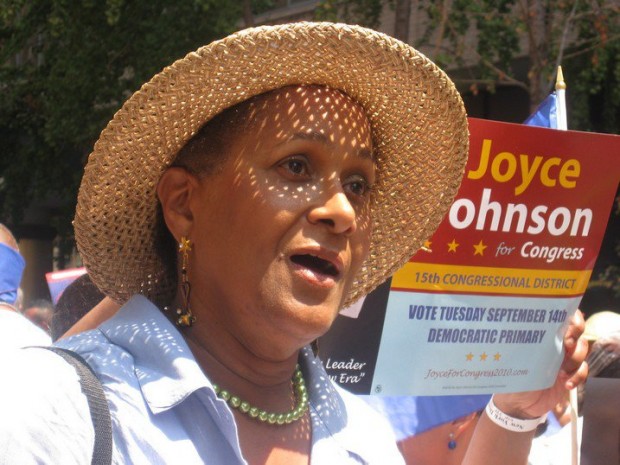 One more note about the New York Times endorsements made today.
Their endorsementof Joyce Johnson in the race to oust Rep. Charlie Rangel was, to me, a bit surprising, considering her penchant for avoiding pesky things like policy details. She told me in an interview she didn't want to have "an intellectual debate on anything," and in a recent debate refrained from taking a position on the latest maneuvers in the Iraq and Afghanistan Wars, saying she'll wait until she hears from military officials once in office.
The Times disqualifies Adam Clayton Powell IV based on his legislative record in Albany, which they say lacks anything mentionable.
Labor activist Jonathan Tasini, is dismissed as "a perennial liberal candidate," speaking a good deal more to his electability than his policy positions. Former congressional aide-turned community banker Vince Morgan is acknowledged as a candidate by the paper, but is left alone at that. He has had decent fund-raising and a respectably-run campaign so far. He's also positioning himself as something of an extension of Rangel's tenure, rather than a departure from it.
So, it's hard to imagine the paper putting their support behind someone who is, even tangentially, related to the incumbent whose ousting they've helped make possible.
Hence, Johnson.
Read More
Friday, September 03, 2010
By Azi Paybarah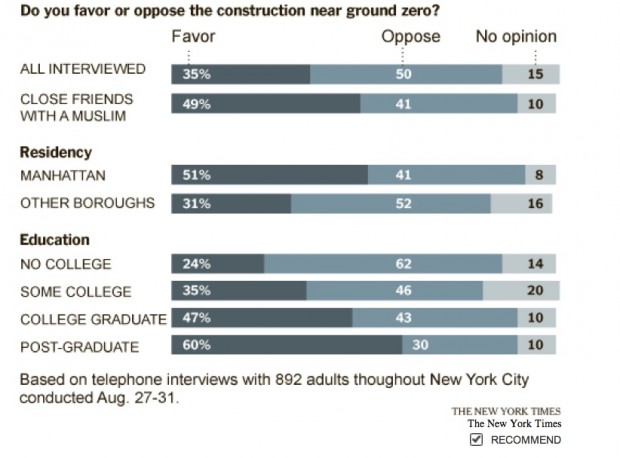 From the New York Times poll today about people's attitudes towards building an Islamic center near Ground Zero:
38 percent of those who expressed support for the plan to build it in Lower Manhattan said later in a follow-up question that they would prefer it be moved farther away, suggesting that even those who defend the plan question the wisdom of the location.
And, despite the ability for New York politicians to garner national attention on the issue, it's not on top of New Yorkers' voting agenda.
Even though both Republican candidates for New York governor, Rick A. Lazio and Carl P. Paladino, have sought to make the Islamic center an issue in the race, two-thirds of those polled said it would have no influence on how they made their choice for governor. The poll showed that the economy and jobs remained the most pressing concerns.
Read More
Tuesday, August 31, 2010
By Azi Paybarah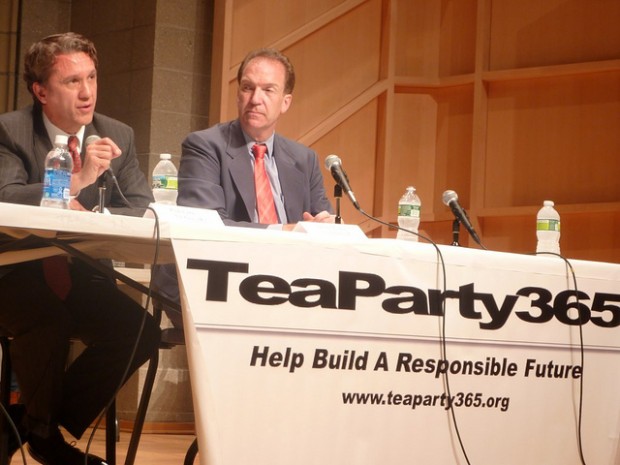 Just a little more about the Q poll and Park51 debate:
The Quinnipiac poll today is likely to guarantee the Park51 debate will get more than enough coverage inside the daily papers tomorrow -- and by that, I mean right now -- even though some of the editorial pages have been criticizing candidates for focusing too much on the issue.
The person often credited with being one of the first to oppose the project is Rick Lazio, the GOP candidate for governor who has gone all over national TV and radio talking about the issue. In fact, he's been so attached to the issue that critics say it's overshadowed the other stuff he should be talking about.
The Post fired a warning shot across Lazio's bow, warning him to talk about issues voters care about, which they said his rival, Carl Paladino, is doing.
The Daily News said Lazio was "shameless and shameful in exploiting passions over a planned Islamic center and mosque near Ground Zero."
And the New York Times editorial board was equally direct: "New Yorkers should be offended by Mr. Lazio's attempt to exploit ground zero images for political gain."
Lazio, I think, has re-calibrated his message.
During a Tea Party forum last night, Lazio was asked how he would protect New York State from terrorists. Lazio spoke about expanding the Ring of Steel security initiative in Lower Manhattan, and fixing the broken security cameras in train stations. He also said cellphone reception underground should be improved, so people could text law enforcement if they see something suspicious, thus ensuring a "real time" response to any potential threat.
At no point during his answer did he mention Park51, even though his campaign aides ads seek to tie the project to September 11, Hamas and terrorists.
But in a scrum with reporters after the event, Lazio said he wasn't changing his focus away from Park51. He said he doesn't need to change the perception held by "the editorial boards" because "I think this is about where the people of New York are."
Read More
Sunday, July 12, 2009
By thetakeaway
In The New York Times from June 1, 1909, the headline on page 2 read :'Whites and Blacks Confer as Equals,' referencing 'a conference to consider the uplifting of the negro.'
It wasn't even called ...
Tuesday, March 17, 2009
By Stephen Nessen : Reporter, WNYC News
The third climber from last summer's rash of New York Times building scalers has has pleaded guilty to misdemeanor reckless endangerment.
David Malone, of West Hartford, Connecticut was arrested on July 9 for ascending to the 11th floor and draping a banner that depicted Bin Laden holding Bush like a ...