New York State United Teachers
Tuesday, June 19, 2012
Charter schools are under increasing pressure to admit and provide more services for children with special needs. This spring, they have been asking the Legislature for the authority to form coalitions, so they can pool resources that will help them fulfill their mandate. The bill seemed to be cruising along, but now the state teachers' union has thrown up a roadblock.
Read More
Tuesday, March 20, 2012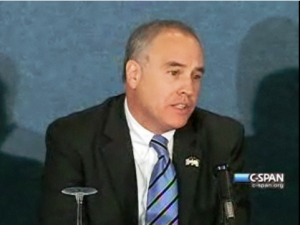 Courtesy of CSPAN
Governor Andrew Cuomo and legislative leaders have relatively few remaining differences in this year's budget, though ironing out all of the details will likely now prevent passage of the spending plan until later next week.
State Comptroller Tom DiNapoli has been at odds with Cuomo over pension reform, but praised the governor and lawmakers for being both conservative in their revenue estimates and prudent--so far--in their spending plans. Lawmakers are working on closing a $2 billion budget deficit, which is down from last year's $10 billion gap.
"We don't see the gimmicks that we've seen in past years. That's good," said DiNapoli.
The Comptroller does take issue, though, with the governor's proposal to eliminate pre audits that his office conducts on some state contracts, saying "it takes away the opportunity" for his office to look out for taxpayer interests and the "best value" for the state.
The state Comptroller has largely sided with the unions in the fight over a pension reform package approved in all night session March 15. DiNapoli has said the plan, which required future public employees to pay more towards their pensions and receive less in return, won't save state and local governments money in the short run.
But the Comptroller says now that the law has been enacted, his office will do its job and implement it. He says he questions the claims by Cuomo and lawmakers that the new pension tier will save $80 billion in future decades, saying there are "a lot of ifs" in that assumption.
He says one of the "key drivers" will be how many new workers are hired in a continued depressed economy.
"I don't think you'll see a robust hiring season for a while," said DiNapoli.
DiNapoli says he's pleased that Cuomo's proposal to offer the option of 401(k)-type plans for all new hires was ultimately dropped. Only non-union hires who make more than $70,000 a year are eligible for the 401(k) option now.
Unions continued to express their displeasure.
Read More
Tuesday, March 06, 2012
By Yasmeen Khan
Gov. Andrew M. Cuomo's office has created an online interactive map to show which school districts have adopted teacher evaluation plans. Districts have until next January to do so or risk losing state aid.
Read More
Thursday, February 16, 2012
UPDATED | After an all-night negotiating session in Albany, New York State education officials and the state teachers union reached an agreement on a new teacher evaluation system on Thursday, just hours before a deadline imposed by Gov. Andrew M. Cuomo, who had threatened to break the impasse by imposing his own way to judge the quality of a teacher's work.
Read More
Thursday, February 16, 2012
Local TV reporters were already camped out outside the governor's office on Thursday, the deadline for a deal over a new state teacher evaluation system. The state's talks with New York State United Teachers were said to be progressing, but the city's separate talks with the United Federation of Teachers have been reported to be "toxic."
Read More

Wednesday, August 24, 2011
By Beth Fertig
An Albany judge has sided with the state teachers union, by ruling that the state put too much emphasis on student test scores in its new teacher evaluation system scheduled to go into effect this fall.