New York State Republican Party
Thursday, December 22, 2011
Today on "The Capitol Pressroom":
What are next session's most critical issues? We hear first from the Senate Democrats represented by Senator Neil Breslin.
Former gubernatorial candidate John Faso shares the GOP's priorities, as well as his take on the future of the State's Republican Party.
Bill Samuels, Founder of the New Roosevelt Institute, is pressing Governor Cuomo to take a lead role in campaign finance reform by pledging not to take corporate campaign donations.
Bob Ward of the Rockefeller Institute on taxation and representation.
Read More
Wednesday, September 15, 2010
By Azi Paybarah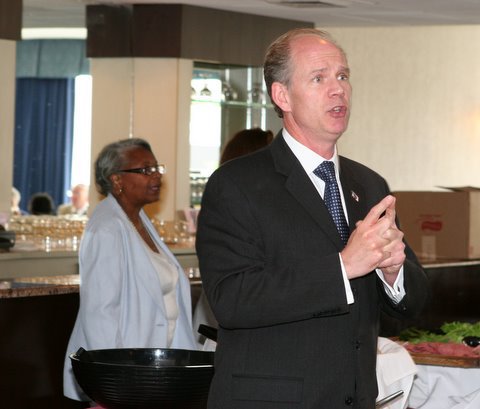 The big question facing Republicans today is whether they'll rally around their party's unexpected gubernatorial nominee - the brash, foul-mouthed businessman Carl Paladino.
It's a tricky choice, balancing party loyalty with general electoral viabilty.
Here's one interesting answer I heard.
"Being a sitting district attorney, Azi, I'm prohibited from endorsing anyone," Republican state attorney general candidate Dan Donovan told me. "I'm prohibited by the ethics codes of the District Attorney's association...I'm unable to support anybody in any of the races."
When I pressed Donovan on whether he had any concerns about Paladino's character, or those obscene emails he forwarded, Donovan said, "I'm running an independent race, which we're not dependent on any other candidates."
Read More
Saturday, August 28, 2010
By Azi Paybarah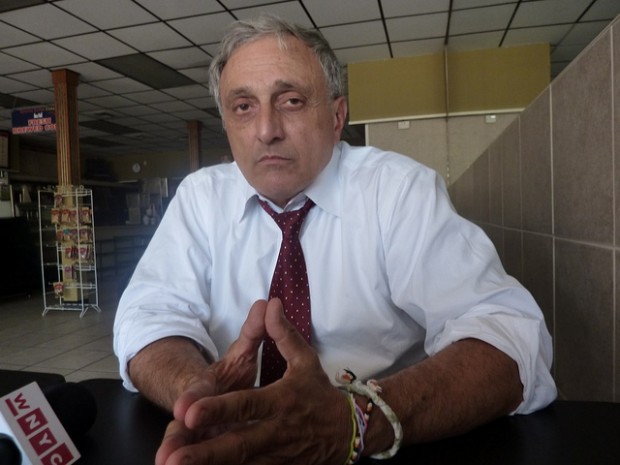 The first time Carl Paladino met his wife, she threw a beer in his face.
It was Mr. Paladino's junior year at St. Bonaventure's University in Buffalo, and during one celebratory weekend, he was hanging out in a local bar before a dance later that evening.
Here's how Mr. Paladino tells it.
"Somebody says 'This is Cathy Hannon,' and I made a crude remark about one of her relatives who I knew from the city. I made a crude remark and she threw a beer on me, and that was the end of that discussion," he said.
Mr. Paladino eventually left. Later that night, he met up with a friend who had arranged a blind date. Mr. Paladino's companion that night – Kathy Hannon.
"She forgave me," he said. The two have been married for forty years.
As Mr. Paladino's launches into the final week of the Republican primary for governor, his penchant for abrasive, off-the-cuff remarks has not abated.
He's described State Assembly Speaker Sheldon Silver as "Hitler" and the "anti-Christ." As part of a job training program, Mr. Paladino proposed teaching welfare recipients about "personal hygiene."
Mr. Paladino's complete disregard for the traditional niceties of electioneering is a marked contrast to the man he's trying to defeat in the Republican primary, former Rep. Rick Lazio of Long Island. Critics, and even some supporters, describe Mr. Lazio as a sincere, but not passionate, candidate.
Passion is not lacking in candidate Paladino.
Even when discussing the collection of sillybands on his arm, Mr. Paladino grows animated.
"That's a star. That's a dollar sign. That's a dog. And that's a cloud," Mr. Paladino said, walking down the street in Mineola one recent afternoon. "I had to change with one of [my daughter's] friends the other day - when one of her friends asks to exchange, you got to take what they give ya and give them what they want. So, she took my ice cream cone and she gave me this stinkin' dollar sign which I really don't like."
The real brunt of Mr. Paladino's anger is reserved for what he calls the "political ruling class" of both parties. To rescue New Yorkers from New York politicians, Mr. Paladino said he's put together a no-holds barred campaign team. The commercial real estate developer put $10 million of his own money behind the effort, and he's courted a team of aides known for their eccentricities as much as for their talents.
In late March, when Mr. Paladino decided to run, he got in touch with a political operative who was from his hometown of Buffalo but who had worked on campaigns all over the world: Michael Caputo.
Mr. Caputo had been in semi-retirement, living for a while on a tugboat in Key West, Florida. Caputo's political work has taken him around the world. He has worked a few campaigns in Russia, and, as he tells it, buried a few friends, because of campaigns in Russia.
Mr. Caputo had moved back to Buffalo to take over his family's insurance company when Mr. Paladino came calling. Mr. Caputo received the call – on his birthday – and came out of retirement.
"Getting on this campaign is the first time I put on a suit in five years. And none of them fit," Mr. Caputo said in Mineola. "None of them fit. Moving back to Buffalo is the first time I put on shoes in four years."
To go with the new suits: a pair of black cufflinks, with a skull and bones on them. As far as Mr. Paladino is concerned, the floating domicile is the least surprising part of his campaign manager's resume.
"What did you think when you heard this guy was living on a tug-boat in Florida?" I asked Mr. Paladino.
"If you think that's strange, wait until you hear the rest of the story," he chuckled. "We're talking one day - somebody's reading the newspaper and somebody says 'Did you see this little airplane crash?' And out of the clear blue sky, he says, 'I was in a plane crash once - in Siberia.' "
Yes, Siberia.
To help Mr. Paladino recall the story, because it's just that good, another campaign aide - John Haggerty - steps in.
"He drops stuff like this - it's like he's Forrest Gump," Mr. Haggerty says, smiling. Mimicking both sides of a conversation with his adventurous colleague, Mr. Haggerty adds, "Yeah, I was in an emergency landing in Siberia. Emergency landing? Oh yeah, the front of the plane broke off –"
Mr. Paladino jumps in with the final part of Mr. Caputo's anecdote.
"And they were surrounded by wolves. And all they could see was the whites of their eyes. And the helicopter pilot says 'Boy, you guys got out of there just in time'" he said.
"And I'm saying, 'are you kidding me?' "
Mr. Caputo politely notes that, technically, it wasn't a plane crash.
Mr. Caputo is not the only one who has had a bumpy ride. Mr. Haggerty – a cherub-faced, quick-smiling Republican operative ran the ballot-protection program for Mayor Bloomberg's re-election campaign last year. After the smaller-then-expected victory, Mr. Haggerty was accused of pocketing nearly $750,000 in payments from the campaign and not providing anything in return.
Then there's Roger Stone, a friend of Paladino who put him in touch with Mr. Caputo.
Mr. Stone has a tattoo on his back of Richard Nixon's face and led the so-called Brooks Brother's riot that shut down the 2000 presidential recount in Florida. In 2007, he was forced to resign from his post as a political consultant to Senate Majority Leader Joseph Bruno following allegations that he left a profanity-laced voicemail message for Eliot Spitzer's father, but Stone still says the recording was not real.
And my favorite: In order to prove he leaked damaging information about Mr. Spitzer's liaison with a prostitute, Stone agreed to be interviewed by a magazine reporter in the same location where Mr. Stone said he first leaned about the information: inside a Florida sex club.
These guys don't care what people think about them. And that's how Mr. Paladino likes it.
"I don't want to be anybody's friend. I don't have to be anybody's friend," he said, during a wide-ranging interview. "It doesn't make me more comfortable than I already am. I don't seek money. I don't seek power. I don't seek praise or pats on the back."
The 54-year-old real estate developer said he was sitting in his office in Buffalo earlier this year when a young candidate walked into his office.
Mr. Paladino recalled the meeting. "We talked for an hour. At the end of the hour, I thanked him, I showed him to the door, I came back and sat down. I don't have a word for this. I look at my son Bill, and Bill goes..."
Mr. Paladino hunched his shoulders, threw his hands up and twisted his face into a question mark.
"I don't know what the word would be, but it's Italian for 'what the $@! is this?' " Mr. Paladino said.
The candidate who had just left Mr. Paladino dumbfounded: Rick Lazio
Mr. Lazio was, by that time, running for governor with the support or former NYC Mayor Rudy Giuliani and a portion of the local Republican establishment. When he came to Buffalo, Mr. Lazio was hoping to get Mr. Paladino's money. He got Mr. Paladino's candidacy, instead.
The two couldn't be more different. Mr. Lazio served four terms in congress
If it's considered poor etiquette for a donor to launch a campaign because of an uninspiring meeting with a politician, Mr. Paladino is not concerned.
The way Paladino sees it, Democrats and Republicans have both been complicit in perpetuating the state's problems. Special interest groups pressure lawmakers, who respond by giving away state money. To pay for the giveaways, lawmakers raise taxes on businesses, who, in recent years, have laid people off, or moved out of state.
Lawmakers, according to Mr. Paladino, never cut spending.
"Two hundred and ninety-eight thousand three hundred and forty-one employees, they couldn't fine one employee to lay off in this budget crisis?" he asked. "They raised our taxes last year ten point nine billion dollars. They raised it this year five point one billion dollars."
The key to Mr. Paladino's strategy for cutting state spending is to shrink the size of government. He'll give the legislature a bare-bones budget, and when they try to increase spending, he says he'll just stare them down. And they'll buckle.
He says there's no chance lawmakers will unite and overpower him in a budget fight.
"To override my veto, they got to get…two thirds, plus one," he said, referring to the 212 legislators in the New York State State Assembly and State Senate. "As long as I have one third plus one in the Senate, and I'll probably also have in the Assembly, it's over. That's it. It's the end of it. That's the budget."
How he can be sure lawmakers in his corner won't bolt during the budget fight, like they did in the waning days of Republican Governor George Pataki's tenure?
"I have a Republican Senate. They're going to do what I tell them to do," Mr. Paladino deadpanned. "And let somebody try to stray - and I'll wreck 'em. I'll ruin 'em."
This kind of tough talk is exactly what some voters are looking for.
"I'm definitely upset with the way politics have gone and the way taxes have gone. I'm just not happy with it. It keeps going further," says retired Army veteran Anthony Phillips, who donated $50 to Mr. Paladino's campaign.
Before Paladino can harness public anger into electoral power, he has some questions of his own to answer. Like, why he forwarded a number of explicit emails to his friends
How explicit?
Lets just say, one shows President Obama in an gold chain; another shows a woman with a horse. My editor won't let me get more specific than that.
Lesser offenses have derailed other politicians. But Mr. Paladino and his gang forge ahead.
"My humor is irrelevant to my temperament. If you go and Google me, you're going to see what Carl Paladino is about. And sure, I'm not perfect. And sure, I'm not human," he said, before correcting himself. "I'm human, forgive me - hahaha. I'm human. I've had my careless moments. I didn't think twice about sending to my friends a bunch of obscene emails.
"But, I apologized. I apologized to the people that were offended. People that I meet since that thing first became public, they're interested in the high crimes and misdemeanors of Albany, They could give a hell about Carl Paladino and his emails."
Despite the offensive emails, and lack of name recognition, Mr. Paladino could win the primary. Voter anger and an increasingly-organized Tea Party apparatus has propelled a number of angry, outsider, anti-establishment candidates like Mr. Paladino.
"If he spend his resources properly, he could easily be the nominee," says Ed Rollins, who worked as Ronald Reagan's top political adviser in the White House and has stayed neutral in the gubernatorial race. (He doesn't give Mr. Paladino, or his opponent Mr Lazio, a chance of beating Democratic nominee Andrew Cuomo in November.)
Should he make it to the general election, Democrats are sure to remind voters of Mr. Paladino's emails. But that, in itself, would be a victory of sorts for Mr. Paladino, whose entrance in to the race was greeted with a mixture of laughter and disbelief.
Recent polling shows Mr. Paladino within ten or twelve points of Mr. Lazio. And one hugely influential voice in New York Republican politics, the New York Post, has not endorsed either Republican gubernatorial candidate yet.
The Post has criticized Mr. Lazio for focusing too much on the controversy over building an Islamic center two blocks north of Ground Zero and not enough on the state's more pressing problems.
And, the tension between Mr. Lazio and the paper's state editor, Fred Dicker, burst into public view Tuesday morning during Mr. Dicker's closely-watched radio program.
As Mr. Dicker interviewed Democratic gubernatorial nominee Andrew Cuomo, Mr. Lazio and an aide called into the program. Mr. Dicker then told his listeners that "I've tried for months to get Rick Lazio on the show" and now "Lazio is trying to cut into the show."
Mr. Dicker described the maneuver as a "sneak attack" and told listeners, "I said thanks but no thanks." Listeners never heard from Mr. Lazio.
Later, Mr. Lazio's campaign spokesman went onto Twitter, and referred to Mr. Dicker as a "Cuomo apologist."
About a week before Mr. Lazio and Mr. Dicker's spat, Mr. Paladino went in for an editorial board meeting with the New York Post. Walking out of their offices on Avenue of the Americas, Mr. Paladino said he felt he gave a good presentation, but the editorial board was hard to read.
"I think we impressed everybody in the room, except the guy to my right," Mr. Paladino said. "He did not change his facial expression through the whole meeting."
Mr. Paladino and his campaign manager Mr. Caputo, said things grew difficult when a certain reporter starting asking detailed questions.
"She's one of the toughest political reporters in the state," Mr. Caputo said.
"The little dark-haired one I gave the thing to?" Mr. Paladino asked.
"Right," said Mr. Caputo. "Jennifer," referring to the New York Post's Jennifer Fermino.
Mr. Paladino nodded, and explained to me, "I gave her a sillyband. Because she didn't have any. My daughter said, you're not cool if you don't have one of these."
They gave me one too.
Then, Mr. Paladino and Mr. Caputo drove to JFK airport and caught a flight to Buffalo for another meeting with another group of potential supporters: a motorcycle club.
Read More
Thursday, August 26, 2010
By Azi Paybarah
Rick Lazio will not debate his GOP rival Carl Paladino and is blaming…NY1.
The station tried scheduling a debate for this upcoming Monday but was unable to get Lazio to confirm to it.
Here's how NY1 describes it:
The Lazio campaign sites a scheduling conflict, but NY1 first proposed this date to Team Lazio weeks ago and did not get a final answer until yesterday. NY1 also asked for alternate dates that would fit Lazio's schedule, but his campaign never proposed any.

[skip]

Lazio's campaign accused NY1 and [member station] YNN of being in league with Paladino but said in an email, "we look forward to debating Andrew Cuomo on YNN before November 2."
FYI: today, Lazio is campaigning at the New York State Fair.
So, allow me to inject myself pointlessly into the debate about debates.
Since scheduling is difficult, what about doing what they did in the 2008 presidential debates: let's have readers post their questions to YouTube and I'll post them on the blog. Then, if either Lazio or Paladino want to respond, they can upload their answers to YouTube as well.
Just an idea.
Read More
Wednesday, August 25, 2010
By Azi Paybarah
Kirsten Gillibrand's three Republican opponents agree: Ed Cox has not been a good chairman for their party.
The answer came in the first televised debate between the little-known, under-funded Republican candidates, Joe DioGuardi, a former congressman from Westchester, Bruce Blakeman, a former local legislator in Nassau County, and David Malpass, who served in the administrations of Presidents Ronald Reagan and George H.W. Bush.
Arguably, none of them would be on stage to even answer the question about Cox's leadership if, as chairman, Cox had been able to lure a serious Republican challenger into the race.
As it stands now, DioGuardi, Blakeman and Malpass all trail Gillibrand in public opinion polls and fundraising, and have so far failed to demonstrate they'll have a bona fide field operation come November.
Each tried tying Gillibrand to President Barack Obama and the Washington establishment. DioGuardi, a certified public accountant, said Gillibrand is throwing around money we don't have to solve the state's job creation problem.
"New York loses more jobs every month than any other state in the union but one. And what is Senator Kristen Gillibrand's response to that? To spend money we don't have," said DioGuardi.
Malpass echoed the sentiment, saying Gillibrand "has been completely uncontrollable in her spending and in her ideas."
Blakeman's most pointed criticism of Gillibrand came when discussing gun control. As an upstate congresswoman representing Albany, Gillibrand had earned high marks from the National Rifle Association. But since being appointed senator, she's come out in favor of tougher gun control laws (enough to earn the endorsement of Long Island congresswoman and gun control advocate Carolyn McCarthy).
Blakeman said Gillibrand's gun control focus is misplaced.
"Gang members aren't licensed gun holders, they have illegal arms, illegal weapons. Stop punishing the people who play by the rules," said Blakeman, who acknowledged to owning two guns (a Smith & Wesson and a shotgun).
Blakeman, who flirted with running for New York City mayor briefly last year, appeared the most telegenic and articulate of the three candidates. DioGuardi, by comparison was more measured in his remarks, and substance. And Malpass offered the least amount of fireworks or notable YouTube moments.
When the three candidates were allowed to ask a question of any of their challengers, both DioGuardi and Malpass chose to focus on Blakeman (arguably making him the perceived front-runner).
DioGuardi accused Blakeman of raising taxes 9 percent while a Nassau County legislator, as the county saw it's bonds go to "near junk bond status."
Blakeman seized the moment and turned his notable blemish into a teachable moment.
"As an elected official, I've made mistakes in my life, but you have to know the full context," Blakeman explained. "We hadn't had a tax increase years and I was faced with a choice" of "whether or not to raise taxes on the average home owner $130 or whether I had to lay off police officers, correction officers,  probation officers, and not update our sewage treatment plant. I chose to go with safety first."
"Whether it was a mistake or not, I can't tell you. But I made that choice. I'm a leader, and so, leaders make choices."
Malpass asked Blakeman if he'd seek to reform the state pension system.
Blakeman said he'd work to end the practice of "loading up" on overtime in an employees final three years in order to pad their pension payout.
Blakeman fired shots at his rivals, accusing DioGuardi of being a paid lobbyist and saying Malpass took bailout money at Bear Stearns while writing opinion columns urging officials to deny relief aid to flood victims in rural parts of the state.
DioGuardi said he was not paid, but rather, worked as a "volunteer" lobbyist for humanitarian efforts in Europe. DioGuardi called it a "mitzvah" and said he helped create the state of Kosovo.
When questioned by Blakeman, DioGuardi admitted to going on "one or two" fact-finding trips when he was a member of Congress, but said, "I wasn't one to abuse that."
Malpass said Blakeman was taking his flood victim article "completely out of context" but later said he was unaware of the specific article, and challenged Blakeman to produce a copy of it.
The most memorable part of the night came shortly after this skirmish among the candidates, when a debate host asked each candidate to say something nice about their opponents, including Gillibrand.
Blakeman's compliment about the woman he's trying to unseat: "I think Kirsten Gillibrand is an attractive woman. I think she's bright, and I think she's probably a good mom herself."
When asked about the "attractive woman," Blakeman said, "She's an attractive, bright woman who I believe is a good mom."
Read More
Friday, August 20, 2010
By Azi Paybarah
Michael Grimm, one of the GOP candidates looking to take on Rep. Michael McMahon in NY13, is out with a new ad featuring Rudy Giuliani.
Grimm is in a primary fight with Michael Allegretti, a local businessman with lots of ties to the Brooklyn side of the Staten Island-dominated district.
And if you're keeping track, Grimm also has the support of Sarah Palin.
Read More
Tuesday, August 17, 2010
By Azi Paybarah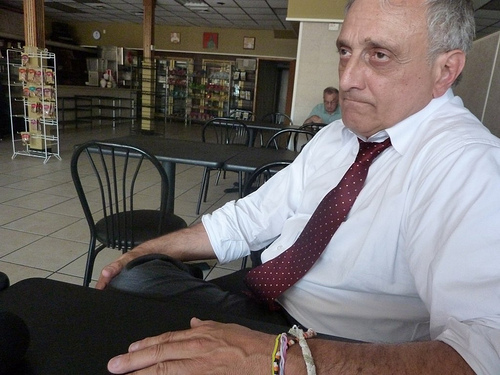 Azi Paybarah / WNYC
The Republican Party in New York is, slowly, coming to terms with the reality that is Carl Paladino's insurgent gubernatorial campaign, thanks to his deep pockets, quote-filled press releases and the seemingly low-octane performance of GOP nominee Rick Lazio, whose finances have been struggling.
Paladino today announced he was endorsed by Jane Corwin, the treasurer for the state Republican Party and an Assemblywoman. Also endorsing Paladino are the GOP chairmen of Niagara County, Cayuga County, Genesse, Orleans, and Erie.
"Announcements of other GOP leadership endorsements are imminent," the campaign says.
When I interviewed Paladino on Friday in Mineola, he still sounded like an insurgent, not yet extending an olive branch to the party he's trying to represent.
"What is the Republican Party today? It's a shell of what it was. It began falling apart when [former Senator Alfonse] D'Aamato and [former Governor George] Pataki decided they weren't going to leave any succession. They didn't like Tom Golisano. Tom Golisano probably would have been tremendous as a governor. But they wanted to keep the feeding at the trough system. They wanted to keep the decadent status quo. That's all that they were about."
Read More