New York Public Library
Tuesday, September 06, 2011
Reading really does pay: The New York Public Library will allow students to reduce their overdue book fines by clocking reading time. They have until Sept. 9.
Read More
Wednesday, July 27, 2011
Elaine Charnov, director of education, programming and exhibitions at the New York Public Library, talks about the exhibition "Celebrating 100 Years," which includes artifacts belonging to literary giants such as William Shakespeare, Charlotte Brontë, and Jorge Luis Borges along with historically important items from the Age of Discovery to the creation of the Soviet Union, World War II, the Civil Rights movement, and the AIDS crisis. The exhibition is organized into four thematic sections: Observation, Contemplation, Society, and Creativity, and is on view through December 31.

Wednesday, July 27, 2011
By Luna Lin
Forgot to return a library book or DVD? Got library fines that you are reluctant to pay? The solution is here. Programs at libraries in Queens, Manhattan, the Bronx and Staten Island are helping borrowers to wipe the slate clean of their overdue library fines — if they just read.

Thursday, June 09, 2011
By Beth Fertig
The school year isn't over yet, and technically it isn't even summer. But as temps soared into the 90s Thursday, the New York Public Library launched its annual summer reading program. And for the first time, the library will let students count Internet reading along with books in their summer diaries.

Friday, October 22, 2010
By Femi Oke : News host and Reporter for The Takeaway
"Three Faiths: Judaism, Christianity, Islam" opens on Friday at the New York Public Library with some of the library's most rare and beautiful spiritual texts.

Friday, April 09, 2010
Writer André Aciman spoke about love, literature and his new novel Eight White Nights with NYPL President Paul LeClerc. Listen to their conversation here.
Thursday, March 18, 2010
By Stephen Nessen : Reporter, WNYC News
While the state has cut funding for public libraries around the city and many have been scaling back their hours and cutting services, it's not all grim news for the New York Public Library system. Today, a new branch is opening at Battery Park City.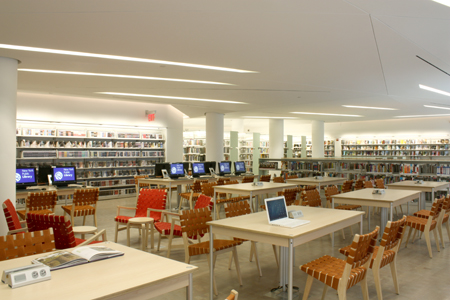 Friday, January 22, 2010
On its first publication in 1759, Voltaire's Candide was banned, pirated, and talked about all over Europe. In 2010, the notorious French satire can be rediscovered by clicking on a newly launched New York Public Library digital exhibit.
Wednesday, November 25, 2009
By Beth Fertig
Art and life and storytelling are being celebrated at the New York Public Library's main branch on 42nd Street on the day after Thanksgiving.
The library is participating in the National Day ...
Wednesday, July 01, 2009
Your Uncommon Economic Indicators contributor St. John McKay asks, "What has happened in the church during the recession? Do more or less people go? How about donations?" Here is one of his video contest entries:
Read More