New York Congressional Delegation
Friday, March 16, 2012
Three Republican candidates vying for the chance to take on Democratic United State's Senator Kirsten Gillibrand have secured spots on the GOP primary ballot in June.
Nassau County Comptroller George Maragos, Manhattan attorney Wendy Long, and freshman New York City Congressman Bob Turner all secured at least 25 percent of the vote at the party's convention today in Rochester.
Here's the official breakdown:
Wendy Long -- 47.4 percent
George Maragos -- 27.4 percent
Bob Turner -- 25.3 percent
Candidate statements:
Bob Turner
This was an amazing victory for a campaign that began just 72-hours ago.   I am enormously grateful for all the support I received at the convention and I am energized to deliver my message of job growth and fiscal responsibility in every corner of this state.  Senator Kirsten Gillibrand does not deserve re-election. She defrauded the voters of this state with promises that she would act as a moderate.  Instead she has governed from the far left, and is now ranked the most liberal senator in America. That is a firing offense.

This campaign has just begun.  My team and I will be working non-stop from now until Election Day to address the critical jobs and economic issues of our times.
Read More
Thursday, February 09, 2012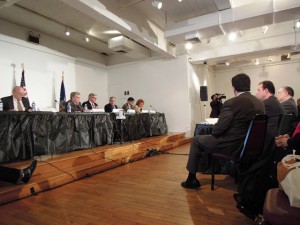 [UPDATE: Judge Gary Sharpe ruled today that the Democratic proposed election calendar--see the Kellner-Aquila doc below--will be used for congressional elections. ]
The final public hearing in New York City on the draft maps drawn by LATFOR, the legislature-controlled task force responsible for redistricting, was in Queens this week. An earlier meeting in Brooklyn had reportedly brought out just a few dozen people, with the one in the Bronx appearing to be slightly better attended. The hearing in Queens, however, saw a line out the door a half an hour after the meeting started.
Inside, angry community members blasted the members of the committee for hours over what many in the room felt were maps meant to divide the ethnically diverse neighborhoods in Queens.
But the conversation was focused almost entirely on state legislative lines for Assembly and Senate. Meanwhile, the clock on the lines for Congress is quickly approaching midnight. A federal judge has set the primary date for congressional candidates up from September to June. So far, LATFOR has yet to release a congressional draft map.
Meanwhile, candidates are planning on running in districts that will look radically different than they do now—if they exist at all. And the leaders of the Assembly and Senate are sending mixed signals on where the state will lose its two mandatory congressional seats.
So should we be freaking out about congressional lines?
Read More
Wednesday, February 01, 2012
For those that feel accustomed (or entitled) to public hearings to discuss draft redistricting maps—as are currently happening in the city—LATFOR co-chair Assemblyman Jack McEneny has some disappointing news: don't expect the same for the congressional maps.
McEneny reportedly made the comment at the LATFOR hearing in Brooklyn on Wednesday. "That's correct," he said when asked if he had said there likely wouldn't be time for a set of public hearings on the congressional lines when they finally get finished.
"I'm sure there will be concerns. Right now my main concern is finishing on time, thank you Judge Sharpe," McEneny said, referring to the federal judge who set June 26 as New York's primary date for congress.
He also pointed out the last redistricting process a decade ago had no public hearings. That's true. In fact, over the past 30 years there have never been public hearings over the proposed redistricting lines. That's because Democrats and Republicans couldn't come to an agreement. Only when the threat of a federal judge imposing lines were the two sides able—miraculously—to come to an agreement right before the deadline.
"Some decisions have to be made, they haven't been made yet," McEneny said about the status of line drawing process. "We have deadlines. The first deadline is to get these nine public hearings finished.
"In the meantime we haven't drawn the congressional lines yet."
He said that, "in an ideal world," he hoped to have draft congressional maps "done during President Week with legal descriptions so that we could present something to the legislature for a vote when they come back from the break."
McEneny's talking about the week of Presidents' Day on Monday, February 21. That would mean that the earliest the legislature could vote on lines would be their next session day, February 29.
"If things were a little different, we'd have a little negotiating room but right now the main thing is to get it done," McEneny said.
Read More
Thursday, January 19, 2012
While it is incredibly hard to leave a job I truly love, I know in my heart of hearts that now is the right time for me to move on. I want to thank the people of New York's 22nd District and the people of the former 26th District who put their trust in me to be their congressman.  I am forever grateful for their support over the years.  They afforded me the opportunity of a lifetime.  Every day I've spent in Congress was a day I spent fighting for those who I represent. The people from the Hudson Valley, the Catskills, the Southern Tier and the Finger Lakes were always, and continue to be, at the front of my mind and the focus of everything I do as their congressman.
Read More