New York City Pensions
Monday, March 26, 2012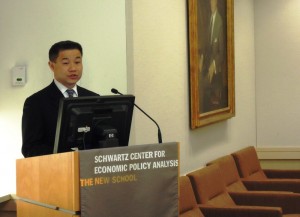 Colby Hamilton / WNYC
For a while, the conversation around pensions has primarily been focused on the cost and risk public pensions present to their fiscal backstops, the taxpayers. During this year's budget negotiations Governor Andrew Cuomo pushed for changes to the system for future public employees. They were needed, he said, because New York's state and local governments could not afford the system as-is. He was at least partially successful.
Now, the man in charge of the city's pension system, Comptroller John Liu, wants to change the focus on pensions, from the debate over their sustainability to a wider discussion about retirement security, and the positive role public pension funds could play.
On Monday, Liu joined Dr. Teresa Ghilarducci, director of the New School's Schwartz Center for Economic Policy Analysis, to promote an idea they say could help the 60 percent or so of New Yorkers currently without a retirement plan by allowing them to buy into the public pension system.
Read More
Monday, March 05, 2012
Embattled New York City Comptroller John Liu announced this morning that the city's pension funds had worked with two companies they invest in to agree to protect workers against sexual orientation and identity discrimination. Like his counterpart at the state level, Comptroller Tomas DiNapoli, Liu is using the city's public pension funds to push forward a political agenda--one of the benefits defenders of the pension systems point to for protecting them.
The companies in the agreement, Dick's Sporting Goods and Constellation Brands, a large alcoholic beverage distributor, will now not have to put a proposal forward to shareholders to "adopt a written policy barring discrimination based on sexual orientation or gender identity," according to the report.
"These companies are to be commended for upholding basic rights of their employees," Comptroller Liu said in a statement.  "As long-term shareholders we know that when companies refuse to protect their employees against discrimination, they drive away the best and the brightest. Equal rights in the workplace help ensure that long-term shareholder value is protected and build a more equitable society."
Last month, Comptroller DiNapoli announced an agreement with three California-based companies to disclose their corporate political contributions. DiNapoli, in an interview with the Empire in January, DiNapoli pointed to the ability of pension funds as vehicles for social change as one of their additional benefits:
"By aggregating that capital, we can not only maximize the power to get superior return," the Comptroller said. "You also can focus on the other ways in which you can make those companies you invest in be responsible corporate citizens in a way that makes their business model sustainable and profitable."
Read More