New York City Economy

Friday, September 20, 2013
"Why is all this job creation not lifting all of NYC in the ways it has before?" Greg David says concentrated wealth is not actually trickling down.

Thursday, December 13, 2012
Judith Rodin, president of the Rockefeller Foundation, appointed co-chair of the NYS 2100 commission to improve the resilience of infrastructure in New York post-Sandy, discusses her efforts and what New York can learn from other parts of the world that have suffered disasters.
Friday, March 02, 2012
Last month we had a piece talking about Public Advocate Bill de Blasio's push to get the city pension funds investing locally.
It looks like it was a success: this week, the New York City Employees' Retirement System, on which de Blasio sits as a trustee, adopted a resolution to increase investment in local investment opportunities in areas like affordable housing and infrastructure.
"With City unemployment stalled at just under 9 percent, it was imperative for us to act quickly to put the power of New York's pension fund to work creating jobs across the five boroughs," the Public Advocate said in a statement. "The investments that will result from the passage of my resolutions are proven to provide responsible returns while also creating jobs – this is a win-win for New York City."
The proposal would see an additional $350 million in investments go to projects in city.
Read More
Tuesday, October 18, 2011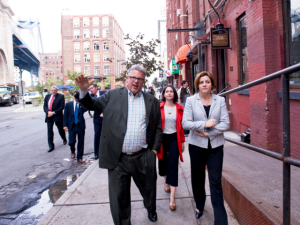 City Council Speaker Christine Quinn stopped by WNYC's Brian Lehrer Show to talk about, among other things, the city's economy. She had addressed the Association for a Better New York before coming on the show on the issue.
But listening to it, Quinn also sounded a lot like a candidate trying to provide a vision for the city she hopes to run. The big vision discussion tied Quinn's view of how the city should help support job growth to Occupy Wall Street.
"The larger, more important issue is a loss of hope," Quinn said, explaining the core of what she believes is driving the protestors.
She went on to say that hope, which had been fueled by the belief in the American Dream, was in danger. "People are worried, really on all sides of the political spectrum, that that is slipping away."
Her solution: "[T]o do what we can to create employment opportunities at all different levels of the education and economic spectrum."
The current mayor couldn't have said it better himself. Her focus on bolstering technology growth in the city, through new educational opportunities and in fields once thought the domain of Silicon Valley, sounds like the blueprint Mayor Bloomberg has been following for years. "We have to work hard to make New York City the tech capital of the world," Quinn said, sounding remarkably Bloombergian.
Read More
Tuesday, July 19, 2011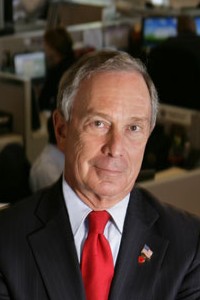 Mayor Bloomberg may soon be known as the mayor that brought the first high-tech applied sciences campus to New York City. Today was a big step in that direction, as the mayor announced the start of a bidding process that will give the winner city land and up to $100 million in infrastructure subsidies to build the campus.
"New York City has a history of planning for and investing in its future to ensure it will be brighter than its past. Today, we are looking far into the future once again, and launching one of most promising economic development initiatives in the City's long history," Bloomberg said in a press release.
This is the latest--and biggest--move on behalf of the city to help the burgeoning tech field as part of a larger, post-recession drive to diversify the city's economy. The city has already created a number of business incubators with partners such as NYU-Polytech.
The bidding process is expected to be finished by the end of 2011. Construction on one of three sites--the Navy Hospital Campus at the Brooklyn Navy Yard, the Goldwater Hospital Campus on Roosevelt Island, or on Governors Island--would begin in 2015. The new whole process is expected to generate $6 billion in economic activity, hundreds of new companies and tens of thousands of jobs over the next 35 years.
The press release from the mayor's office:
Read More