New York City Campaign Finance Board

Monday, August 12, 2013
By Brigid Bergin : Reporter
The candidates for New York City Comptroller each took shots at each other over how their campaigns are funded at a debate Monday night.

Tuesday, January 17, 2012
By Mirela Iverac : Reporter, WNYC News
City Council Speaker Christine Quinn became the first presumptive mayoral candidate to raise the maximum amount of money that can be spent in the primaries.
Tuesday, August 30, 2011
Check out Campaign Finance Board's voter guide for the primary going on in the 28th City Council District in Queens. CFB has been stepping it up in preparation for the 2013 cycle--they put on a series of debates, one of which I attended and posted on The Empire--and this new snazzy website is likely a sign of more to come. Kudos CFB!
Click on the image to go to the site.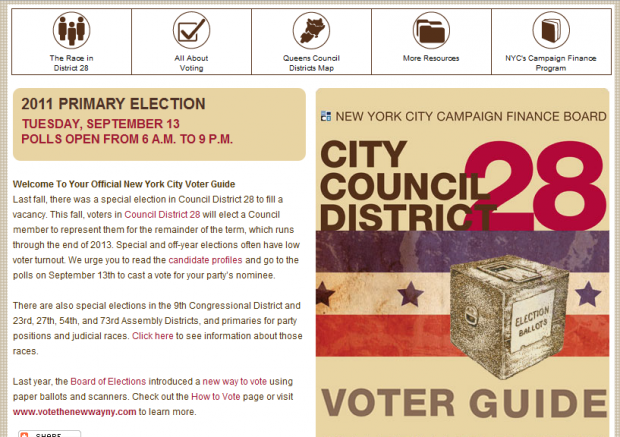 Read More
Monday, July 25, 2011
The five Democrats most likely to make a play for their parties mayoral nomination in 2013 are reaching across the country for funds--some pulling in almost 20 percent of their haul over the past year from outside New York. The gifted John Keefe has once again mined the data to provide a visual guide to where the presumptive candidates for mayor in 2013 are getting financial help.
New Jersey, somewhat unsurprisingly, ponied up more than $600,000 for the mayoral hopefully since January of this year, according to Campaign Finance Board records. The candidates went far afield for the third most giving state, with California contributing just over $162,000.
Among the candidates, City Council Speaker Christine Quinn has raised the most out-of-state funds since January: $707, 275. But it was former city comptroller and mayoral candidate Bill Thompson, Jr. who derived the highest percentage--almost 18 percent--of funds from outside of New York. See below to see where the candidates stood.

None of these funds count towards a candidates publicly-finance campaign funds. Only funds raised between January and July are included. A number of campaigns have additional funds from prior elections that are available to them.
Read More
Friday, August 20, 2010
By Azi Paybarah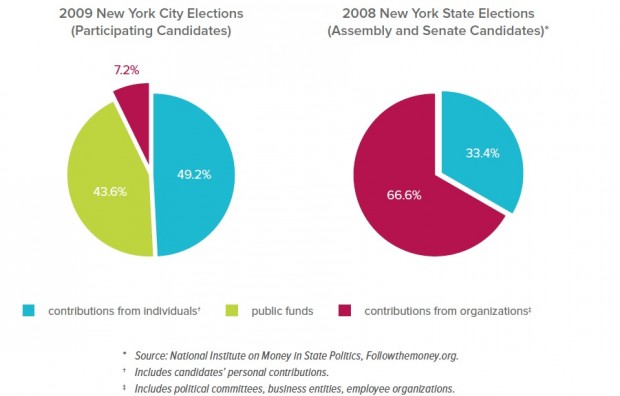 The NYC Campaign Finance Board proudly notes that small contributions make up
a big part of the story
in city races, in comparison to state races.
Read More