Nancy Pelosi

Thursday, August 02, 2012
By Solomon Kleinsmith : IAFC Blogger
It's no wonder Romney's likeability numbers are staying stubbornly low, and no wonder that Republicans have had so much success using Reid and Pelosi as punching bags.
Read More

Tuesday, March 13, 2012
By Solomon Kleinsmith : IAFC Blogger
The facts are much less exciting than either party would have you believe. The Republicans omit that there are great expanses of already open land and the Democrats paint a picture where their plans would bring down gas prices and move us along to cleaner and cheaper technology, but battery tech just plain isn't there yet.
Read More

Monday, January 30, 2012
By Ron Christie
How Newt Gingrich turned what was supposed to be a positive campaign into his own personal Moby Dick.
Read More

Wednesday, August 03, 2011
By Solomon Kleinsmith : IAFC Blogger
I just don't understand how anyone can justify putting themselves in the column that would prefer default, a loss of our triple A credit rating and an all but assured double dip recession, over voting for a deal that gave them most of what they wanted.
-Solomon Kleinsmith, It's A Free Country blogger.
Read More

Thursday, July 28, 2011
By Anna Sale
When the House votes later today, it could be a moment of triumph for Speaker John Boehner, in the aftermath of his full-court press to snap his caucus in line. Or it could all blow up in his face.
It's in these moments that a leader's legacy is made, but the consequences of a loss take time to sink in.

Friday, July 08, 2011
The latest news out of the ongoing negotiations to raise the country's debt limit is that President Obama is putting entitlement reform on the table. But Nancy Pelosi and other Democrats say they were caught completely off-guard by the president's latest proposal, and said that the Party is opposed to including Social Security cuts in any kind of deal. The president says the two sides remain divided and far from finding reaching an agreement, but House Speaker John Boehner says there's a 50-50 chance that they'll be able to arrive at a decision this week. Will the president's dramatic proposal be the catalyst that moves the debt deal forward?

Tuesday, June 07, 2011
I know Congressman Weiner, I wish i could defend him. But I can't.
-Senate Majority Leader Harry Reid, on embattled Congressman Anthony Weiner.
Monday, February 14, 2011
(Washington, DC -- Todd Zwillich, Transportation Nation) Transportation projects are set to take a massive, immediate hit under a spending bill headed for the floor of the House of Representatives this week.
Republicans are aiming to cut nearly $15.5 billion from the section of the budget carrying transportation and housing funding. The money comes out of highway projects, infrastructure investments, and particularly high-speed rail.
The bill, what's known in Washington as a continuing resolution, funds the government from March 4 through the end of September, 2011. Overall it contains around $63 billion in immediate cuts from current spending levels across the government. It's all part of Republicans' pledge to reduce immediately reduce spending, and it could go even further by the time the bill is done being amended on the floor.
It's also prelude to a broader budget fight hitting Washington this week. President Obama unveils his Fiscal 2012 budget plan Monday morning. That covers spending beginning October 1, 2011, and its big transportation highlight--$53 billion in high-speed rail funding—is already attracting Republican derision.
"We're broke," House Speaker John Boehner (R-Ohio), said on NBC's Meet the Press Sunday morning. He repeated the refrain all week as Democrats, and even some Republicans, complained about the pain such immediate cuts could cause.
Before we look at specifics, keep in mind: After passing the House, this bill still needs to get through the Senate, where Democrats have a majority and lawmakers overall are considerably less enthusiastic about immediate discretionary spending cuts than are their House colleagues.
Rep. Jeff Flake (R-Ariz.), a conservative member of the Appropriations Committee and a spending hawk, acknowledged late last week that the aim of the deep-cutting House bill was two-fold: To fulfill Republicans campaign promises and to go into negotiations with the Senate "with as big a number as possible."
A good chunk of that big number will come out of high-speed rail, if the House GOP gets its way. The continuing resolution hitting the House floor this week goes after $2.475 billion in funding already sent out to rail projects under stimulus and from other sources. It also seeks to hold back another $2.5 billion in high-speed rail funding yet to go out the door.
But rail isn't alone. The bill cuts $600 million in general "national infrastructure investments," and takes another $600 million-plus from Federal Aviation Administration. Highways take a major hit as well, with $650 million slated for cuts to the Federal Highway Administration's general fund and another $293 million in cuts to "surface transportation priorities".
Democrats are predictably incensed at the GOP package. Sen. Majority Leader Harry Reid (D-Nev.) accused Republicans of taking a "meat axe" to the federal budget. House Democratic Leader Rep. Nancy Pelosi (D-Calif.), responded to the GOP proposals by backing a quick, and ultimately failed floor attempt to renew "Build America Bonds" for infrastructure funding.
"When you say they want to cut transportation, we know right away that's a false economy," Pelosi said to an organized labor crowd including members of the United Steel Workers on Thursday.
But the House's cuts in general, and high-speed rail cuts in particular, are music to the ears of many Senate Republicans, at least publicly. Alabama Sen. Jeff Sessions, the senior Republican on the Budget Committee said Thursday that high-speed rail projects were not efficient at stoking economic growth and should be killed.
The continuing resolution is set to hit the House floor Tuesday for at least two days of debate and amendments, possibly more. Conservative lawmakers are promising attempts to cut even more from federal spending right away. According to Boehner, if successful amendments lead to even deeper immediate cuts this week, "that's fine."
Read More
Thursday, February 10, 2011
By Kate Hinds
Transportation Nation's Todd Zwillich was on hand Today when House Minority Leader Nancy Pelosi held what he describes as "a rousing press conference" with Rep. Gerry Connolly (D-VA) and Rep. Loretta Sanchez (D-CA) and other groups, urging Congress to pass the renewal of Build America Bonds that expired last December.
She said the bill would accelerate private and public construction, echoing the president's State of the Union call to "out-innovate, out-educate and out-build the rest of the world."
Democratic Reps. Gerry Connolly, Va., Loretta Sanchez, Calif., and John Carney, Del., also spoke in support of the resolution.  You can listen to an excerpt of Pelosi's speech here, or read the transcript below.
______________________________
Just to put this in perspective, Mr. Connolly of Virginia talked about the leveraging of dollars. My colleague, Congresswoman Sanchez, talked about the need for these jobs and the urgency of creating them now. Mr. Carney brought his knowledge and expertise on bonding to support this legislation--it will make a tremendous difference.
When we heard last week from the Society of Civil Engineers, they told us we have a several trillion dollar deficit in our infrastructure in America. It's not only dangerous in terms of the conditions of our roads – which get about a 'D' – there are roads and bridges that get D, D-, C-, like that where we don't have any good grades. It's a matter of water systems – so this it's a health issue– some of our water systems are made of brick and wood – imagine how ancient those are – it's about future, broadband, that takes us into the future and helps us communicate. It's about dredging our ports. We talk about trade and the rest – we can't get all the profit from our trade unless you have the biggest draft on those ships to carry the biggest load of American products out of our country. And that's not just about coastal America—it's about what comes down the Mississippi, and what crosses our roads to get product to market. Infrastructure is important to every aspect of our economy – from international trade to lightbulbs for our homes, as we place an emphasis on doing this in a green way. You know, they say if someone would come back to our country from a hundred years ago they'd see so much different. But if Thomas Edison came back, everything would look about the same. You are making the difference in all of that!
We're very determined to renew Build America Bonds, we know it's urgent at any time, because of the infrastructure needs we have in our country…but at this time of such great unemployment, it's absolutely essential. So we extend a hand of friendship to our Republican friends and say 'let's do this.' It's about public-private partnerships, it's about leveraging the public dollars in a way that would have great scrutiny and is urgent right now.
Are we ready to create jobs right now?  Are we ready to build America with Build America Bonds? (Cheering)
Read More

Wednesday, January 05, 2011
By Karol Markowicz : IAFC Blogger
The next session that Republicans in the House, more than anything else, will be tasked with setting a tone. Much as conservatives would like to see action on immigration, reform of bloated entitlement programs and more tax cuts, we should be prepared to win smaller battles instead of larger wars.
—Karol Markowicz, It's A Free Country blogger
Read More
Tuesday, October 19, 2010
By Azi Paybarah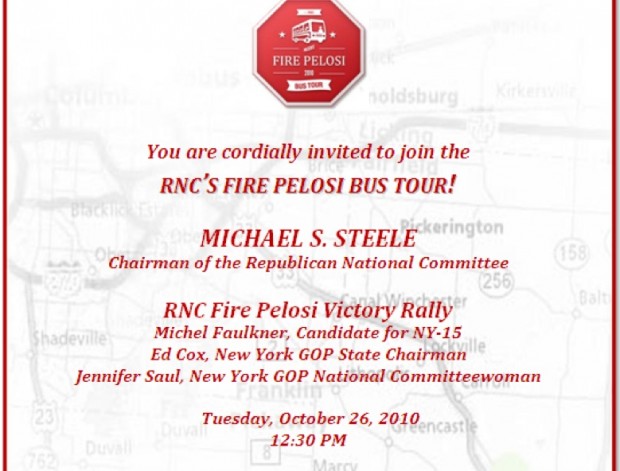 RNC Chairman Michael Steele is taking his his "Fire Pelosi" bus tour to Harlem - parking it down the street from the Apollo Theater on October 26. It's also Rep. Charlie Rangel's district, so you can expect some digs at him too.
Expected to attend the event is State GOP Chairman Ed Cox who, according to this Daily News article, didn't get the $400,000 Steele promised him.
I asked Cox about this money during the debate last night, and he told me, "The RNC has contributed money. The amounts, i don't know cause they're going directly into some of the counties with it to do things. Money is coming in from other organizations at the same time to support our efforts here for get out the vote."
The tour will hit 2110 Seventh Avenue at 12:30 p.m.
Read More