Msnbc

Friday, November 09, 2012

Friday, August 10, 2012
By Solomon Kleinsmith : IAFC Blogger
Our country needs CNN to be more than just profitable. We need it to be influential, like MSNBC is among the left, and Fox News is on the right. Crossfire would fill this need.
Read More

Friday, June 01, 2012
By Solomon Kleinsmith : IAFC Blogger
Should anything shock you coming from a station that would give a lowlife like Al Sharpton a show, or a station that would give give Glenn Beck a platform for a few years?
Read More
Monday, January 24, 2011
I think Olbermann peaked in a way during the Bush administration because he was able to play offense, and he really touched a nerve with liberal viewers who felt the media had rolled over for President Bush on the Iraq invasion. Particularly in this Obama year, as he got angrier, people at MSNBC feel like his his anger kind of consumed him. I think he became more predictable, more strident, more partisan, and even some liberals got tired of him.

—Howard Kurtz, Washington Bureau chief at The Daily Beast, on The Brian Lehrer Show
Friday, November 05, 2010
By Azi Paybarah
Brooke Gladstone underscores an interesting detail about Keith Olbermann: his donations to three Democratic candidates apparently violates a policy of NBC, the less-partisan parent company of MSNBC, which is decidedly more partisan and outspoken.
Word that a partisan news host played an actively role in politics is, according to journalist-turned-consultant Bob Liff, more about the industry's failings than a transgression of a reporter.
Liff, a former reporter with Newsday and the Daily News, said the flap about Olbermann "is not about the objectivity of the media but about pretending that the media is objective."
"If journalistic means you have to hide your opinion, is that honest to a reader or a viewer?," Liff asked. "Knowing Olbermann's bias is better than not knowing it. And pretending that media folks do not have opinions is dishonest.
"Olbermann and his ilk, including the [Sean] Hannity's of the world, are not reporters but commentators and opinion-spewers at their core. They are supposed to be opinionated. That's why people watch them," Liff said.
Read More
Friday, November 05, 2010
By Azi Paybarah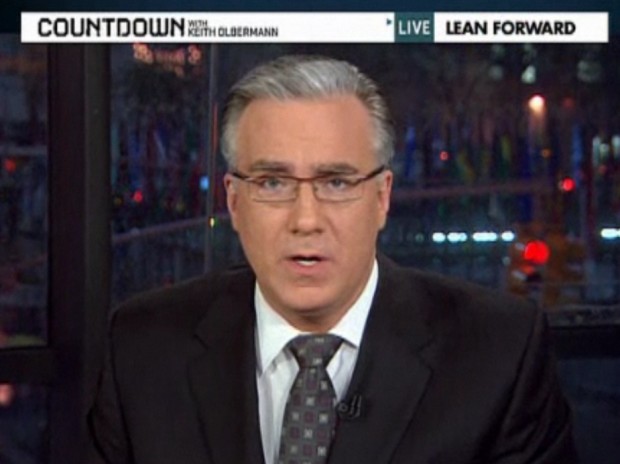 Reaction to Olbermann is mostly falling along traditional partisan lines:
Some are merely shrugging off the fact that a news anchor actively engaged in politics.

"Who did people think he was going to give money to…the Tea Party," asked Democratic consultant Hank Sheinkopf.

Others are using the opportunity to continue their criticism that certain media outlets are underperforming because of their emphasis on opinion journalism.

"He's a hack and considerably more biased than anyone on Fox," said Alex Carey, a spokesman for the New York State Republican Party. "Typical of MSNBC and indicative of why that network's ratings are so low."
Mark Green, the former president of the liberal Air America Radio, said he was "surprised at the suspension." But Green, an outspoken progressive and figure in New York Democratic politics, added, "Obviously MSNBC hosts are Dems and Fox hosts are R's -- so no one should be scandalized if they personally donate [but there] should be two dividing lines when it comes to private donations."
Green - who has clashed with right-wing news outlets before - added this unprompted shot at Fox's parent company:
"WHILE it was awful when Newscorp gave a few million to GOP party arms, probably not smart to include Fox in this analysis since they're so openly an arm of the RNC and their hosts so obviously lie for a living," said Green.
Read More
Tuesday, October 05, 2010
Gabriel Sherman, contributing editor at New York Magazine, talks about the recent changes at CNN, the state of primetime news programs, and his latest piece on how FOX news influences CNN and MSNBC's political coverage.
If you were designing a cable news show, what would it look like? Post your pitch below!
Wednesday, September 01, 2010
By Azi Paybarah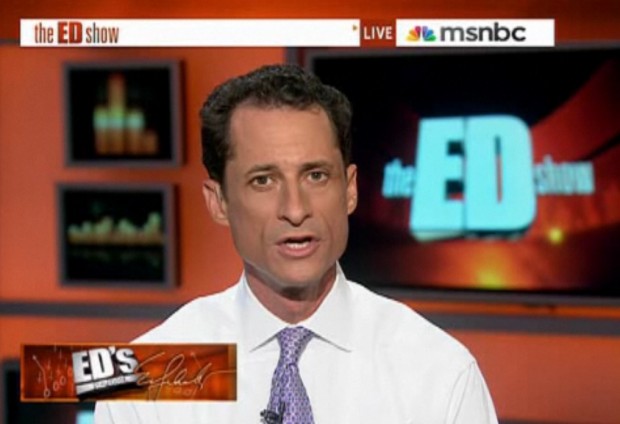 Rep. Anthony Weiner - who has been uncharacteristically quiet on the Park51 issue - was on MSNBC last night, showing Democrats how to sound authoritative, while changing the topic.
When asked if the issue is hurting Democrats, Weiner said it "certainly hasn't helped. It's been a classic distraction. You know, the fact of the matter is I believe we in politics should be staying out of this debate. This is not a place where politicians should be. But I do think we should be engaging Republicans on their plan to privatize social security."
The New York Times editorial board has a different take, saying, pointedly, "[t]he country needs strong and sane voices to push back against the hatred and irrational fears," about the project.
Read More
Thursday, August 19, 2010
According to White House officials, combat in Iraq ends on August 31, 2010, yet Brian Stelter, media reporter for The New York Times, wouldn't blame you if you thought that yesterday was the official end to Operation Iraqi Freedom. All the news channels, led by MSNBC, reported that the last U.S. combat brigade left Iraq yesterday. We'll take a look, along with Brian, at the media's coverage of yesterday's historic event.
Tuesday, August 17, 2010
By Azi Paybarah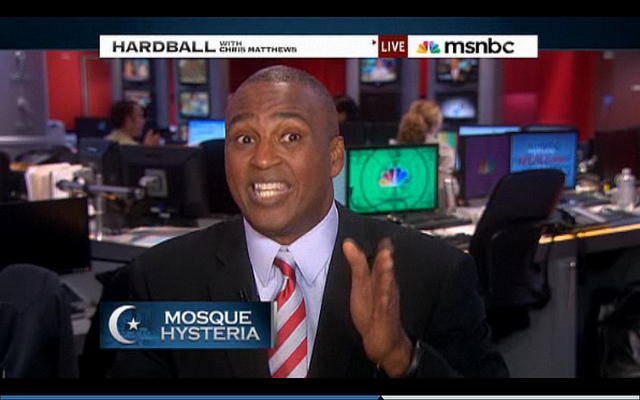 Azi Paybara / WNYC
Add Rev. Michel Faulkner, the GOP candidate running for Rangel's seat in Harlem, to those trying to keep up with Newt Gingrich in devising headline-grabbing analogies to explain their opposition to the proposed mosque near Ground Zero.
"It would not be fair for the Klu Klux Klan to erect a statue or a monument near the bombs in the South that were burned during the civil rights movement," said Faulkner.
Scott Stringer showed remarkable restraint during this MSNBC segment last night.
Read More
Wednesday, August 11, 2010
By Azi Paybarah : author of The Empire blog
Joe Scarborough, a former GOP congressman, doesn't buy Democratic Rep. Anthony Weiner's explanation why the 9/11 health care bill was put up for a vote under rules requiring a 2/3 majority vote, instead of a simple majority.
Despite the volume, Scarborough and Weiner actually get into the substantive parts of the debate.
Scarborough's main complaint is that Weiner challenged Repubilcans for not supporting the legislation, but didn't act similarly to Blue Dog Democrats, or Hispanic Democratic members, who threatened to vote aganist the bill if it veered into the area of immigration.
The 14.33 minute segment is worth a watch.
Read More