Michael Mcmahon
Friday, October 21, 2011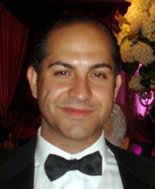 Courtesy of the Borgognone campaign.
Promising, as so many others have, to work to "stop all the bickering, end the partisan gridlock and start passing laws to get people back to work", Staten Island businessman Alex Borgognone announced his candidacy as a Democrat for Congress. The seat is currently held by freshman Republican Congressman Michael Grimm. The 13th Congressional district covers all of Staten Island and parts of southern Brooklyn.
"In the coming months, I look forward to talking with the people of Brooklyn and Staten Island about new ideas for re-starting our economy, and what we need to do to create jobs," Borgognone said in the announcement.  "My opponent ran on a promise of job creation, but that promise has proven to be empty as he's focused on playing Washington politics instead of fighting for our district."
Borgogone is picking up where the last Democratic to run for Congress in Brooklyn--Assemblyman David Weprin--left off in terms of issues. His announcement identified Medicare and Social Security as top priorities.
The race in the 13th has been a wait-and-see game, as Democrats like former Congressman Michael McMahon, who lost his seat to Grimm, Councilman Vincent Gentile of Brooklyn and others being courted by various Democratic elements are holding back. This is no small part because the district, and its voters, are likely to shift during redistricting. Depending on how much more blue or red it appears will determine the viability of a campaign from high-profile candidates like McMahon.
But that doesn't appear to be a concern for Borgognone, a former registered Republican according to the Staten Island Advance.
Read More
Friday, October 22, 2010
This is the third in a new five-part series called "The New York Vote," a partnership between WNYC and Capital New York. We will be painting a portrait of the New York electorate in 2010, as explained by a diverse cast of political players.
Today, the vantage point of an immigrant activist on Staten Island. There is no enthusiasm gap for her from 2008, when she worked for Barack Obama, and 2010, when she is fighting to elect Michael McMahon against a Tea Party challenger.
Tuesday, September 14, 2010
By Azi Paybarah
Sarah Palin's candidate in the Republican primary on Staten Island, Michael Grimm, beat his challenger, Michael Allegretti, according to New York 1 News and the Daily News.
Grimm, who was also backed by Rudy Giuliani, was a former FBI agent and Marine veteran. He was criticized for raising a lot of money outside the district, and not having lived there as long as Allegretti, whose family ran a local business on the Brooklyn side of the district.
I'm a bit weary of wading too deep into the fault-lines of Staten Island Republican politics, but it is worth noting that the losing candidate, Allegretti, was backed by the former congressman there, the very popular Vito Fossella. This may get people to start questioning Fossella's ability to deliver Republican votes in the district he once (and still?) dominated.
Grimm will take on freshman Rep. Michael McMahon, a moderate Democrat who has the backing of the Conservative Party and who voted against Obama's health care policy.
McMahon came under criticism earlier when a campaign aide distributed to a reporter documents that described how much money Grimm raised outside the district, labeling one category as "Jewish money." The campaign aide was fired and McMahon apologized.
Read More
Friday, August 20, 2010
By Azi Paybarah
Michael Grimm, one of the GOP candidates looking to take on Rep. Michael McMahon in NY13, is out with a new ad featuring Rudy Giuliani.
Grimm is in a primary fight with Michael Allegretti, a local businessman with lots of ties to the Brooklyn side of the Staten Island-dominated district.
And if you're keeping track, Grimm also has the support of Sarah Palin.
Read More